HAMMOND: Grubb Key Asset In Hamlin Turnaround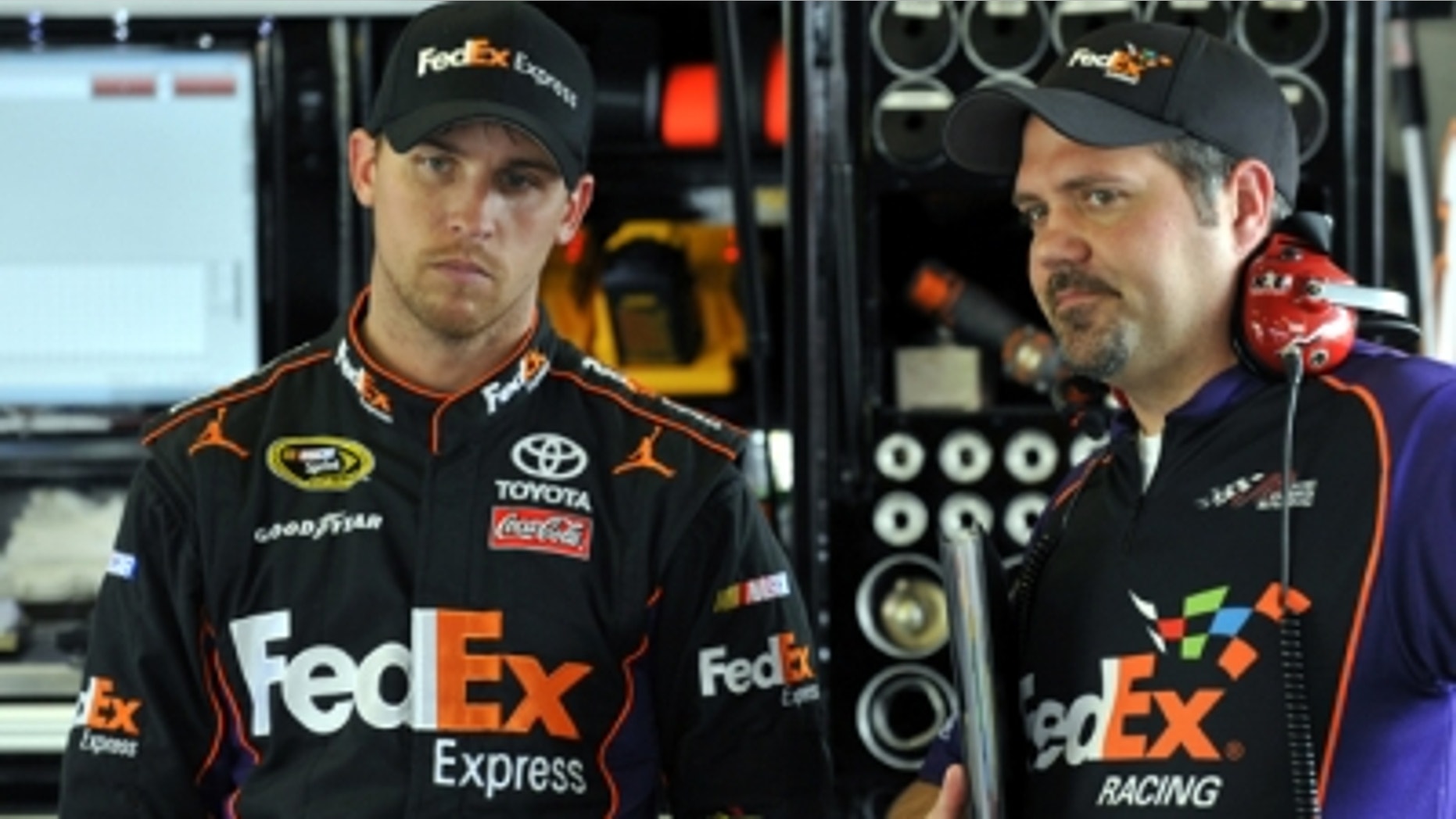 I think it would be fair to say that everyone was pretty hard on Denny Hamlin during the 2011 season.
Unfortunately, he let the 2010 NASCAR Sprint Cup crown slip through his fingers and everybody expected him to be a serious contender again for the title.
The truth of the matter is that he wasn't.
For as good as he was in 2010, he was equally as lackluster in 2011. He limped into the Chase and never was a contender. It never was a question about his ability behind the wheel. It became more of a question of confidence. I believe he really struggled mentally to overcome "what might have been" and it really affected him in 2011.
The changes that were made to his Joe Gibbs Racing team in the offseason, especially with the addition of Darian Grubb as Denny's new crew chief, have seemed to pay huge dividends already. We are seeing a different Denny this year. Even when there are missed opportunities this season, Denny seems to just smile and move on. He just seems more steady and back to his 2010 self instead of the 2011 version.
I think Darian brings a lot of confidence to Denny. Obviously Darian comes over fresh from the 2011 battle for the championship. Tony Stewart and he were able to come out on top last year, so I think Denny sees and feeds off the competitive fire. I really am thrilled to see how Denny has rebounded and ramped up his game this year.
I think something that can't be overlooked that helped to bond Denny and Darian is that I believe they have a certain amount of empathy for each other. Last year both were under the microscope.
After a phenomenal 2010, Denny was a shadow of himself in 2011. In Darian's case, Tony Stewart hadn't won a race all year until the Chase. On top of that, Darian knew weeks before he and Tony won the 2011 championship that he wouldn't be returning to the Stewart-Haas Racing team.
So I think both guys identified with the other in terms of what they went through last year.
What Darian accomplished last year in the Chase is truly one of the most impressive performances I believe in the history of NASCAR. Darian knew he wasn't going to be back with that team, but he never faltered. He never let Tony, the team or himself down. He stayed focused on the one single goal and accomplished it by winning the 2011 NASCAR Sprint Cup championship with Tony. I think not only Denny, but the entire No. 11 team, has to find confidence in knowing how committed Darian is to winning.
I like the fact that Denny has taken up golf. Golf is a mental game. I think it's been good for him.
When you drive a race car, you are out there by yourself. On a golf course, sure there are lots of people around to give advice, but just like in that race car, when it's time to make the shot, well it's all up to you alone again. So I see a different Denny Hamlin this year and I really like what I see.
I see these last six races as a stepping stone for Denny to continue to build his confidence and get ready for those final 10 Chase races. He and his team are pretty comfortable that they are making the Chase, so I wouldn't be surprised to see them roll the dice a few times and try to snatch another win before the Chase starts. Remember, each win before now and the start of the Chase means three additional bonus points when NASCAR resets the Chase field.
In the NFL, when a team has made the playoff before the regular season ends, you see them go to their bench and start guys that normally don't see a lot of playing time. When you have that in racing, teams will sometimes go off the beaten path to try new things. Maybe it's a new setup you want to experiment with. If it works, then you just added another weapon to your arsenal once the Chase starts.
Knowing you are in the playoffs or, in our case, the NASCAR Sprint Cup Chase gives you flexibility. Now whether you choose to take advantage of that is totally up to you. There are folks out there that won't do that. Their mindset is it messes up how things have been flowing. It messes with everyone's confidence if some of the experiments don't work.
The key in all this is knowing you are in the Chase. Knowing you have that flexibility gives a team a lot of freedom.
It also gives everyone a chance to take the pressure off and breath a little bit knowing full well come Chicago on Sept. 16, the Chase is on and in only 10 races, you could be the next champion.