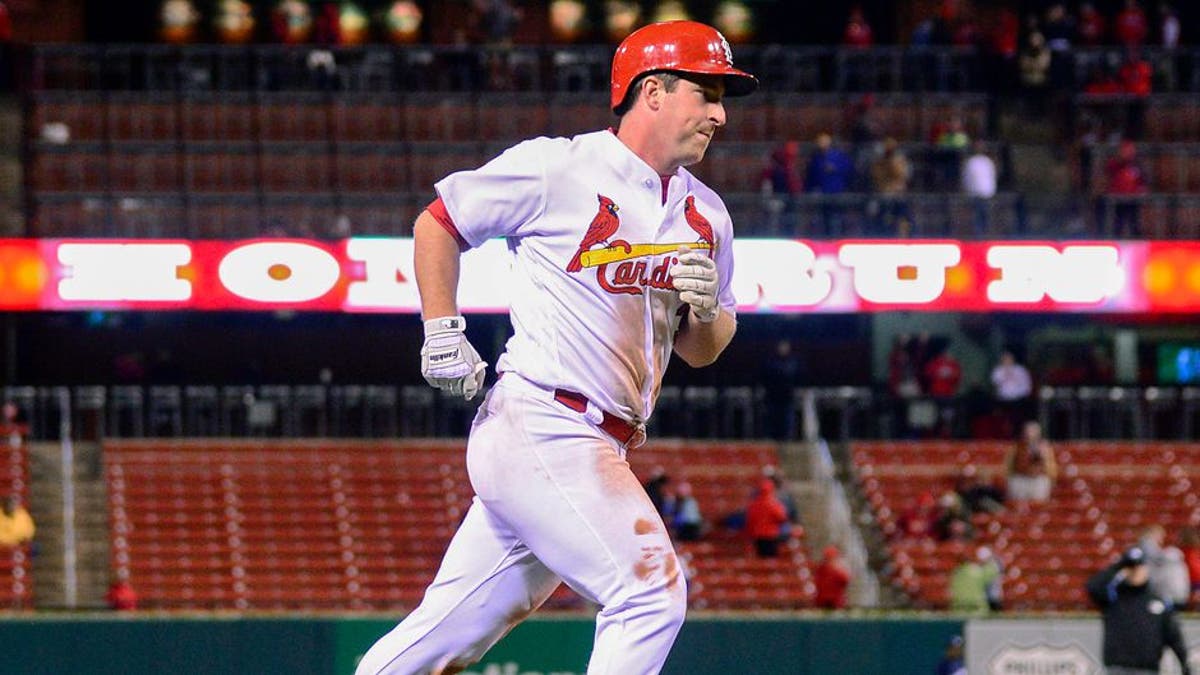 When Jedd Gyorko crashed a career-high 30 homers last year for the St. Louis Cardinals, it seemed like an outlier.
Gyorko's previous career high was 23 as a San Diego Padres rookie in 2013. He spent parts of the next two seasons in Triple-A El Paso, an indication of how badly he struggled at times, and he was considered expendable when 2015 came to an end.
The Cardinals acquired him for Jon Jay prior to the 2016 season, figuring he could be a utilityman of sorts. He more than aced that role last year, and he appears set to exceed expectations again in 2017.
Although St. Louis lost 7-5 in 10 innings Monday night to the Milwaukee Brewers, Gyorko cracked two more homers, giving him six in the first 25 games. What's more, he also tied a career high with four hits and is battinga robust .369 in 65 at-bats.
His performance has caught the eye of Brewers manager Craig Counsell, whose pitching staff will have to deal with him Tuesday night in the second game of a four-game series.
"He's swinging the bat well," Counsell said. "He's got power to all fields; he's dangerous. He was a nice addition for them last year."
On Opening Night, Gyorko started at second base with left-hander Jon Lester pitching for the Chicago Cubs. However, he was considered a fifth infielder again with the team slotting Jhonny Peralta at third base and wanting to give Kolten Wong another shot at second base.
Peralta got off to a rough start and went on the 10-day disabled list with an upper-respiratory infection April 17. Gyorko took his place at third, and it's getting harder and harder to justify sitting Gyorko even after Peralta is able to return.
"It feels good," Gyorko said of his swing. "It's where it needs to be. I just want to keep it going as long as I can."
Gyorko and his teammates will take aim at Wily Peralta (4-1, 5.19), a favorite foil of St. Louis in recent years. Peralta suffereda 6-3 loss to the Cardinals on April 21 at Miller Park, getting touched for nine hits and six runs over four innings with a walk and no strikeouts.
In his career against St. Louis, Peralta is 4-11 with a 5.10 ERA, and the numbers are even worse when toiling in Busch Stadium. He is 1-4 with a 5.60 ERA in six outings there, allowing 22 earned runs in 35 1/3 innings.
Opposing Peralta will be Carlos Martinez (0-3, 4.71), who will try for the sixth time to earn his first win. Martinez got a no-decision Thursday in the Cardinals' 8-4, 11-inning win over the Toronto Blue Jays, giving up five hits and three runs in six innings with three walks and eight strikeouts.
History favors Martinez, who is 4-2 with a 1.95 ERA in 20 games (nine starts) against Milwaukee. One of those losses occurred April 20, when he allowed two-run and three-run shots in a 7-5 loss at Miller Park.