Gus Bradley: Jaguars DE Marks faces 'uphill battle' to play Week1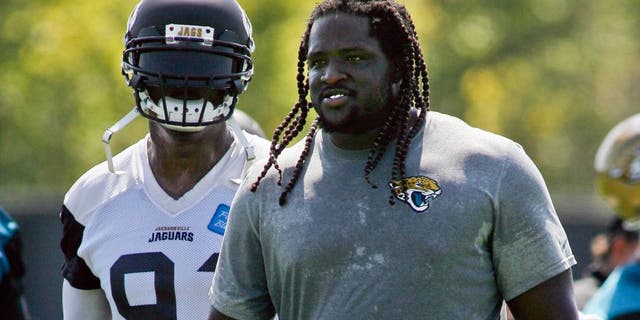 Jacksonville Jaguars head coach Gus Bradley said Saturday that defensive tackle Sen'Derrick Marks, who is working is his way back from a torn ACL in his right knee, may not be ready to play in time for the team's Sept. 13 season-opener against the Carolina Panthers.
Marks, who was injured in last season's finale against the Houston Texans on Dec. 28, is currently on the physically unable to perform list.
"How much he can progress in the next couple of weeks is a little bit of an unknown," Bradley said, per the Florida-Times Union. "There are some barriers that we have to overcome to get him to that point. … In our doctor and trainer's mind, he's got a shot. That's what we're going off now. Is it a challenge, an uphill battle? Yes, it is."
The 28-year-old Marks led the Jaguars with 8.5 sacks last season. The team must decide by Sept. 5 whether to keep him on the PUP list or activate him to the 53-man roster, regardless of whether he's able to play Week 1 or not.
If the Jaguars elect to leave Marks on the PUP list, he would miss the first six games of the season.
The Florida Times-Union, citing a team source last week, said Marks may not be ready to play until Week 3.
(h/t Florida Times-Union)