Gunnar Nelson likes Demian Maia's chances to dethrone Tyron Woodley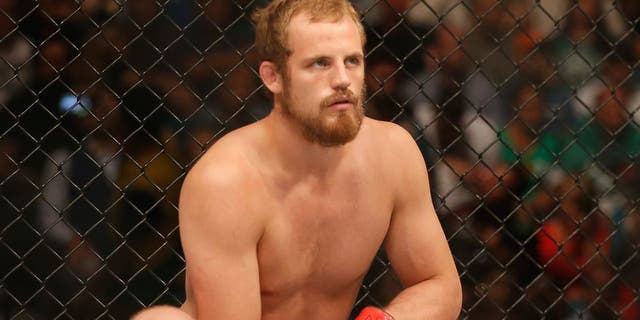 NEWYou can now listen to Fox News articles!
Following six wins in a row, Demian Maia seemed like the logical next contender in line to challenge welterweight champion Tyron Woodley but instead he was matched up with Jorge Masvidal in a fight at UFC 211 in Dallas.
Maia likely missed out on a title shot earlier this year due to Woodley and Stephen "Wonderboy" Thompson fighting to a draw last year, which then resulted in a rematch that took place in March.
Even some of Maia's past opponents believe he's getting the short end of the stick when it comes to his difficult path to title contention.
One of those names is top 10 ranked welterweight Gunnar Nelson, who hopes to one day earn a rematch with Maia after falling to him in 2015, but he believes the submission specialist should already be in line for a shot at the gold rather than staring down the barrel at a very tough matchup against Masvidal in May.
"I do believe Demian Maia deserves the title shot and I don't think he should even need to fight [Jorge] Masvidal and beat him to decide that," Nelson told FOX Sports recently. "I think he deserves that already.
"My hopes would be he wins the title and I challenge him for the title for the rematch."
Josh Hedges/Zuffa LLC/Zuffa LLC via Getty Images
Maia presents difficulty for virtually every opponent he faces because he possesses one of the most dangerous submission arsenals in the sport.
A multi-time grappling champion, Maia has mauled just about every opponent he's faced in recent memory with submission wins in three out of his last four fights.
Maia's ground game is the ultimate equalizer and it's the reason why Nelson believes he could be the person to dethrone Woodley assuming he finally gets his opportunity to compete for the title.
"I do [like Maia's chances]," Nelson said about a matchup with Woodley. "Of course everything can happen and Tyron is a very powerful guy. He could possibly knock Demian Maia out. You wouldn't see much danger on the feet for Woodley but on the ground there's a lot of danger.
"It's a question if he can manage to get him on the ground. I think he will."
Nelson's argument for Maia against Woodley doesn't come without merit because he explains the path to victory for the Brazilian jiu-jitsu specialist should he get the chance to face the champion in the near future.
"Tyron is a small, stocky guy and sometimes they struggle with single leg [takedown] defense," Nelson explained. "It's just the way their body is. A lot of times it's the easiest way to take those guys down with a single leg.
"Demian Maia's single leg is pretty good."
The UFC hasnt guaranteed Maia will earn a title shot even with a win over Masvidal in May. Meanwhile, Woodley posted on social media on Monday that he's starting his next training camp, which means the welterweight champion should have a new fight announcement coming soon.
Ron Chenoy-USA TODAY Sports | Ron Chenoy