Guerra's quality start spoiled in Brewers' 3-2 loss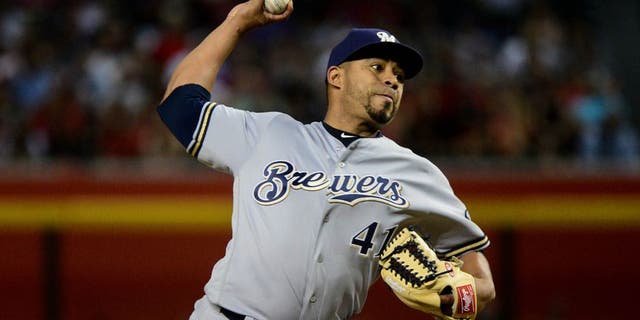 NEWYou can now listen to Fox News articles!
PHOENIX -- Zack Godley allowed two hits over 6 2-3 innings, Brandon Drury hit the go-ahead two-run home run and the Arizona Diamondbacks beat the Milwaukee Brewers 3-2 on Saturday night.
Rey Fuentes tripled and scored for the Diamondbacks, who had their nine-game home winning streak snapped in a loss to the Brewers on Friday.
Hernan Perez accounted for both Milwaukee runs with his second homer in as many nights.
Godley (2-1) allowed two runs, struck out four, walked one and hit a batter. Andrew Chafin, Archie Bradley and Fernando Rodney held the Brewers hitless in relief.
Domingo Santana walked to start the Brewers ninth but was thrown out by Chris Iannetta trying to steal second and Rodney earned his 16th save in 19 tries.
Junior Guerra (1-1) permitted three runs on five hits in six innings in a strong outing for Milwaukee.
The Brewers led 2-1 through five innings and Guerra retired David Peralta and Paul Goldschmidt to start the sixth. But Chris Owings singled to bring up Drury, who worked the count to 3-2 and hit the next pitch over the wall in left to give the Diamondbacks a 3-2 lead.
Godley retired 11 of the first 12 batters he faced before he hit Jesus Aguilar with two outs in the fourth inning. On the next pitch, Perez homered into the left-field seats that put Milwaukee up 2-0.
With one out in the fifth, left fielder Eric Thames got a late break on Fuentes' short fly ball, made an unsuccessful dive for it and the ball rolled past him for a triple.
Fuentes scored on Godley's ground out to shortstop Orlando Arcia, who threw home. Initially, umpire Tripp Gibson called Fuentes out. But the call was overturned after a review showed Reyes' hand touching the plate just ahead of catcher Manny Pina's tag, and Arizona cut the lead to 2-1.
TRAINER'S ROOM
Brewers: Milwaukee placed 2B Jonathan Villar on the 10-day DL with a back strain. He was injured when he made a diving stop of a ground ball and threw the runner out late in Friday night's game. OF Lewis Brinson, a top prospect, was recalled from Triple-A Colorado Springs.
Diamondbacks: RHP Taijuan Walker (finger blister) pitched a bullpen session Saturday, part with the finger bandaged and part without. Manager Torry Lovullo said Walker could be ready to return to the rotation soon. …. CF A.J. Pollock (right groin strain) ran in the outfield before Saturday's game and is getting closer to returning to baseball activity.
UP NEXT
Two pitchers who have been among the best in the game in recent weeks will start in Sunday's series finale -- Milwaukee RH and ex-Diamondback Chase Anderson (5-1, 2.94 ERA) and Arizona LH Robbie Ray (6-3, 2.85). Anderson took a no-hitter into the seventh inning against Arizona on May 27 and has pitched 21 2-3 consecutive scoreless inning. Ray has won his last four starts, allowing one run in 30 1-3 innings. He pitched seven scoreless innings in Milwaukee on May 25.