GRIII could return for Pacers for Game 2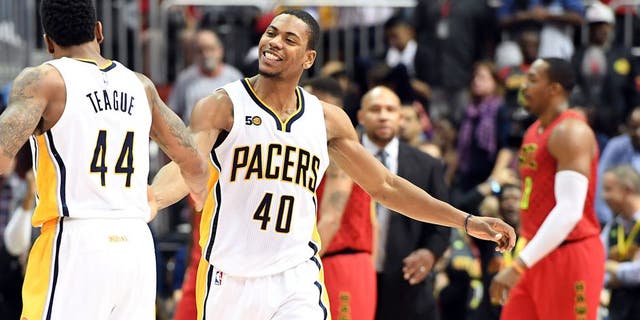 NEWYou can now listen to Fox News articles!
CLEVELAND -- Pacers guard Glenn Robinson III could play Monday night as Indiana tries to even its playoff series with the Cavaliers.
Robinson, who has missed the past 12 games with a sprained left calf, took part in the team's shootaround ahead of Game 2. Robinson didn't dress for Saturday's series opener, which the Pacers lost 109-108 to the defending NBA champions.
Robinson hasn't played since March 22 after injuring himself during a practice scrimmage.
Coach Nate McMillan isn't sure how much he can use the league's slam dunk champion, who returned to practice Sunday.
Robinson gives McMillan depth and another perimeter weapon to throw at the Cavaliers, whose defense has been suspect all season.
The 23-year-old Robinson averaged 6.1 points and 3.6 rebounds in 69 games.
Brian Spurlock-USA TODAY Sports | Brian Spurlock