Green hopes to practice with team this week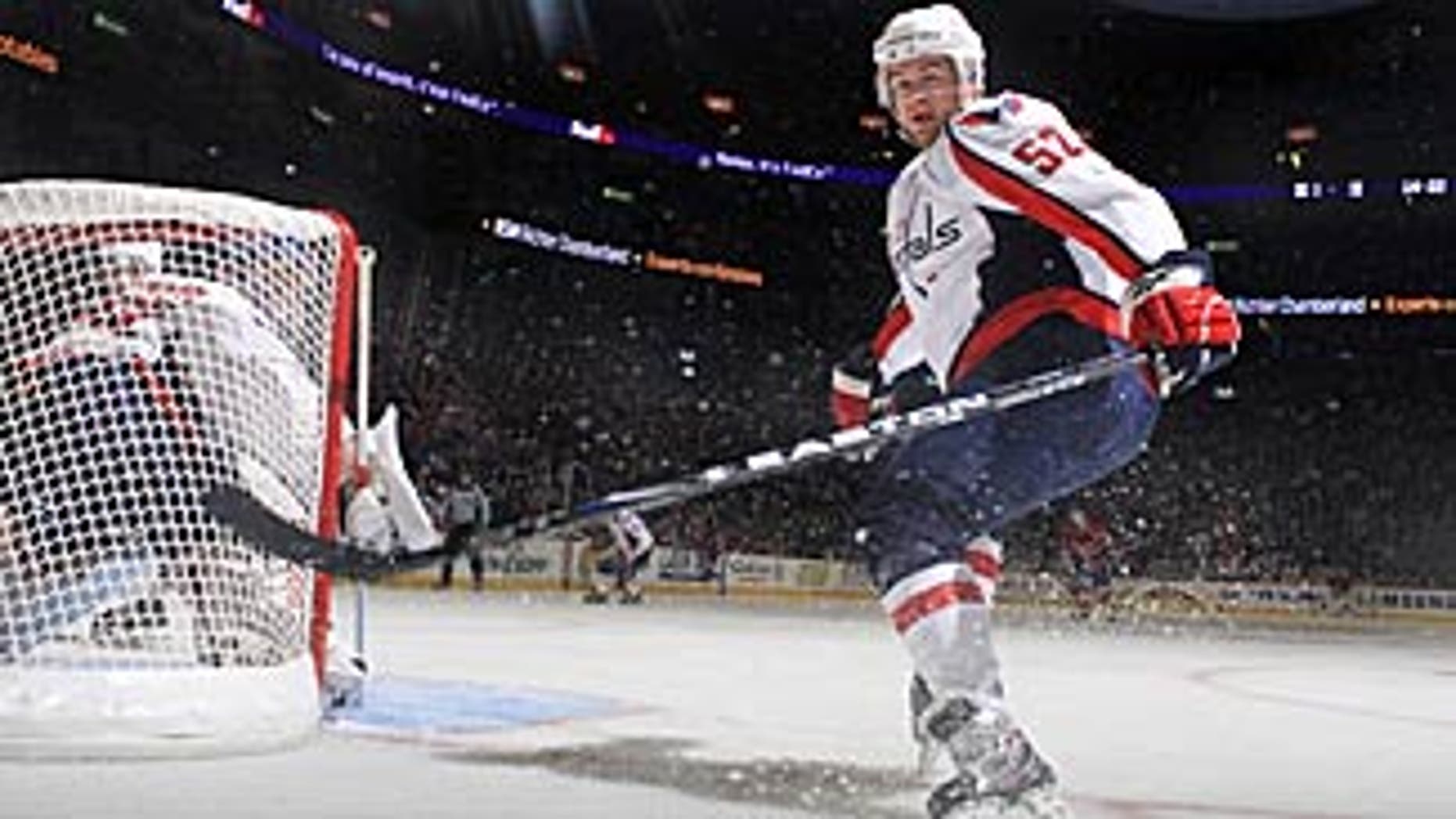 All-Star defenseman Mike Green took a big step toward returning to Washington's lineup Monday by skating on his own for roughly 25 minutes prior to the full team workout at Kettler Capitals Iceplex. Green has missed 20 of the last 22 games with a suspected concussion, so getting on the ice in full pads to start the week was therapeutic.
"We've done a great job here with the trainers and the staff and taking the right procedures for me to get better," Green told reporters, emphasizing that he has not had any setbacks in his recovery. "The unfortunate part is it does take time, but it's nice to get a good skate and hopefully I can get back on the ice and back to playing with the team."
The question for Green doesn't appear to be if he'll return anymore, but when. However, there is no target date set.
Green hopes to take part in a full practice this week, and provided he passes the necessary tests per the NHL's return-to-play concussion protocol, he could be back prior to the end of the regular season. Washington has six games remaining, starting Tuesday with the Carolina Hurricanes.
"It's going to take some time to get back in shape," Green said. "I haven't skated for a long time. I'll skate by myself here and then hopefully get some practices with the team and get comfortable again. I don't want to rush into a game. I haven't played in a while and I want to get in the best shape possible going into the playoffs."
Green originally was hurt Feb. 6 when he was struck in the right ear by a shot from Penguins defenseman Brooks Orpik early in a 3-0 Washington win. He returned to play six days later against Los Angeles, but after playing 22 minutes in a 4-1 loss he had to miss another five games.
He returned Feb. 25 against the New York Rangers, but Rangers center Derek Stepan knocked him out of the game with an early hit and Green hasn't played since.
Capitals coach Bruce Boudreau said he's relying solely on head athletic trainer Greg Smith to tell him when Green might be ready to practice with the team.
"There is a protocol you have to follow, so hopefully this week I'll be able to get out and do a full practice, get that under my belt so I can move forward, take some tests and get back in the game," Green said. "But there is no way to tell. We'll see how it goes this week."
Green said the Capitals' success the last month and a half has helped him cope. Washington is 12-2-0 since he last played.
"It's frustrating watching the games, you want to be out there," Green said. "The fortunate part is the team is playing really well and it's given me some time to take the right steps to get better. It's definitely frustrating. I want to get back on the ice."
Follow Dan Rosen on Twitter at: @drosennhl