Going, going ... Alex Rodriguez announces plan to retire after 2017 season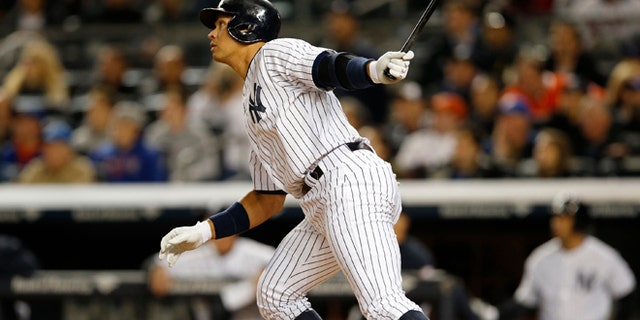 NEWYou can now listen to Fox News articles!
Alex Rodriguez is saying "Adios" to baseball. He will be hanging up his spikes after the 2017 season.
The New York Yankees' slugger revealed his intention on Wednesday during an interview with ESPN.
"I won't play after next year,'' he told ESPN. "I've really enjoyed my time. For me, it is time to go home and be Dad.''
His plans were confirmed by spokesman Ron Berkowitz.
Rodriguez, who returned last season from a one-year drug suspension, has hit 687 home runs – 75 shy of Barry Bonds' career record and fourth on the all-time list – in his 21-year career, along with a .297 batting average, three Most Valuable Player awards and 14 All-Star Game selections. His current 10-year contract with the Yankees runs through 2017.
Berkowitz says "at the end of the contract he's going to be 42 years old, but we still have (324) games to go until we get to this point."
For decades A-Rod has been a fixture in headlines, for a variety of reasons.
In 2007, Rodriguez became the youngest player in major league baseball history to hit 500 career home runs.
He credited his father with nurturing his love for baseball.
"I saw how passionate he was about the game, how closely he paid attention to it. That rubbed off on me," he said, according to Biography.com
Allegations that Rodriguez used performance-enhancing drugs (PEDs) began to surface in the late 2000s, and in August 2013, Rodriguez was suspended by Major League Baseball for 211 games for his involvement in the Biogenesis scandal. He fought the suspension, winning a temporary reprieve that allowed him to sit out the entire 162 games of the 2014 season.
His 2015 return was a successful comeback by a player many thought would never play again. He hit 33 homers and drove in 86 runs for the Yankees and was the team's most prolific slugger and most constant run-producer.
Rodriguez first started in the Major Leagues with the Seatte Mariners at the age of 18. He signed a mammoth deal at age 25 with the Texas Rangers that paid him $22 million a year, and was dealt to the Yankees in 2004.
He starred on the 2009 Yankee team that won the World Series.
Off the field, his amorous exploits have provided endless fodder for celebrity gossip writers. He had relationships with Madonna, Cameron Diaz and Kate Hudson, to name a few.
The New York Times noted that it's possible that Rodriguez could surpass Babe Ruth's 714 homers to move into third place behind Hank Aaron (755) and Barry Bonds (762) if he stays healthy and productive over the next two seasons.
The Associated Press contributed to this report.
Like us on Facebook
Follow us on Twitter & Instagram