'Give me my shot!' Stipe Miocic KO's Andrei Arlovski, demands title fight to Dana White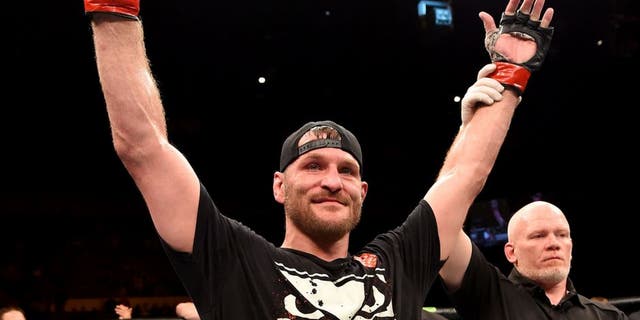 NEWYou can now listen to Fox News articles!
It didn't take Stipe Miocic long to make an emphatic statement in his hunt for a heavyweight title shot after putting away Andrei Arlovski with a vicious first-round knockout in the UFC 195 co-main event.
Miocic has been one of the top contenders in the heavyweight division for the past couple of years, but his performance on Saturday was likely the strongest statement he could make to finally earn his first crack at UFC gold.
As soon as the fight started, Miocic and Arlovski stood in front of each other ready to throw heavy leather and considering both heavyweights have huge knockout power, it wasn't going to take much to lead to a finish.
Following a quick exchange in the center of the Octagon, Miocic blasted Arlovski with a brutal right hook that disrupted his balance and left him on wobbly legs.
Sensing that Arlovski was hurt, Miocic pressed forward and uncorked another huge right hand that landed in almost the same identical spot and the former heavyweight champion fell face first to the canvas.
Miocic followed him to the ground to unload a few more shots before the referee pulled him off Arlovski and call a stop to the fight.
As soon as the bout was over, Miocic charged towards the cage where UFC president Dana White was seated as he began shouting and asking for the title shot he believes he deserves, especially after the performance he put on Saturday night.
"I want my shot! Give me the shot!" Miocic yelled. "I'm fired up, I'm ready to go. I'm pumped."
Nothing is guaranteed, but Miocic certainly did exactly what he needed to do to jump to the front of the contender's list as he hopes for a title shot at some point in 2016.