Giants seek revenge on Reds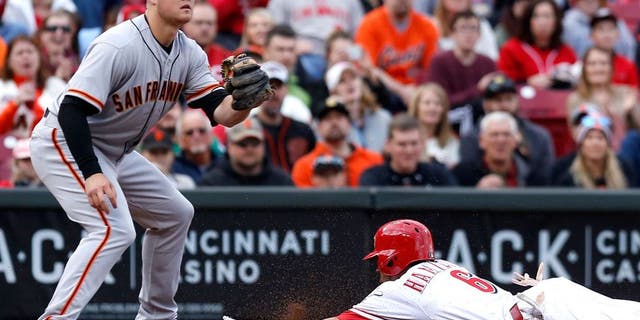 SAN FRANCISCO -- After a historically bad run, the San Francisco Giants will be riding the momentum of a rare win when they seek revenge on the Cincinnati Reds in a four-game series that begins Thursday night.
The series is a rematch of a three-game demolition by the Reds in Cincinnati last week.
The Reds won the games 13-3, 14-2 and 4-0 -- beating San Francisco by a cumulative 26 runs, the Giants' largest margin of defeat in a three-game series since getting trounced by a total of 37-10 by the Pittsburgh Pirates in 1922.
The Giants went on to lose their first two games in New York earlier this week, but they rebounded with four runs in the ninth inning Wednesday to overtake the Mets in a 6-5 win.
The victory when trailing entering the ninth inning was the first for the Giants in exactly two years, after they lost a franchise-record 133 straight under those circumstances.
"I know it's been a long time since we've come back down in the eighth (to then rally in the ninth). That's huge," Giants manager Bruce Bochy said. "Just to get a win for these guys, it's been a tough go.
"You'd like to hopefully get on a roll here, but it starts with one win, and it can start with a very tough win like today."
The Giants had no such dramatics last week in Cincinnati. Then again, they were down by 10, 12 and four runs entering the ninth inning in those games.
Left-hander Ty Blach (0-2, 5.66 ERA) will open the rematch series with the Reds. He was roughed up for 10 runs (eight earned) and 11 hits in three innings in the Saturday blowout.
It was his first appearance against the Reds.
Former Giant Adam Duvall and Patrick Kivlehan blasted homers off Blach in his brief outing.
The Reds will counter Thursday with right-hander Bronson Arroyo (3-2, 6.53 ERA), the winning pitcher in Friday against the Giants. He permitted three runs (two earned) in 5 1/3 innings, leaving him 7-5 with a 2.92 ERA in 17 career games (16 starts) vs. San Francisco.
The 40-year-old added to a piece of history in the win when he allowed a home run to Giants rookie Christian Arroyo. It was the 181st time in major league history that a batter hit a homer against a pitcher with the same last name.
The Arroyos are not related, even though they did both attend Hernando High in Brooksville, Fla. Bronson Arroyo graduated from high school one month after Christian Arroyo was born.
While the focus was on the offense in the 31-run barrage against the Giants, Reds manager Bryan Price found time after the series to praise his defense.
"I don't think we have a weak spot defensively," he said. "You couldn't expect Duvall to move from being a corner infielder to left field and become a Gold Glove candidate. And (third baseman Eugenio) Suarez and (second baseman Jose) Peraza have gotten better.
"Then you have (shortstop Zack) Cozart, who's kind of like the captain of the infield. It helps to have a veteran like him to solidify things. And, of course, we have an extraordinary center fielder, (Billy Hamilton). I haven't seen them all, but I can't believe there's anybody playing center field better than Billy."