Georges St-Pierre teases possible showdown with Michael Bisping in New York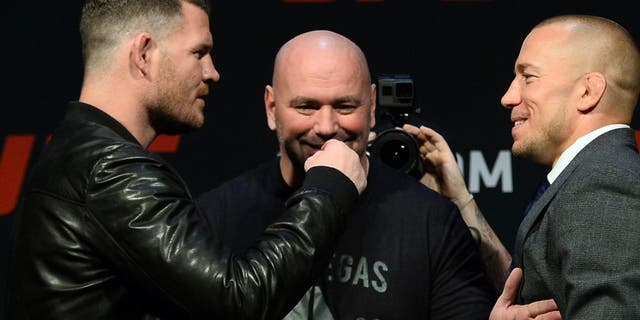 As the world anxiously awaits a date for Georges St-Pierre's return to the Octagon, the former welterweight champion may have just dropped a hint about where he'll be fighting.
St-Pierre is slated to meet middleweight champion Michael Bisping later this year, although nailing down a date and location for the fight has been a strenuous process.
On Tuesday, St-Pierre attended a hockey game at Madison Square Garden in New York while teasing that the famed arena could also serve as the home for his return to fighting in the near future.
"I could be fighting here in a few months. Can't wait!" St-Pierre wrote on his Twitter page.
Obviously the UFC has made nothing official regarding the date or location for St-Pierre's fight with Bisping, but the timing could work out perfectly.
UFC 205 took place in early November at Madison Square Garden last year and sources have told FOX Sports that the promotion has been targeting a return to the New York arena at around approximately the same time in 2017.
Dates in October and November have been rumored, which would sync up with St-Pierre's desired timeline for his return, which is likely for sometime in the fall.
While UFC president Dana White has said that he wanted the St-Pierre vs. Bisping fight to take place in Las Vegas at the T-Mobile Arena, it might be hard to pass up on the matchup taking place in New York instead.
St-Pierre has plenty of ties to New York including his longtime relationship with grappling coach John Danaher, who teaches at the Renzo Gracie academy, which is directly across the street from Madison Square Garden in Manhattan.
St-Pierre has also worked extensively with Erik Owings, a former fighter who has his own facility in New York as well.
Finally, Bisping could also benefit from the card at Madison Square Garden, especially if fans from England plan on traveling over to see the fight considering it's much shorter travel to New York versus going all the way to Las Vegas.
Nothing is set in stone but St-Pierre versus Bisping in New York would certainly make the big splash the UFC has always intended when putting on shows at Madison Square Garden.