Georges St-Pierre sends Michael Bisping a message about the date for their fight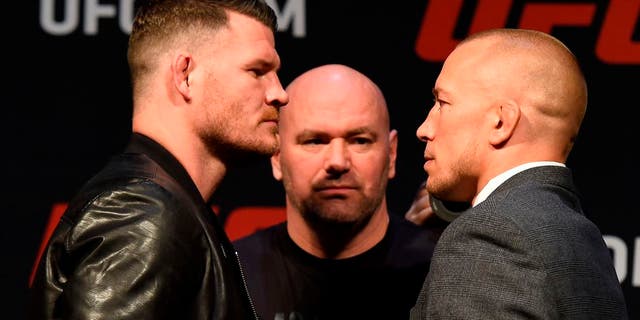 Georges St-Pierre is finally ready to set a date for his return fight against middleweight champion Michael Bisping.
Much has been made about the timing of the fight after the matchup between St-Pierre and Bisping was announced in March yet no date was ever confirmed for the highly anticipated title bout.
On Friday, St-Pierre sent Bisping a message on Twitter telling the middleweight champion to pick the date so they could finally scheduled their fight.
"Mr. Bisping, I cleared my schedule to get ready for training camp after the summer. So I can fight you any time after October," St-Pierre said. "You pick the date. Let's get it on."
The UFC originally hoped to promote St-Pierre vs. Bisping for the upcoming card on July 8 during International Fight Week in Las Vegas.
Unfortunately, St-Pierre wasn't going to be ready in time to fight on that date and now it appears his return to action will be pushed back until very late in 2017.
St-Pierre had just recently hinted that he might want to fight at Madison Square Garden in New York and the timing could work out perfectly for the matchup against Bisping.
The UFC is rumored to put on a card at the world famous arena in either October or November, which would align with St-Pierre's desired timeline for his return to action.
Based on the dates for St-Pierre's return, it means he would be fighting for the first time in four years after last competing in 2013 when he earned a unanimous decision victory over Johny Hendricks before taking an extended hiatus from the sport.
Now St-Pierre is ready to book his next fight as he awaits word from Bisping on setting the date for their middleweight title bout.
Per Haljestam | Per Haljestam-USA TODAY Sports