Gamble pays off for linebacker Chad Whitener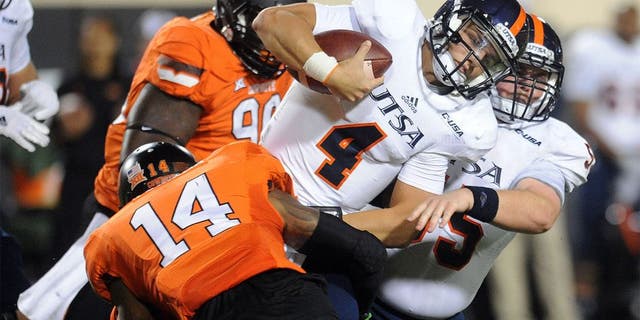 NEWYou can now listen to Fox News articles!
It was a high-risk, high-reward proposition for Oklahoma State linebacker Chad Whitener.
Whitener had the opportunity to earn a scholarship at Cal, but he chose to forgo it. Instead, he decided to walk on at Oklahoma State. In other words, he walked away from more than $56,000 per year.
Now in his second year in Stillwater, Whitener is one of the most productive Cowboy starter. He registered nine tackles against Kansas State.
"I'm having a blast," Whitener said this week. "I'm loving it."
Whitener, who grew up in Texas and was a three-star prospect in high school, had cold feet about moving to the west coast.
"I wasn't really ready for the culture shock," Whitener said. "I wasn't mature enough going from Texas to Berkeley, so getting back closer to home, getting back closer to how I feel, it was a lot better for me."
Oklahoma State has to be ecstatic with how things turned out.
(h/t The Daily Oklahoman)