Gabbert embracing 'great opportunity' in first start with 49ers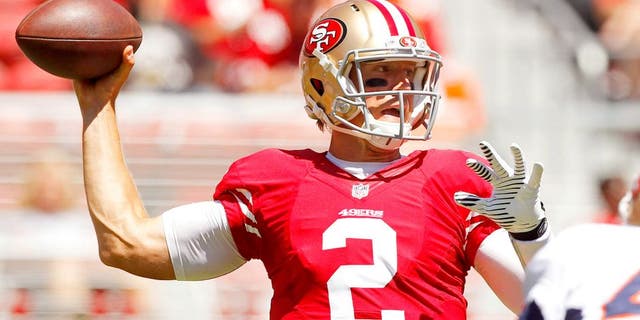 Blaine Gabbert is set to make his first start since October 2013. Cary Edmondson USA TODAY Sports
Blaine Gabbert said he's not the same quarterback who labored through three seasons with the Jacksonville Jaguars. The San Francisco 49ers can only hope that's true.
Gabbert will make his first start since Oct. 6, 2013, when the 49ers host the Atlanta Falcons on Sunday. Gabbert will be charged with injecting life into an offense that is the worst in the league and has produced only three field goals in the last eight quarters.
"It's a great opportunity for me to go out there and play against a good Atlanta football team," Gabbert told reporters Wednesday in his first public comments since San Francisco announced the benching of starter Colin Kaepernick. "I'm just going to go out there and enjoy this. It's fun to play ball again, especially in the regular season. We've just got to get something going on offense."
Gabbert has appeared in only one game since leaving Jacksonville, which drafted him with the No. 10 overall pick in 2011. He finished with a 5-22 record as a starter, losing his final 10 games with the Jaguars.
"They were tough times. I'll be the first to tell you that going 5-11, 2-14 and not having the best years, that falls on the quarterback's shoulders, and I take full responsibility," Gabbert said. "At the same time, I enjoyed that journey and that process, even though it wasn't the most fun at times. I learned a ton from that and look forward to applying that here."
Gabbert enters Sunday's matchup having thrown for 23 touchdowns versus 24 interceptions while completing 53.3 percent of his passes and posting a quarterback rating of 66.8. He did have a strong preseason with the 49ers, going 23-of-28 for 203 yards and a TD.
"He's done nothing but improve the way he's throwing the football and handling the offense," San Francisco coach Jim Tomsula said. "I like what he's doing."