Front Office Insider: Searching for answers in Kaepernick's surprising backslide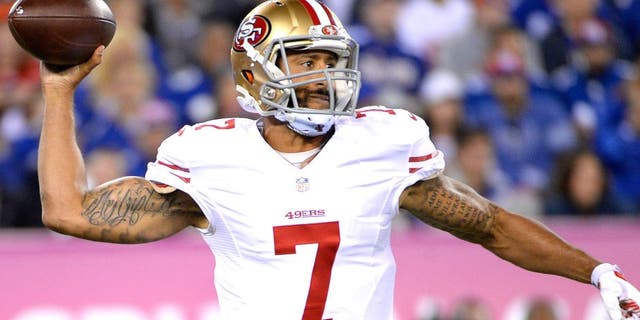 NEWYou can now listen to Fox News articles!
The fevered din stirred up by Colin Kaepernick's struggles temporarily subsided after his encouraging performance Sunday against the New York Giants.
Playing with more poise and better field vision, as one NFC scout noted, the San Francisco 49ers quarterback was able to get in rhythm early and allow his teammates to make plays -- much as he did in his first three years (or at least the first two) as a starter. There's no denying Kaepernick's skill set. He's gifted athletically from a throwing and mobility standpoint.
He is, however, still learning how to play the quarterback position cerebrally at a high level.
In the wake of former coach Jim Harbaugh's departure after last season, the 49ers have undergone a wave of transition to their personnel and scheme. Those factors, combined with unsound mechanics, have led to Kaepernick's inconsistent play, according to his former college coach Chris Ault.
Ault, who spoke at length with FOXSports.com last week about the 49ers quarterback, recruited Kaepernick to run the Pistol offense at Nevada from 2007-10. Following Ault's 42-year tenure with the university that ended in 2012, he served as a consultant to the Kansas City Chiefs before recently being hired as coach of the Rhinos Milano, a team in the upstart Italian Football League.
"Nobody knows Kaep like I do, and really that started last year," Ault said of the QB's problems. "For some reason last year his technique throwing the ball ... he let it go."
This past offseason, the 6-foot-4, 230-pound quarterback worked with former NFL quarterback Kurt Warner to become a more efficient passer from the pocket. The biggest priority for Kaepernick was technique and smoothing out his throwing motion.
So far this season, he has drawn plenty of blame for piloting one of the league's most ineffective offenses. Ault detailed why Kaepernick has been struggling and reaffirmed his confidence in the 27-year-old quarterback.
Throwing motion: The irregularities in Kaepernick's delivery aren't anything new. Though he possesses elite arm strength, he struggles to get the ball out quickly. "I saw a little of it in college," Ault said. "He was a pitcher, as everyone knows. He threw that thing 93 or 94 miles per hour. He has a low elbow at times. It's not a sidearm throw by any means, but his elbow and arm are at 90 degrees instead of having that thing extended all the way up. He does that because he's so doggone strong. He's one of the few guys that can get away throwing that way, but when you have to make the touch pass, drop it over (coverage), or if you have to anticipate where a receiver is going, that type of release oftentimes makes you very inconsistent. That's what I'm seeing. I saw it when we were at Nevada a little bit."
Footwork: The NFC scout noted that Kaepernick at times has nervous feet because of the hits he is taking. Ault agreed with that assessment and said it's in large part because of the 49ers' offensive line troubles. "That plant leg is sometimes fairly loose," Ault said. "I'm not defending Kaep, but some of those things are attributed to the front. You get yourself in some bad habits when you try to get things going on your own. You don't realize you're doing it, and it leads to other bad things."
Personnel changes: No team underwent more offseason turnover than the 49ers. Losing offensive tackles Anthony Davis to unexpected retirement and Mike Iupati to free agency has certainly challenged the entire unit. Kaepernick has been sacked the third-most times in the league, ranking behind Seattle's Russell Wilson and Kansas City's Alex Smith. "They went from a veteran line to a line of guys that are just trying to come together as a unit," Ault said. "It has just taken a left turn, no question about it. I'm sure we could look at film and say that he left the pocket too soon, but I think you have to put the shoe on the other foot. The front is not cohesive at this particular time. I know they're working on it, there's no question about it, but he can't block for himself. He's the type of player -- rather than say, 'I'll take a sack,' he's the guy that will try to make something happen. And at times, he probably has run when he shouldn't have."
Final assessment: After back-to-back disasters in Weeks 3 and 4, when Kaepernick turned the ball over five times and led just one touchdown score on 20 drives, he said he hasn't lost any confidence in himself. "I can tell you this, and he had some bad games with us at Nevada, but this guy is a vicious competitor," Ault said. "You may not see it, but I'm telling you that he is. His vision is real clear on where he's at, what he has to do to get better, and he'll find a way. He is one of the most competitive players that I've ever coached."
*****
INDY'S LITMUS TEST? Everything the Colts did in the offseason was designed to help them beat the Patriots. That's why this week's AFC Championship rematch (8:30 p.m. ET Sunday, NBC) is so important to the franchise.
The Colts, who allowed 423 rushing yards in two games against the Patriots last season, were also alarmed by their play on the offensive side of the ball. And that, according to multiple sources, affected their strategy in free agency and in the draft.
The Colts were hoping former Missouri linebacker Shane Ray would be available when they selected 29th in the draft, sources say. But the Denver Broncos nabbed him at No. 23 overall, and that shifted the Colts' priority to finding a receiver who could take the top off a defense. In both the AFC Championship Game and their November game against New England, No. 1 receiver T.Y. Hilton was largely held in check.
"They took T.Y. out of the game by pressing him and having someone over the top," one source familiar with the team said. "When they shut him down, it messed with the entire complexion of the offense."
Indianapolis hoped drafting wideout Phillip Dorsett in the first round would force defenses to choose which deep threat they needed to double-team. Though Dorsett has taken some time to get acclimated to the offense, he has flashed big-play potential in the three games he has played with quarterback Andrew Luck.
"T.Y. makes plays, and if they are focusing on him, that's why you have Andre Johnson and Donte Moncrief and Phil (Dorsett) and Griff (Whalen) and the tight ends," Luck told reporters this week. "There are a whole bunch of weapons in this locker room. I'm sure they'll have a plan."
Luck (shoulder) told reporters that he practiced "without limitations" on Monday and said it's very likely he'll suit up Sunday after missing the last two games.
WASHINGTON'S WR WORKLOAD: Kirk Cousins might have a new favorite target.
The Redskins quarterback has thrown rookie wide receiver Jamison Crowder's way 20 times in the past two weeks. The fourth-round pick turned that into 15 receptions for 152 yards and nearly missed a touchdown grab against the Eagles in Week 4.
"It's clear they want to get the ball in his hands," an NFC scout said. "He's a good returner and does a really good job of navigating through traffic to pick up extra yards."
Crowder and Ryan Grant have fared well with DeSean Jackson out with a hamstring injury. Jackson, however, could be making his return this week against the Jets (1 p.m. ET Sunday, FOX).