From Long Winter To Long Ball: Baseball Is Back In A Rousing Opening Day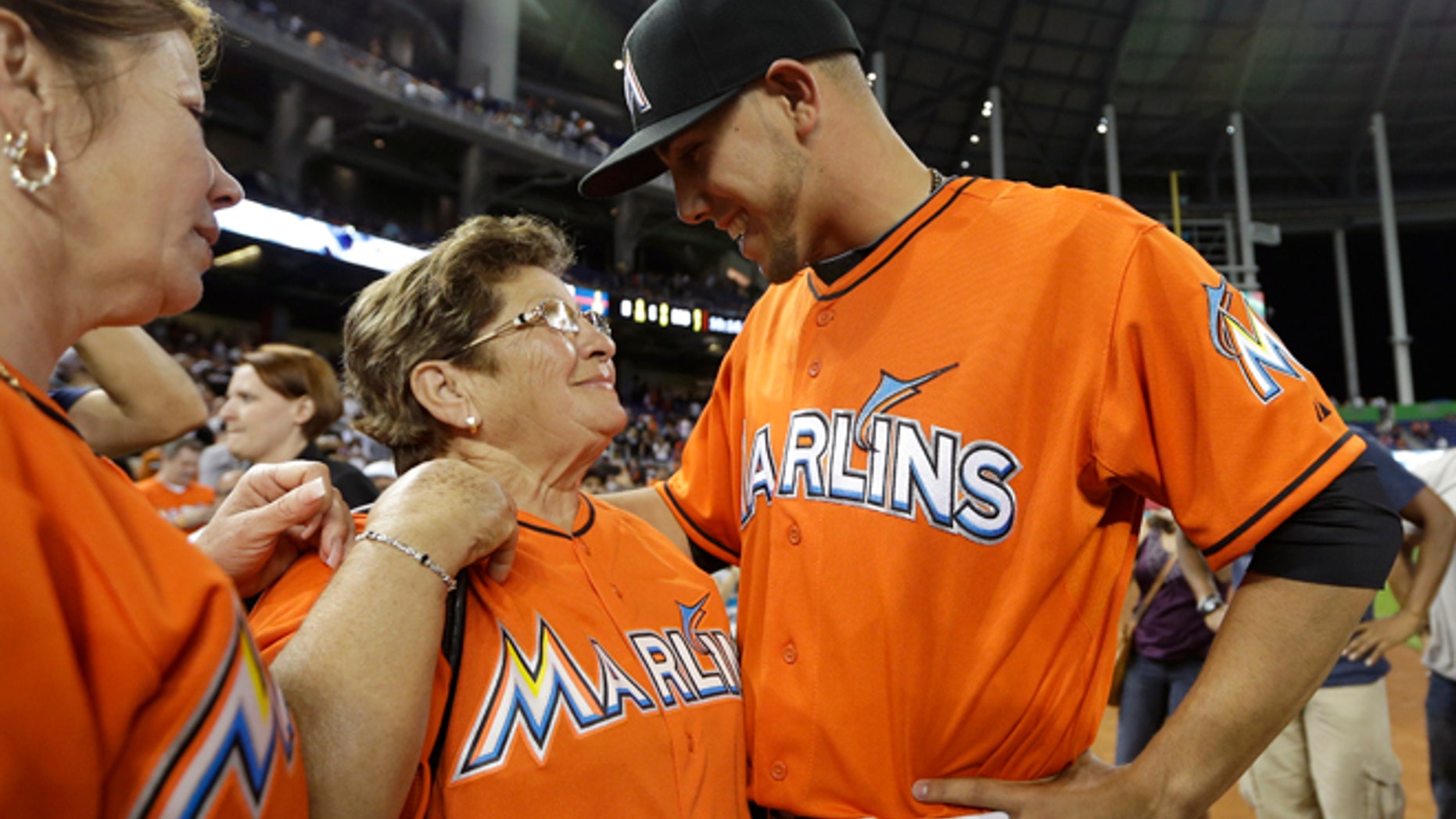 Associated Press – After a frigid winter of blizzards for much of the U.S., baseball came storming back Monday when 26 major league teams opened their seasons and seemed to make the outdoors feel a little warmer.
José Fernández's grandmother attended the Miami Marlins' opener and saw him pitch for the first time since he left Cuba at age 15.
Olga Fernández, who lives in Cuba, sat behind the Marlins' dugout for Monday's 10-1 victory over Colorado. She wore a Marlins uniform with her grandson's No. 16, and above that was the word "Abuela" — Spanish for grandmother.
"It really does mean the whole world to be here and see him pitch for the Marlins in a major league game," she said. "To be here tonight is the ultimate feeling of all the emotions — happy, proud, love."
Fernández, a 21-year-old Cuban defector, became the youngest NL opening-day starter since Dwight Gooden in 1986, according to STATS. He tied a team opening-day record with nine strikeouts in six innings, and then got a hug from grandma.
"She told me, 'Good pitching. You've got to throw a lot more strikes, though,'" Fernández said.
Nelson Cruz, who completed his 50-game suspension in time to return for Texas' season finale last fall, celebrated his Baltimore debut with a tie-breaking home run off Jon Lester in the seventh inning in the Orioles' 2-1 win over World Series champion Boston. Fans chanted "Cruuuuuz!" every time his name was announced.
"It was really neat, it was special," he said. "I made the right call to come and be part of this organization, be part of this town."
Washington's Matt Williams and Detroit's Brad Ausmus won in their big league debuts as managers.
They weren't the only inaugurals.
There was an innovative replay system for umpires, and at some ballparks new metal detectors at fan entrances as teams installed the devices a year before Major League Baseball's industry-wide requirement.
At U.S. Cellular Field in Chicago, there were long lines as spectators were screened by hand held or walk-through metal detectors.
"Everybody's safety is important and if Major League Baseball and the Chicago White Sox are trying to protect their fans that are loyal to them, I'm fine with that," said Paula Green of Paris, Ill.
On the field, there were five video reviews in the day games. In the two decisions overturned by umpires in the New York control room, Ryan Braun of the Milwaukee Brewers and Emilio Bonifacio of the Chicago Cubs were called out at first base after initially being ruled safe. In the two of the three rulings confirmed, Washington's Danny Espinosa and the Cubs' Jeff Samardzija both were called out.
The other confirmed ruling was the first review to be initiated by a crew chief. Umpire Mike Winters requested a replay to see if A's catcher John Jaso had illegally blocked the plate while tagging Cleveland's Michael Brantley under baseball's new rule regarding home plate collisions.
Braun received a standing ovation at Miller Park in his return from a 65-game, season-ending suspension he accepted for violations of baseball's drug agreement and labor contract.
"Fans are fans. That's the way it's supposed to be. He's their hometown player and it was a wonderful reaction. I wish everybody well," said baseball Commissioner Bud Selig, the former Brewers owner who was on hand to watch his hometown team.
Jimmy Rollins hit his 200th career homer in Philadelphia's 14-10 interleague win at Texas as the Phillies had 17 hits and scored their most runs in an opener since 1900. Rollins, whose wife is expecting their second child, flew to Texas on Sunday, a day after the rest of the team.
"I didn't want to come here and then have to fly to Philadelphia," Rollins said. "The baby has let me go out and play ball for a few more days."
Rollins connected off Tanner Scheppers, the first pitcher since Fernando Valenzuela of the 1981 Los Angeles Dodgers to make his first big league start on opening day.
At Pittsburgh, Neil Walker homered off Carlos Villanueva leading off the 10th inning to give the Pirates a 1-0, 10-inning win over the perennially hapless Chicago Cubs. He becomes the first Pittsburgh player to hit a game-ending home on opening day since Bob Bailey against San Francisco's Juan Marichal in a 1-0, 10-inning victory in 1965.
"This one feels pretty special," said Walker, who last year helped the Pirates finish with a winning record for the first time since 1992. "This is a special day for this team, this organization. We've come a long way."
Washington rallied for a 9-7 win at the New York Mets. Denard Span hit a tying double with two outs in the ninth off closer Bobby Parnell, and Ian Desmond put the Nationals in front for the first time with a sacrifice fly in the 10th and Anthony Rendon followed with a three-run homer.
"I have a stomach ache right now," Williams said. "I'll probably sleep good tonight."
Detroit beat visiting Kansas City 4-3 when Alex Gonzalez finished his Tigers debut with a winning RBI single in the ninth against Greg Holland. Kansas City lost its sixth straight opener but Salvador Perez's run-scoring double in the fourth ended a 22-inning scoreless streak for the Royals in openers.
St. Louis won 1-0 at Cincinnati behind Yadier Molina's seventh-inning homer off Johnny Cueto, the Reds' first shutout loss on opening day since 1953. Bryan Price lost his managing debut with Cincinnati.
Coming off a 63-99 season, their poorest record since 1970, the Chicago White Sox beat Minnesota 5-3. Tampa Bay beat Toronto 9-2 behind ace David Price, who wasn't sure he'd remain with the Rays during a winter of trade rumors.
Blue Jays shortstop José Reyes left the lineup after his first at-bat because of a tight left hamstring and was put on the disabled list. Reyes injured his left ankle in Toronto's 10th game last year and was sidelined until June 26.
Nyjer Morgan hit a go-ahead sacrifice fly in the ninth inning against new Athletics closer Jim Johnson and visiting Cleveland sent Oakland to its major league-record 10th straight opening loss, 2-0.
Felix Hernández struck out 11 in the new-look Mariners' 10-3 victory at the Angels. Robinson Cano went 2 for 4 with a double and an intentional walk in the $240 million second baseman's debut for new Seattle manager Lloyd McClendon. Mike Trout hit a two-run homer in the first inning for Los Angeles.
Buster Posey hit a two-run homer off new Arizona closer Addison Reed in the ninth inning and the visiting Giants rallied from four runs down for a 9-8 victory.
The final opener is Tuesday, when the New York Yankees start captain Derek Jeter's last season at Houston.
Follow us on twitter.com/foxnewslatino
Like us at facebook.com/foxnewslatino