Fresno State QB Greenlee charged with possession of alcohol by minor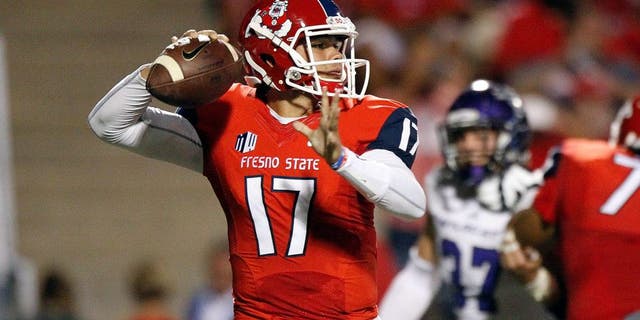 NEWYou can now listen to Fox News articles!
The Fresno County District Attorney's office has filed charges against Fresno State quarterback Zack Greenlee and a teammate arrested last month during a house party near the campus.
The Fresno Bee reports that Greenlee, 20, was charged Tuesday with possession of alcohol by a minor, a misdemeanor.
Brandon Hughes, a 21-year-old linebacker on the team, was charged with obstructing a police officer.
The charges stem from arrests made while breaking up a loud house party on Sept. 20. The Bulldogs lost to Utah 45-24 a day earlier.
Fresno police Chief Jerry Dyer said officers saw Greenlee drinking from a beer bottle. He later refused to hand over a beverage in a red cup. He did not take a breathalyzer test.
Dyer says Hughes, who was not drinking, was with Greenlee during his arrest and refused to leave when ordered to do so by officers.
Fresno State is 1-4 on the season and hosts Utah State on Saturday.