Frank Martin, J.J. Barea's College Coach, Remembers Recruiting the Mavs' Guard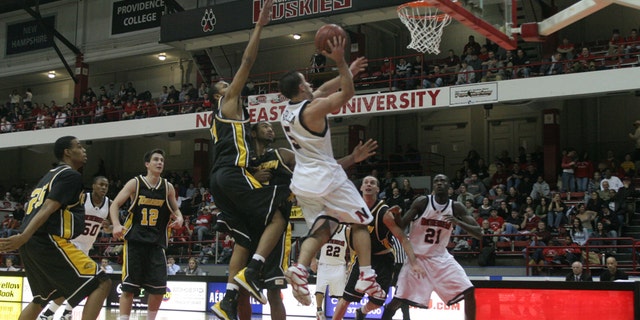 Kansas State head coach Frank Martín watches the NBA playoffs and perhaps turns back the clock, back to the day he first saw J.J. Barea, the backup point guard for the Dallas Mavericks, play in a game during a high school tournament in Florida.
Martín, the head coach at Kansas State University, recalled hearing from a friend who was coaching Barea at Miami Christian School about a kid who had just moved to town from Mayagüez, Puerto Rico.
"'Listen, you need to come see this kid play,'" Martín remembered of that fateful phone conversation.
"'He just moved from Puerto Rico out here,'" the friend continued. "'He has a chance to be super good.'"
Martín, an assistant coach at Northeastern University at the time, built his reputation as being a savvy recruiter. And when you're coaching at mid-major programs like Northeastern, with generally fewer resources than its heavyweight counterparts, it all comes down to the connections you make along the way.
"Well then I flew to Fort Myers," said Martín, the son of Cuban immigrants who grew up in Miami. "I saw him play against a school named Los Angeles Westchester. They had a great team. He went at it against them and played like a man.
"From that moment, I called my boss and I said, 'This is a guy we need to get,'" Martín added.
It all seems like a long time ago. Now, the mystery guard from Mayagüez that his friend was raving about is setting the table in a key reserve role for the Dallas Mavericks in the NBA Western Conference finals against the Oklahoma City Thunder.
Barea is averaging 16 points per game in the series in the same number of minutes. He's dishing out 2.5 assist per game, too.
"He's playing with a tremendous level of confidence now in the playoffs and the team has shown confidence in him," said Martín. "He's prepared himself perfectly for the playoffs with his regular season play."
The series is tied at 1-1. Game 3 is Saturday in Oklahoma City.
Barea showed signs that he would be a valuable NBA player early on – even back when he was a college recruit, Martín said.
"From the first day, he looked like a player that was superior to the rest," Martin said.
The college coach worked on Barea's parents, who visited Northeastern, and they were hooked. From that point on, Barea was Martín's diamond in the rough.
And Barea didn't disappoint. In 2005 and 2006, he was a finalist for the Bob Cousy award, a recognition given to the nation's top point guard. He left the school as its second all-time leading scorer with 2,209 points.
Still, many colleges and NBA perhaps looked at Barea's size and doubted his athletic skills because the 2006 NBA draft came and went – and the diminutive went unpicked.
Dallas finally called and signed Barea as a free agent.
"I knew that once they gave him the opportunity, they wouldn't be able to take him out because he had the courage, the heart," Martín said. "He was really good."
Martín went on to say that because of Barea's fearlessness and spirit, he would have excelled at anything. As proof, Martín said that if Barea had passed up on hardwood floor, he could have been a great professional volleyball player, because that was just "the type of athleticism" he displayed.
"The courage and heart is incredible," the coach said proudly. "As soon you are around him you notice the courage and heart that he has. As a competitor, it's incredible.
"The thing is that in the NBA, teams convince themselves on whether players lacking a certain height can play or not play," he added. "I tried to explain it to all of the NBA scouts that they were making an incredible error if they didn't pick him because he was a winner. He was a guy that took it to the big schools and dominated them when he had the opportunity to play them."
That courage and heart, Martín says, has allowed Barea to play at his most consistent level throughout the 2010-2011 campaign. During the regular season, he averaged nearly 10 points and four assists per game.
"I think that the opportunity that he's taken this year has given him an incredible level of confidence," Martin pointed out.
Barea and Martín don't get a chance to talk much because of their whirlwind schedules, but they do exchange text messages. The coach sent his former guard a congratulatory message after his Game 1 exploits against the Thunder.
Martín remembers the pick-and-roll and the 3-pointers from Barea's days at Northeastern – and isn't surprised that the Puerto Rican standout have transferred those talents to the NBA playoffs.
"He's a guy that understands the game. When they put him in a pick and roll, it's almost impossible to defend because of the ability to shoot," Martín said. "He knows how to utilize the ball to create passes for other players. He has the strength and the explosiveness to be able to look for ways to score through traffic. That's because of his mind and the understanding of the game."
Barea, the diamond in the rough whom Martín recruited and was later bypassed by 29 pro teams, could very well use that sharp mind and understanding to help the one team that did take a chance on him achieve its goal – a trip to the NBA Finals and, just maybe, a championship title.
Adry Torres, who has covered MLB, NFL, NBA and NCAA basketball games and related events, is a regular contributor to Fox News Latino. He can be reached at elpiloto137@gmail.com or follow him on Twitter: @adrytorresnyc.
Follow us on twitter.com/foxnewslatino
Like us at facebook.com/foxnewslatino