J.J. Barea, Dallas Mavericks Prepare for Physical Series Against the OKC Thunder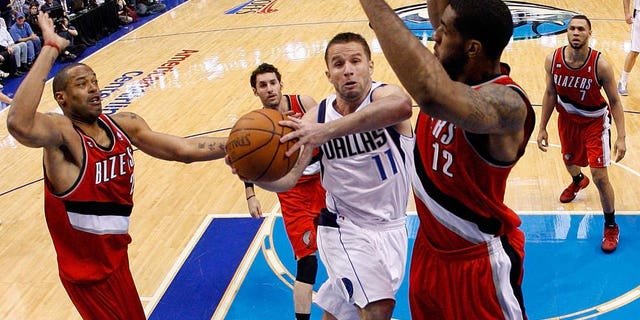 On two separate occasions during the Western Conference semifinals against the Los Angeles Lakers, J.J. Barea, a Dallas Mavericks guard, found himself as a marked man on the court.
In Game 2 of the series, Barea was on the receiving end of a clothesline – courtesy of Ron Artest – as he dribbled the ball with 24.4 seconds left, a point at which Dallas was ahead on its way to a victory.
A few nights later, with Dallas leading 100-68 in Game 4 and on its way to knocking out the defending champions with an embarrassing sweep, Barea drove to the basket – where Andrew Bynum was waiting for him.
The Lakers 7-foot center threw an elbow to Barea's ribs, a punishing blow that tossed the relatively diminutive guard – who is a full foot shorter and more than 100 pounds lighter – to the ground.
The Mavericks, and Barea, survived that series, bumps, bruises and all. Now the team will try to take the same virtuoso play they displayed in upsetting the Lakers – and Barea's no-nonsense grit – into the Western Conference finals against the Oklahoma City Thunder.
Game 1 is Tuesday night.
Barea expects it to be another grueling matchup, sans any WWE moves.
"It's going to be very physical. These Oklahoma players are faster and more athletic than the players on the Lakers," said Barea during a conference call Monday afternoon. "It's a great matchup.
"Oklahoma is a great team," he added. "They play hard. They have a lot of pieces. If we keep defending and playing and moving the ball the way we've been doing it, I think things will work out good for us."
Barea, who is Puerto Rican, and the Mavericks won two of the three meetings they had this season against their foes in the Western Conference finals. Both victories were on the road in Oklahoma City.
Dallas was tested in their first round series win against Portland, and handled the Lakers in the second round.
Although they haven't played in nine days, Barea shook off the notion of any rust. He said the Mavericks coaching staff has kept them ready by staging games in practice to keep them ready.
But now they will have their hands full trying to contain explosive guard Russell Westbrook and the league's regular season scoring leader Kevin Durant.
"Kevin Durant and Westbrook are two tremendous players," Barea said. "The five players out on the court for us are going to have to pay attention to them.
"We have to maintain Westbrook out of the paint and try to make Durant uncomfortable with his outside shots," he added.
In his fifth season with the Mavericks, Barea has become a key figure coming off the bench over the last three seasons, mainly as the backup point guard to future Hall of Famer Jason Kidd.
Barea, who has averaged 7.7 points and 3.7 assists during this year's playoffs, credits Kidd with the steady improvement in his game.
"He's been incredible. A tremendous players. A tremendous teammate. A tremendous friend," gushed Barea, who poured in 9.5 points and dished 3.5 assists a game during the regular season. "I've learned things from him. He spends time talking to me in the same form that he makes everybody around him better.
"Moving the ball, defending...the things that he sees that no one else sees. Everything," he added. "All the little things that I've learned from him. I'm lucky to have him as my teammate on my team."
Adry Torres, who has covered MLB, NFL, NBA and NCAA basketball games and related events, is a regular contributor to Fox News Latino. He can be reached at elpiloto137@gmail.com or follow him on Twitter: @adrytorresnyc.
Follow us on twitter.com/foxnewslatino
Like us at facebook.com/foxnewslatino