FOX Sports North Midweek Stock Report for May 18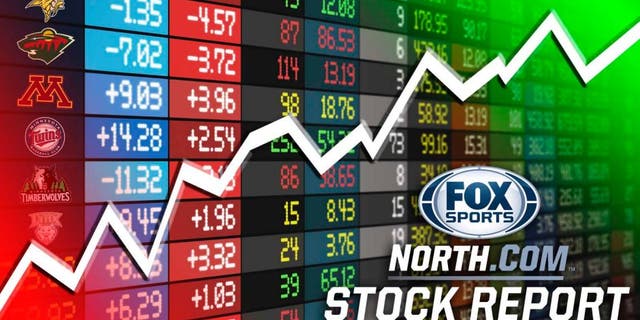 Every Wednesday, FOX Sports North takes a look at which athletes' stock is trending up and whose is trending down.
In other words, who's heating up (#ParkBang), and who is quickly plummeting.
With that in mind, let's "take stock" of the current sports scene in Minnesota.
Juan Centeno, Twins catcher
A fourth-year catcher originally drafted by the New York Mets back in 2007, Centeno replaced underperforming backup John Ryan Murphy earlier this month. After picking up three hits in his first three games with the Twins, Centeno smacked his first career home run in a win over the Cleveland Indians on Saturday, adding a double and a walk.
Miguel Sano, Twins outfielder
Sano had a huge week, connecting for six hits and three home runs, while driving in five runs in games against Cleveland and Detroit. The Twins slugger registered a monstrous .789 slugging percentage last week.
Karl-Anthony Towns, Timberwolves center
Towns was voted the NBA Rookie of the Year on Monday with a unanimous 130 votes, before representing the Wolves at the draft lottery while wearing Flip Saunders' wedding ring on a necklace. Flip's son Ryan, a Wolves assistant, typically wears it.
Byung Ho Park, Twins designated hitter
In the last week the gifted Korean slugger has racked up four hits, three RBI, two home runs, two doubles and two walks in 20 at-bats. He now leads the Twins with a .588 slugging percentage
Joe Mauer, Twins first baseman
After getting on base in 28 consecutive games to start the season Mauer cooled off last week, hitting just .136 through give games on three hits and a home run, while registering a .174 on-base percentage.
Jose Berrios, Twins pitcher
Berrios is one of the most talked-about young pitchers in baseball, but it's probably time to pump the brakes on his arrival, at least for now. Berrios is headed back to Triple-A after picking up just two outs in his fourth major-league start, allowing a whopping seven runs in the first inning.
Dave St. Peter's Twitter mentions
The Twins President dropped the news on Twitter earlier this week that the team will be honoring the University of North Dakota for their NCAA men's hockey championship at Target Field on Sunday. He spent the rest of the day fending off angry Gophers fans, while pointing out that the Twins have also hosted various non-Twin Cities schools over the years.