Fowler is heating up and so are the Cardinals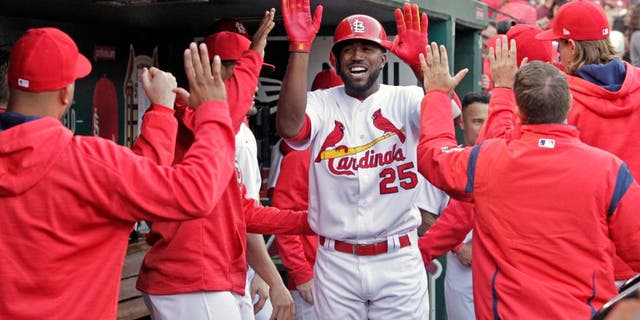 In his two seasons with the Chicago Cubs, Dexter Fowler heard a familiar refrain from manager Joe Maddon.
"You go," Maddon told him before games, "we go."
The Cubs often went to victory with Fowler spearheading the charge, including a win in Game 7 of the 2016 World Series in Cleveland as Fowler walloped a leadoff homer.
Now the script is being repeated, only five hours or so south of Chicago. Fowler is going and the St. Louis Cardinals' offense is starting to go.
In a 6-4 win over the Toronto Blue Jays that polished off a doubleheader sweep Thursday, Fowler reached base four times. He singled twice, belted a two-out solo homer in the second inning and also drew a walk. Even his out was well-struck, a flyball to center.
Fowler will try to keep his good work going Friday night when St. Louis starts a weekend series with the Cincinnati Reds in Busch Stadium.
Home has been a nice place for Fowler of late. In a four-game span starting with a 2-1 win over Pittsburgh on April 19 that saw the leadoff man crack two homers, Fowler is 10-of-18 with five extra-base hits. He has scored in five straight home games.
"That's a guy who you know is going to get up there and work his at-bats, grind them out," manager Mike Matheny said. "When he's doing that, it gives our offense a different feel."
Fowler averaged 4.6 pitches per at-bat in the nightcap Thursday, which included two-pitch plate appearances in the first and eighth. His walk came on the eighth pitch of that plate appearance, and even his out was fairly drawn out, at six pitches.
That version of Fowler could make things tough on a Cincinnati pitching staff that has struggled lately to keep opponents down. The Reds (10-12) have lost five of their last six, including a 9-4 decision Wednesday in Milwaukee.
"You can't consistently dig yourself out of some of the deficits that we had to deal with here lately," Cincinnati manager Bryan Price said.
The Reds will look to Tim Adleman (0-0, 2.70 ERA) to restore some order in the opener. Adleman, who's 1-1 with a 3.75 ERA in two career outings against the Cardinals, got ano-decision in a 6-5 loss Saturday night to the Cubs. He struck out seven and allowed two runs in six good innings.
Lance Lynn (2-1, 2.70) will take the mound for St. Louis. He has won his last two starts, including a 4-1 verdict Saturday night in Milwaukee. He is 8-4 against Cincinnati, with a 3.34 ERA in 17 outings (14 starts).
Former Red Mike Leake (3-1, 1.32) matches up with Bronson Arroyo (2-2, 6.86) on Saturday, and rookie left-hander Amir Garrett (2-2, 5.09) meets Cardinals right-hander Michael Wacha (2-1, 2.55) in Sunday's series finale.
Garrett posted his first big-league win April 7 in St. Louis, outdueling Leake 2-0 as Cincinnati took two of three that weekend.
Weather could be an issue for this series. There's a 50 percent chance of rain Friday night, a 100 percent chance Saturday and a 90 percent chance Sunday.