Former Twins manager Mele dies at 95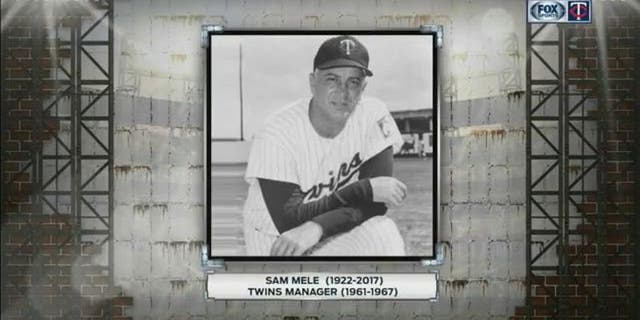 BOSTON -- Sam Mele, a former big league outfielder who later managed the Minnesota Twins to a team-record 102 wins in a season, has died. He was 95.
The Boston Red Sox said Tuesday that Mele died at home Monday in Quincy, Mass. Mele made his major-league debut with the Red Sox in 1947 and, after he was done managing, worked 25 years for them as a scout and in other roles.
Mele played 10 seasons in the majors, batting .267 with 80 home runs and 544 RBI for the Red Sox, Washington, the Chicago White Sox, Baltimore, Cincinnati and Cleveland. He hit .302 as a rookie and in 1951 tied for the American League in doubles with 36.
Mele coached and worked for Washington, then stayed with the team when it moved to Minnesota in 1961. He became manager of the Twins during that season.
In 1965, Mele guided the Twins to their first pennant, going 102-60. Minnesota lost Game 7 of the World Series to Sandy Koufax and the Los Angeles Dodgers.
Mele was the nephew of former big leaguers Tony and Al Cuccinello.