Former champ St-Pierre getting itch to come back to UFC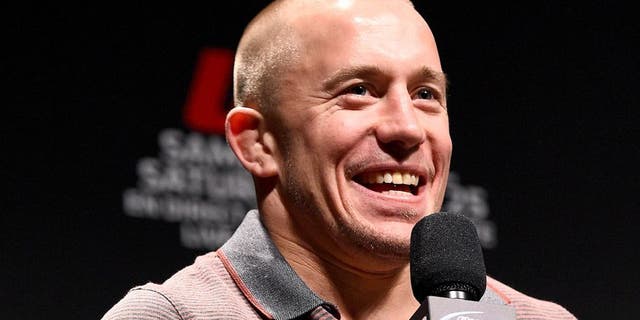 NEWYou can now listen to Fox News articles!
Former UFC welterweight champion Georges St-Pierre never officially retired after his last fight in 2013, and now the Canadian superstar is pushing the door open again that he might actually return to fighting.
St-Pierre took a sabbatical following his win over Johny Hendricks at UFC 167 while simultaneously surrendering the welterweight title.
Since then, St-Pierre suffered an ACL tear in his knee after going through the same kind of injury during his career while also working on new projects such as filming the upcoming "Kickboxer" remake with his childhood hero Jean-Claude Van Damme.
UFC president Dana White has insisted for months that he believes St-Pierre is done with fighting and living the good life of a retired athlete.
But St-Pierre has never stopped going to the gym, training every day and staying in incredible shape and lately it has him contemplating a comeback.
"I'm starting to get the taste, more and more, to comeback," St-Pierre said recently when speaking to RDS in Canada. "I watch the fights to see what's going on in my division, and I'm staying in shape.
"It's like a knife that I have to keep sharp just in case I ever decide to jump back in the mix. It is pretty sure that it won't happen in 2015, but I don't know yet."
While he hasn't fought in nearly two years, St-Pierre is still a stalwart at the gym where he still trains with head coach Firas Zahabi and the team at Tri-Star in Montreal.
St-Pierre still appears regularly working with some of the fighters as a corner man and routinely works with many of the up-and-coming prospects who hope to learn something from a multi-time world champion like him.
Even 19-year-old UFC newcomer Sage Northcutt decided to travel to Montreal to work with the same team that produced St-Pierre while the young fighter named the former UFC champion as one of his principle inspirations for the sport.
St-Pierre promises that if he ever decides to return, he will be in shape because he never stopped learning new techniques and training each and every day.
He just hasn't asked to book a fight since he left the UFC in 2013.
"I'm training hard," St-Pierre said. "As you can see, I have some bumps and bruises. I didn't get these from falling down stairs."