For first time in decade, a healthy Romo no longer Dallas' starting quarterback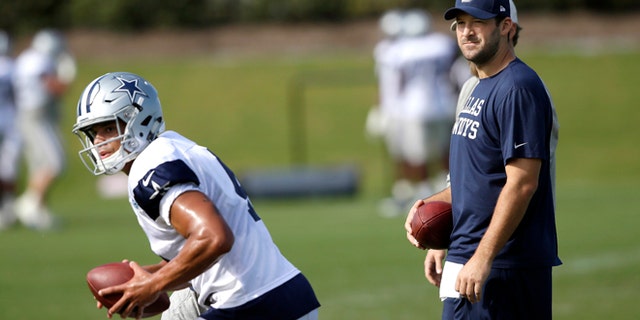 Tony Romo is ready to play. The Dallas Cowboys, strangely, aren't much in need of his services.
At least, not with Dak Prescott healthy and leading the team to an 8-1 record and a comfortable lead in the NFC East.
Romo, who injured his back in the preseason, practiced last week in preparation for Sunday's 35-30 win over the Pittsburgh Steelers, but the team didn't activate him. And now, owner Jerry Jones told the Ft. Worth Star-Telegram, he will be riding the pine next Sunday against the Baltimore Ravens.
"Dak has got a hot hand, and we are going to go with it," Jones said. "It's just going with the obvious. You are going with how the team is doing right now."
Was it a tough choice?
"It's not hard at all. Tony would make the same decision," he said. "That's what you do."
Jones made it clear that the decision has nothing to do with the status of Romo's back.
"He's ready," Jones said. "He practiced all three days and … was able to use every aspect of his leverage of everything he needs to make his throws. He didn't have any lingering effects from it. That's great news for us, and [we] certainly look forward to having him on the roster."
In contrast to 2015, when the team was hopeless without Romo – losing 11 of 12 games with Matt Cassel, Brandon Weeden or Kellen Moore at quarterback – Prescott has taken over the team without a misstep.
The rookie has completed more than two-thirds of his passes, 14 of which have gone for touchdowns with only 2 interceptions.
Romo, who is Mexican-American, has yet to comment publicly on his demotion – the first time since the beginning of the 2006 season that he's been a backup – but the speculation about where he may wind up next season, or even sooner, has already begun.
By most measures, 2014 was Romo's best season as a professional quarterback. He completed nearly 70 percent of his passes, with 34 touchdowns against 9 interceptions.
"I don't think it's going to be awkward for anybody," Jones said. "I'm just glad to have him out there. I want him out there in case he's needed and ready to roll."