Floyd Mayweather offers to help Ronda Rousey with her boxing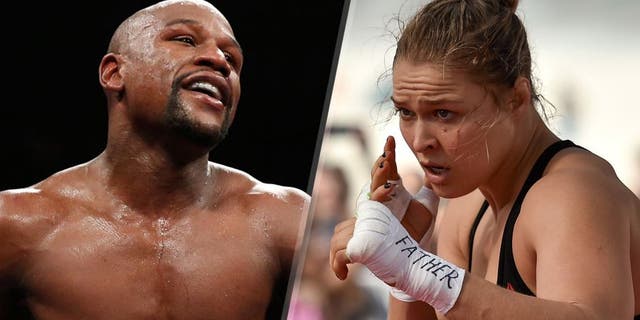 Floyd Mayweather might have shared a public rivalry with Ronda Rousey but following her loss over the weekend to Holly Holm, the retired pound-for-pound king of boxing is not only defending her from critics but actually offering to help her if she needs it.
Rousey fell to Holm in the second round of their main-event matchup at UFC 193 last weekend in large part because the new champion used the boxing skills she's developed for more than a decade to cut angles with great footwork, establish range and eventually set up the knockout.
Mayweather feels for Rousey going through what she did with the knockout, but he says he'd be more than happy to help with her boxing as she gets ready to make her return to action in the future.
"I want Ronda Rousey to hold her head up high and don't let this discourage you. If you need help as far as with boxing, I'm here to help you," Mayweather told Fighthype.com. "It's all about timing and inches. Her ground game is unbelievable. She'll be OK."
The two fighters have shared more than a few harsh words over the years, but the recently retired champion understood where a lot of the vitriol came from as Rousey got as much attention talking about Mayweather as she did her own opponents leading up to a fight.
In that way, Mayweather doesn't blame Rousey one bit for using his name to help get some attention and he promises no matter what was said it was always business for him and never personal.
"I mean, even with the things that Ronda Rousey said about me, sometimes we need to be guided in the right way. Do I think that she really meant what she said? Absolutely not," Mayweather said. "You know, it's crazy, to get to where I got to, I didn't have no sponsors. I mean, today, people are overnight sensations. I commend Dana White and the Fertitta brothers for being able to take a female and make her so huge in a contact sport. I commend them for that, but she had to do her part also, and she did her part.
"If I was her, I would've used Floyd Mayweather's name also. She's supposed to do that. It's business, it's not personal, and I understand business."
Mayweather never suffered a defeat in his career, but he understands the promotion business very well, and he's not sure doing an automatic rematch between Rousey and Holm is the best idea at this point.
Instead, Mayweather believes Rousey should take some much-needed time off to recover and then build towards a second shot at Holm when the stakes and the money would be bigger and better than before.
"As a former fighter, I think that she needs some time off to regroup and refocus. I think they're rushing her. They need to build Ronda Rousey back up, her confidence back up, even though I think she's probably still confident," Mayweather said. "Let Holly fight, defend the title a few times, and build it.
"That's what I would do, looking at it as being a former fighter and now promoter. I wouldn't rush it. What I would do, I would put them on the same card fighting against different opponents and then slowly build it up. It's all about timing. That's what I did with the (Manny) Pacquiao fight. The fight went from me making $100 million to me making $300 million, so it's all about timing."
In addition to offering Rousey help in her return to action next year, Mayweather is also interested in working with more MMA fighters, including former light-heavyweight champion Jon Jones and maybe even his opponent Daniel Cormier.
"I'm waiting for the comeback of Jon Jones and the other guy that Jon Jones faced before (Daniel Cormier). I would love to sponsor those guys," Mayweather said. "I look forward to working with a lot of MMA fighters as far as teaching them boxing techniques. It's the little small things in contact sports that can take you to that next level."