Florida's perfect adventure keeps on rolling in Missouri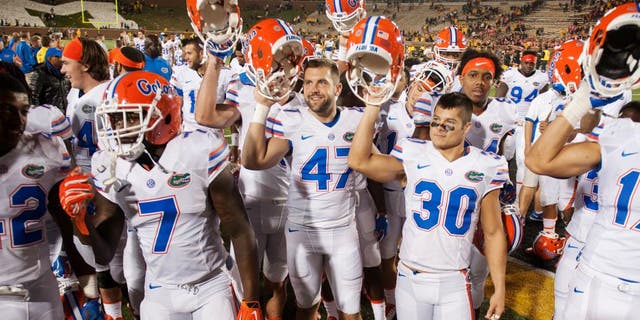 NEWYou can now listen to Fox News articles!
COLUMBIA, Mo. -- A lot of people expected the Gators to win six games this season.
But not the first six.
Two months ago when the Gators reported to their first preseason camp under new head coach Jim McElwain, the standard premise was that Florida was a program in transition.
A program so far from where it once was that a climb back to national relevance was just silly talk in 2015.
Reasonable critics said the Gators had a defense but not much of an offense. They had to find a quarterback to have an offense. McElwain needed time to recruit more playmakers. The Gators were at least a year away from competing in the SEC East, and probably two years from a return to elite status, and that was only if whatever plan McElwain drew up worked to perfection.
And yet at the midway point of McElwain's first season at UF, the Gators own a perfect record.
The latest revelation on The Gators' Excellent Adventure happened here Saturday night at Memorial Stadium. Florida spoiled Missouri's homecoming with a 21-3 victory in a down-your-throat defensive performance.
"That's the first time I've played against a true defense like that," said Missouri freshman quarterback Drew Lock, making his second career start. "It was a little different than I've ever seen."
The Gators sacked Lock three times and applied constant pressure as he completed only 16 of 39 passes for 151 yards and two interceptions.
Missouri drove 62 yards on its first drive of the game. The Tigers managed just 195 yards the rest of the game.
McElwain saw much of the same in Florida's defense as Lock did -- thankfully from the same sideline.
"They're tuned in, they're locked in, they're challenging each other, they're challenging the offense," McElwain said. "It's fun to watch and I've got to tell you, they play the game fast. They're definitely one heck of a unit."
The talk all week around Gainesville focused on how the Gators, coming off a stunning 38-10 victory over then-No. 3-ranked Ole Miss that turned heads, would handle their newfound success and respect.
Florida climbed 14 spots in the AP Top 25 and McElwain began to get more interview requests than usual as -- in his words -- the Gators got their bellies rubbed.
There was nothing to worry about.
On the game's opening drive, Florida drove 75 yards on 12 plays to take a 7-0 lead on Kelvin Taylor's 1-yard touchdown run. If those were the only points the Gators scored, they would have still won the game.
But Taylor added another touchdown later in the opening quarter and sophomore cornerback Jalen Tabor returned an interception 40 yards for a score in the second half.
This was one over.
"We feel like if our offense puts up at least 14 points, it's going to be hard to beat us because we're going to buckle down," Tabor said. "We know we've got the right players."
The Gators have certainly shown the right stuff through six games.
McElwain is the first Florida head coach to win his first six games since Galen Hall 31 years ago. Going back to last season, the 53-year-old McElwain has won 15 of his last 16 games.
And now he has the Gators in the driver's seat in the SEC East at 6-0 overall, 4-0 in the conference.
No one saw this coming, not even Albert and Alberta when they met McElwain at the airport the night before his introductory press conference in December.
He is enjoying the ride.
"Guys, I would think you'd be kind of excited writing about how good we are right now," McElwain said to a group of reporters after the game. "That's pretty cool, isn't it? I mean what the heck? Let's have a little fun.
"But here's the good thing: We could be as good as we want to be, but we've got to be good on Monday in order for it to happen. We've got to be great on Tuesday and as we keep going, I'm excited that they should get their bellies rubbed. They deserve it."
For those picking apart Saturday's victory, kicker Jorge Powell missed a short field goal and had a kickoff go out of bounds. Also, the offense wasn't as productive as in the victory over Ole Miss, but it was good enough for the Gators' seventh consecutive win including the Birmingham Bowl in January.
Quarterback Will Grier completed 20 of 33 passes for 208 yards and Taylor carried a career-high 28 times for 99 yards.
In a game very reminiscent of Florida's 14-9 win at Kentucky three weeks ago, the offense grabbed an early lead and the defense did the rest. The Gators have not allowed a touchdown in their two road games.
Taylor is confident Florida can keep its hot streak alive with a road game at LSU next week, their biggest test yet.
"We're never satisfied. We want to keep making plays and keep playing great ball," Taylor said. "I feel like every week we come in and we try to get better and better."
That's what McElwain wants to hear. He'll be looking for that approach back on the practice field Monday.
The Gators have Sunday off. A day to rest and get their bellies rubbed by fans and media as perhaps the most surprising team in college football midway through the regular season.
"But then, somebody sent me a YouTube video that said if you rub an alligator's belly, they fall asleep," McElwain quipped. "Did you see that? Have you heard that? So I'm hoping maybe they rub our back."
The Gators definitely deserve at least a pat on the back for their surprising start.