Florida Panthers at New York Islanders Game 3 preview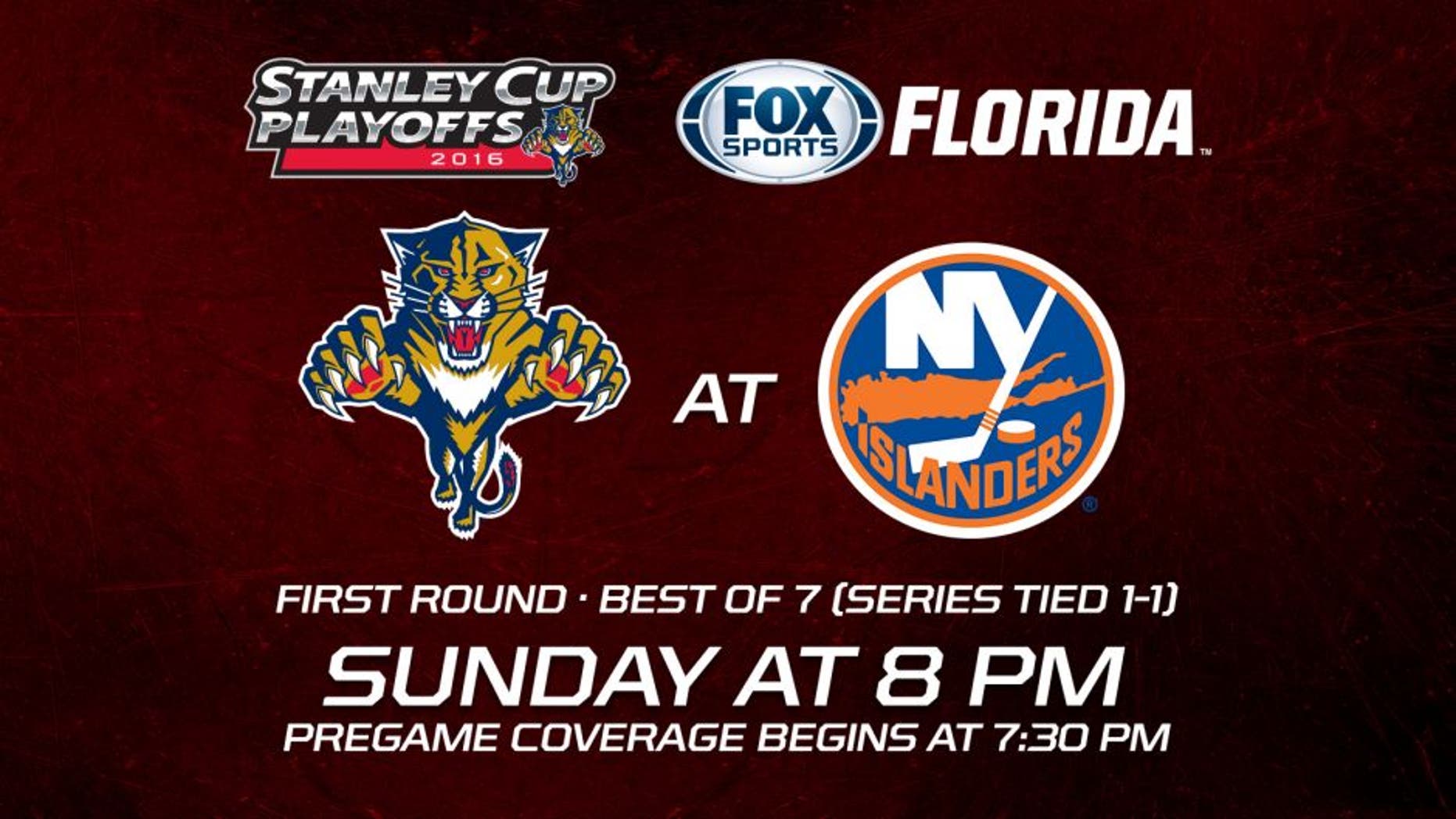 After a scoring outburst by both teams in the series opener, Roberto Luongo knuckled down and got the Florida Panthers even with the New York Islanders at a game apiece.
The Atlantic Division champions will now try to reclaim home-ice advantage with a Game 3 win, but the Islanders expect to receive a huge lift from a raucous crowd when playoff hockey makes its debut at Barclays Center on Sunday night.
Thursday's opener was a high-scoring affair the Islanders won 5-4, but the goal barrage screeched to a halt Friday with Luongo making 41 saves to pick up his first playoff victory in five years with a 3-1 win in Game 2.
New York captain John Tavares ended Luongo's shutout bid with 3:33 remaining before Florida closed it out on Dmitry Kulikov's empty-netter in the waning seconds. Reilly Smith and Nick Bjugstad each had a goal and an assist for the Panthers.
"It was important, obviously, to get one at home," said the 37-year-old Luongo, who hadn't won a playoff game since shutting out Boston 1-0 in Game 5 of the 2011 Stanley Cup final with Vancouver. "Complete team effort tonight. Typical playoff game, low-scoring, grinding down and we found a way to win."
Luongo, who fell victim to a few defensive lapses by Florida in Game 1, made several outstanding saves to thwart an attacking Islanders offense which hadn't put at least 40 shots on goal since totaling 46 at Columbus on Feb. 9. He even kept the puck out of the net for a minute-long stretch without his stick after it was knocked from his hand.
Lifting the Panthers to a playoff win came in his 456th appearance with the club.
"Lu's big for us every night," Bjugstad said. "(Thursday) night, I thought those were good goals by them. Lu's so focused every day, he works so hard in practice, it pays off for him on the ice. So no, we weren't really surprised.
"He's a veteran. He's been in these types of situations. Definitely makes us comfortable when he's in the net."
Thomas Greiss also pitched in to quiet down the scoring with 28 saves for New York after stopping 42 shots in Game 1.
"We played better tonight than we did (Thursday) night," Islanders coach Jack Capuano told the team's official website. "We should be going (home) 1-1 and we are. We're going back to Brooklyn and we know the atmosphere is going to be great."
The club is anxious to see if the fans in its new barn can bring the noise the way they did from 1972-2015 at Nassau Coliseum, where New York raised four consecutive Stanley Cup championship banners in the early 1980s.
"We know what kind of environment our fans can create and we're counting on them and we want to feed off them," said Tavares, who remains hot with a goal in six straight games and has 13 points with a plus-7 rating in that span.
The Islanders' first season in Brooklyn resulted in a 25-11-5 home record, including a split of two meetings with Florida. The Panthers won 5-1 on Dec. 15 before New York earned a 3-2 win March 14. Jaroslav Halak, out for this series with a groin injury, was in net for the loss before Greiss made 23 saves in the win.
Luongo was between the pipes for both contests and stopped 58 of 62 shots, improving his career goals-against average on the road against the Islanders to 2.30 and his save percentage to .933, though he's won just six of those 15 games.
"It's a long series, so we'll enjoy tonight but it's back to work tomorrow," Luongo told the Panthers' official website. "I mean, they all feel good. It's playoffs, man."