Florida Gators at Missouri Tigers game preview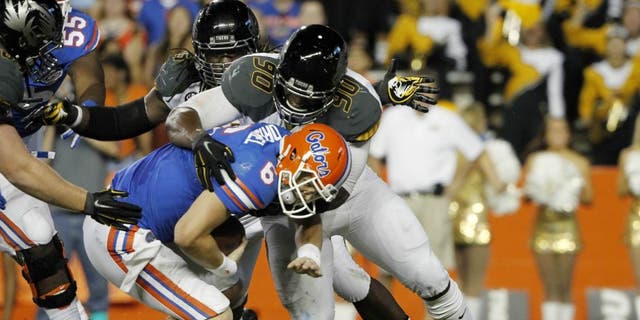 NEWYou can now listen to Fox News articles!
GAINESVILLE, Fla. -- As soon Gators head coach Jim McElwain referenced a 1960s-era band named The Cyrkle at his Monday press conference, several reporters began searching the Internet to see exactly who McElwain was talking about.
After all, they weren't exactly The Beatles.
In the history of rock 'n' roll, The Cyrkle ("Red Rubber Ball") ranks right up there with bands such as Baha Men ("Who Let the Dogs Out"), New Radicals ("You Get What You Give") and Blind Melon ("No Rain").
They were all one-hit wonders. Before anyone knew who they were, they vanished from the charts.
McElwain challenged the No. 11-ranked Gators, who are off to a surprising 5-0 start and are coming off an impressive victory over Ole Miss, to show staying power as they travel to face Missouri on Saturday.
"I'm kind of interested to see if our team is a one-hit wonder,'' McElwain said. "I don't think we are, but we'll find out this week."
The Gators' impressive performance against the Rebels caught everyone's attention. They moved up a school-record 14 spots in the AP Top 25 and turned up the volume in The Swamp to a level unheard in a while.
Besides proving they have more hits in them, the Gators can draw motivation from their 42-13 loss to the Tigers last season. And their 36-17 loss to Missouri two years ago at Memorial Stadium, which is hosting its first night game in two years on Saturday.
"We know our goal is to go there and get the W,'' center Cam Dillard said. "Last year they came into our place and took what was ours. I feel like it's time to get one back on them. They're a good football team. They won the [SEC East] championship two years in a row, so they know what it takes. "We just have to go out there and show them who the Gators are."
To help you get ready, here is an in-depth look at the Florida-Missouri matchup:
THREE STORYLINES
--The Gators were embarrassed by Missouri last season at home, their 29-point loss (42-13) the worst at Florida Field since Bear Bryant and the Crimson Tide steamrolled the Gators 40-0 in 1979. The Gators are off to an excellent start atop the SEC East and would like nothing more than to spoil Missouri's homecoming the way the Tigers did theirs a year ago.
-- Drew Lock became the first true freshman quarterback to start a game for Missouri in 20 years in last week's victory over South Carolina. Lock finished 21 of 28 for 136 yards and two touchdowns. The Gators have caused trouble for opposing quarterbacks this season with constant pressure and they want to do the same Saturday and force Lock from his comfort zone.
-- Florida quarterback Will Grier has continued to improve each week. He was at his best against Ole Miss. Grier took his time in the pocket, his throws were on the money, and he made plays when the Gators needed them. Next up for Grier is the SEC's top-rated defense and another opportunity to make his mark.
THREE PLAYERS TO WATCH
-- Senior defensive lineman Jon Bullard is playing at a high level. He is tied for the SEC lead with 9.5 tackles-for-loss and has a team-high 4.5 sacks. Bullard came back for his final season of eligibility to improve his draft stock and so far has done exactly that.
-- Missouri's defensive line has a pair of impressive ends in Charles Harris and Walter Brady. Harris has three sacks and Brady is tied for second in the conference with five. Florida's offensive line, which rose to the challenge a week ago against Ole Miss, will be tested on the outside. True freshman Martez Ivey's role continues to evolve and it will be interesting to see how the Gators use him Saturday.
-- Gators receiver Demarcus Robinson hauled in a 36-yard touchdown pass last week and made a spectacular one-handed catch on another drive to finish with eight receptions for 98 yards. When Robinson shows up ready to play, he gives the Gators a dynamic playmaker opponents must account for at all times.
THE QUOTE FILE
-- "We're probably not going to go in and set a sack record against these guys, because they're not seven-step dropping and holding the ball.'' -- Florida coach Jim McElwain on Missouri's passing game
-- "We just want to affect the guy as much as possible. Get our hands up. This quarterback, he's a big kid. So you could put your hand up, but he's still 6-4. We've just got to get in his face, push the pocket on him [and] just make it dirty for him." -- Gators defensive line coach Chris Rumph on UF's pass rush
-- "You always are going to keep in mind what quarterbacks can handle. He might handle a lot more than you ever imagined. He might handle a lot less than you ever imagined. Obviously I'm not going to talk about that. We're going to help him. He's very smart." -- Missouri coach Gary Pinkel on freshman quarterback Drew Lock
-- "It was bad. It was quiet. You could sense guys kind of losing hope, giving up. That's kind of expected in a sense, losing at homecoming." -- Florida safety Keanu Neal on mood after last year's loss to Tigers
-- "The day he walked in he always said we are the Gators and that's just what it is. He has that confidence about himself and he just passes it on to his coaching staff and to the players.'' -- Gators safety Marcus Maye on McElwain's impact
-- "Maybe they got tired of rubbing his belly." -- McElwain when asked why trainers were rubbing ointment on Florida quarterback Will Grier's back at Wednesday's practice
INJURY REPORT
Out: Linebacker Alex Anzalone (shoulder); Doubtful: Tight end C'yontai Lewis (hand); Questionable: Linebacker Jeremi Powell (foot); Probable: Safety Marcell Harris.
McElwain said freshman defensive back Chris Williamson suffered a leg injury on Wednesday and his status is uncertain. Williamson has appeared in all five games on special teams. Meanwhile, offensive linemen Kavaris Harkless and Travaris Dorsey are expected back next week from undisclosed injuries, McElwain said.
HISTORY LESSON
Before Missouri joined the SEC in 2012, the only previous meeting between the Gators and Tigers came in the 1966 Sugar Bowl at old Tulane Stadium. The Tigers raced to a 20-0 lead before Gators quarterback Steve Spurrier passed for two touchdowns and ran for one in the final quarter. However, Florida missed three consecutive two-point conversion attempts to lose 20-18. Check out this video that includes some cool archival footage inside and outside of Florida Field as the Gators prepared for the game, and game highlights:
10 QUICK HITTERS
-- Since the start of the second half against Tennessee, Florida quarterback Will Grier is 11 of 13 for 138 yards, three touchdowns and no interceptions against the blitz (one sack), according to ESPN Stats & Information.
-- In Florida's win over Ole Miss, Grier (24 of 29, 271 yards, 4 TDs) joined former Tennessee quarterback Tee Martin as the only SEC players since 1996 to throw for 270 yards, four touchdowns, no interceptions and complete 80 percent of his passes in a conference game.
-- Gators junior cornerback Vernon Hargreaves III recorded his third interception of the season against Ole Miss, which matches his career high for a single season.
-- Nine of Gators tight end Jake McGee's 16 receptions (56.3 percent) have gone for a first down or touchdown.
-- Missouri is 13-7 against SEC East teams since joining the conference in 2012, same as Florida over that span. Two of Florida's losses to the Tigers.
-- First-year Florida head coach Jim McElwain has won 14 of his last 15 games going back to last season at Colorado State. McElwain is trying to become the first UF coach to win his first six games since Galen Hall in 1984.
-- The Tigers have held six consecutive opponents to 21 points or less, their longest such streak since 2006.
-- Missouri leads the SEC in scoring defense (12 points per game), pass defense (154.2 yards per game) and total defense (263.6 ypg).
-- Tigers linebacker Kentrell Brothers leads the SEC with 59 tackles, averaging 11.8 per game.
-- Missouri coach Gary Pinkel (Toledo and Missouri) is one of only two active FBS coaches -- Steve Spurrier (South Carolina and Florida) is the other -- to hold distinction as all-time winningest coach at two different schools.
The Gators are Missouri's homecoming guest on Saturday. The same was true for the Tigers a year ago when they visited The Swamp. Missouri won, 42-13, a fact Florida remembers well.
BOTTOM LINE
The Gators are coming off a stunning victory over then-No. 3 Ole Miss that made it feel like old times at The Swamp. The offense clicked, the defense dominated, and the special teams showed signs of life. What do the Gators have in them for an encore? Jim McElwain is interested to find out and so is Gator Nation. If the Gators come away with a road win at two-time defending SEC East champion Missouri, then they move into the driver's seat in the division and a trip to Atlanta in December starts to seem a real possibility.