Fisher staying above BCS fray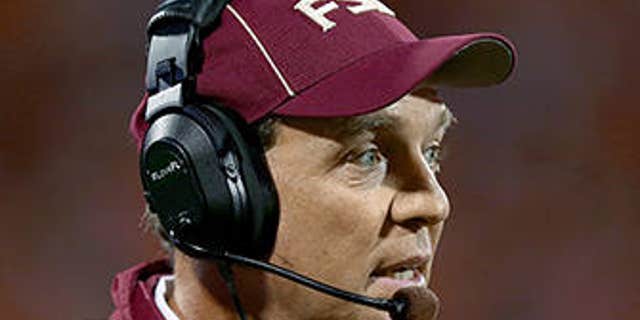 TALLAHASSEE, Fla. – Sometimes in a dirty world, the only way to fight back is dirty. That's why there's something respectable about the way Florida State coach Jimbo Fisher has decided not to fight at all.
This is about the BCS, which, in its final year, is lining up perfectly to stick it to one last deserving team: This time, it's Florida State. The Seminoles dropped from No. 2 to No. 3 in the BCS standings this week after their blowout over North Carolina State didn't look as good to voters at Oregon's blowout over ranked UCLA.
The Ducks are No. 2 now. And there's no room for No. 3 in the national title game.
So what did Fisher do when his team dropped from a coveted spot to a runner-up spot after a big win? Nothing. And did he at least vote his own team No. 1 in the coaches' poll, which makes up one third of the BCS standings?
"Nope,'' he said.
We've seen coaches lobby shamelessly for their teams in the past. And it's just ugly. It also might possibly be the smart way to go. Someone has to be an advocate for you.
But it's refreshing to see Fisher do this, to have a little dignity.
Of course, it's not crunchtime yet. And if you wonder if he might just not be telling the truth about his vote, note that last week one coach voted FSU No. 1, and this week, none did.
Fisher wouldn't say where he voted his team, and wouldn't say for sure who he voted No. 1, though he did strongly imply he voted for Alabama.
But the truth is that Fisher could have put 100 points on North Carolina State as a statement for Florida State, and also to build numbers for the Heisman chances of redshirt freshman quarterback Jameis Winston.
Fisher said he couldn't see himself doing that, that it would tear at the integrity of the game. He took out plenty of starters and gave the backups a chance. Florida State, which had 35 points in the first quarter, finished with 49.
The season is now coming down to a straight-up battle: Oregon vs. Florida State for the spot in the title game against Alabama. And Winston vs. Oregon quarterback Marcus Mariota for the Heisman.
Florida State has become the most exciting story in college football, built around the unexpected play of Winston.
So what did Fisher tell his team after it fell in the rankings following a blowout win?
" `Don't worry about it,' '' Fisher said. " `We'll worry about that when the year's over. Play to the standard you want to play to, play to that and above and try to grow.' Those things take care of themselves.''
What if they don't? The BCS formula put Nebraska in the title game after it had been embarrassed by Colorado. So the next year, the BCS formula was changed.
But that didn't do anything for the deserving team that was left out that year: Oregon.
Fisher used the line every coach uses, about not worrying about things you can't control. That's a good message to send to his players, but I asked him:
Doesn't a coach have some difficulty in not doing some things that it can control? Voting his team No. 1? Lobbying for it? Coaching for style points?
"I think that's where you have to come back to the eye test,'' he said. "People will watch teams and are able to evaluate teams. These things always seem to work out. ...
"You can't worry about that. We have to play great football. That's our job.''
It probably wouldn't do any good anyway. Florida State might move back to No. 2, based on its strength of schedule, after it plays Miami on Saturday. (Expect a blowout win.)
But then Oregon comes back against Stanford and Oregon State and the Pac 12 title game. It figures to jump back to No. 2 for good.
The storyline in big-time college sports is almost always about money and greed and entitlement now. It has become dangerous when you take someone at his word.
But I choose to believe here: Fisher is above it.
The original article can be found at FOXSports.com: Fisher staying above BCS fray.