First loss will hurt No. 4 Baylor in Big 12, playoff race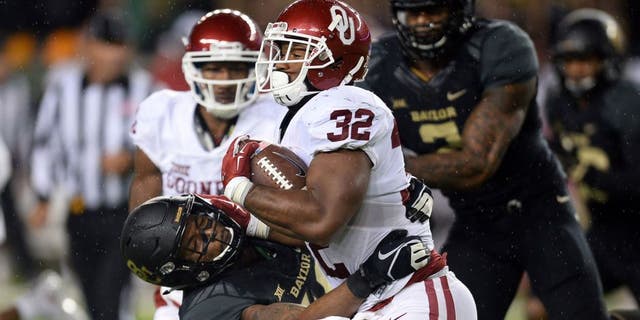 NEWYou can now listen to Fox News articles!
WACO, Texas (AP) -- There is nothing fake about how much the first loss will hurt No. 4 Baylor.
The Bears' FBS-best 20-game home winning streak is over, and likely their playoff chances are as well, after a 44-34 loss Saturday night against No. 12 Oklahoma.
"We lost at home and that sucks, but we can still win the conference, so that's what our goal is," All-America left tackle Spencer Drango said.
But the Bears (8-1, 5-1 Big 12) will now need some help to claim their third consecutive Big 12 title because the league did away with tiebreakers after last season. They will need even more help to get back in playoff contention.
"Life isn't over, our season isn't over," said nickel back Travon Blanchard, who had an interception but also had a crucial penalty early in Oklahoma's final touchdown drive.
Baylor, the first team left out of the initial four-team playoff last season, was sixth in the latest College Football Playoffs rankings as an undefeated team with the toughest part of its schedule left.
The Bears will certainly drop in the playoff rankings before playing at No. 5 Oklahoma State (10-0, 7-0) next Saturday. The Sooners (9-1, 6-1), who have won five in a row, will be in Stillwater the following week for their regular-season finale.
Asked if his team was mentally prepared to move forward, Baylor coach Art Briles responded, "We're going to see."
Oklahoma was up only 37-34 and apparently facing third-and-15 from this 17 after Baker Mayfield threw an incompletion while under pressure. But Blanchard was penalized from a horse-collar grab while pursing the quarterback, giving the Sooners an automatic first down.
"That's massive because we had momentum," Briles said. "We're getting the ball hopefully around midfield there with a chance to go down and take the lead."
There was also a strange moment during that drive when, as the Sooners lined up for a first-down play, Baylor cornerback Ryan Reid suddenly ran toward safety Terrell Burt, motioning for him to get down to the ground. There was an injury timeout, and trainers tended to Burt, though it was unclear if he was injured. Burt later returned to the game.
Mayfield then ran for 17 yards, and ended the drive with a 7-yard TD pass to Dimitri Flowers.
Sterling Shepard had 14 catches for 177 yards and two of the three touchdowns thrown by Mayfield, who finished 24 of 34 and also ran for a score.
Oklahoma now controls its destiny in the Big 12. And coach Bob Stoops thinks they could be a playoff contender if they keep winning.
"Go into their backyard on a night like tonight and play this way, you know, we're one of those teams that has a chance," Stoops said. "Again, you come into an undefeated team ranked that high, waiting on you, and win by 10. It's got to be a positive."
Shepard's tiebreaking 7-yard TD catch with 9:52 left in the third quarter put the Sooners ahead to stay, and they became the first opposing team to win in the 11 home games Baylor has played since moving last season into its campus stadium on the banks of the Brazos River.
Less than a minute later, after Baylor went three-and-out, Samaje Perine had a 55-yard touchdown run to make it 34-20. Perine finished with 166 yards and two touchdowns.
The Bears trailed at halftime for the first time this season after Mayfield had a 2-yard TD run to make it 20-13 with 28 seconds left in the half.
If the Sooners win next week at home against TCU and then in Bedlam against the Cowboys, they would clinch their ninth Big 12 title. It would be Oklahoma's first since 2012, and end its longest league championship drought in Stoops' 17 seasons.
Jarrett Stidham, the true freshman making his second start and first at home since Seth Russell's season-ending neck surgery, threw for 257 yards and two touchdowns. But he also had his first two interceptions.
Shock Linwood had 103 yards on 21 carries for Baylor, while Devin Chafin ran for three touchdowns. FBS receiving leader Corey Coleman was held to three catches for 51 yards and no scores after seven consecutive games with multiple touchdowns.
Baylor hadn't lost at home since 49-21 to TCU on Oct. 13, 2012. The Bears had won their first 10 games at their new stadium by an average margin or 32 points, with 57 points and 666 total yards a game.
The Bears, held to 416 yards by Oklahoma, had also won their last eight home games against Top 25 games. They beat the Sooners twice in that span after losing their first 20 games against them.
MORE FROM FOX SPORTS SOUTHWEST:
- PHOTOS: Cowboys Cheerleaders Auditions
- Ranking NFL quarterback salaries
- Highest paid player on every NFL team
- College football's biggest video boards