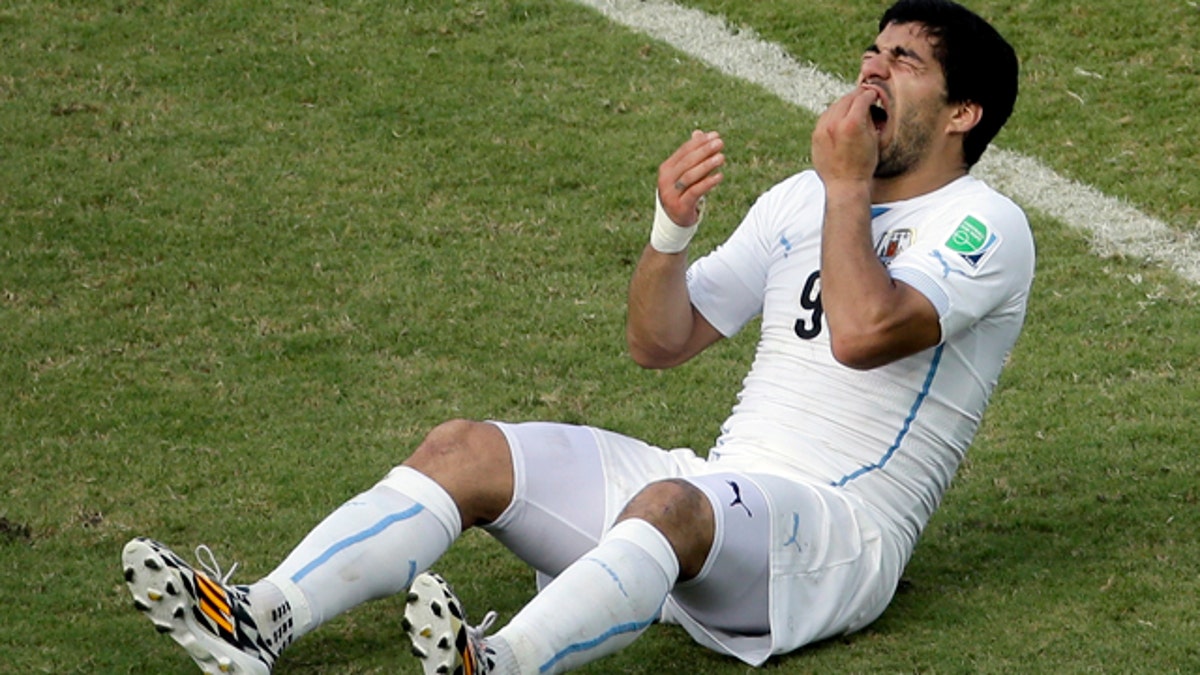 FIFA has opened disciplinary proceedings against Uruguay striker Luis Suarez for allegedly biting an Italian defender late in Tuesday's decisive Group D match.
International soccer's governing body announced early Wednesday that it had charged Suarez with assaulting an opponent and given Suarez and the Uruguayan soccer federation until 5 p.m. local time (4 p.m. Eastern time) Wednesday to respond to the charge.
Suarez appeared to bite Italian defender Giorgio Chiellini after the two clashed going for a loose ball late in the second half. Mexican referee Marco Rodriguez did not appear to notice the incident and took no disciplinary action against the striker.
One minute after the incident, Uruguay's Diego Godin scored the only goal of the match, enabling the South Americans to advance to the round of 16.
If Suarez is found guilty or admits the charge, FIFA rules call for a ban of at least two matches or up to two years. A decision on any possible discipline for Suarez must be made before Uruguay's Round of 16 match against Colombia Saturday.
Earlier in his career, the 27-year-old Suarez was suspended in the Netherlands and England for biting opponents. He didn't confirm or deny biting Chiellini, but said he was angry that the Italian defender had hit him in the eye during the game.
"These are things that happen on the pitch, we were both in the area, he thrust his shoulder into me," Suarez said in Spanish. "These things happen on the pitch, and we don't have to give them so much (importance)."
FIFA's disciplinary panel "is responsible for sanctioning serious infringements which have escaped the match officials' attention," the governing body said in a statement.
"Any type of proof may be produced," FIFA noted, including "reports from referees, declarations from the parties and witnesses, material evidence, audio or video recordings."
FIFA set a World Cup precedent for using video review in 1994.
Then, in a quarterfinal, Italy defender Mauro Tassotti's elbow to the face of Spain's Luis Enrique escaped the referee's attention. FIFA later banned Tassotti for eight international matches.
The Associated Press contributed to this report.