Fantasy NASCAR: Quaker State 400 at Kentucky Driver Picks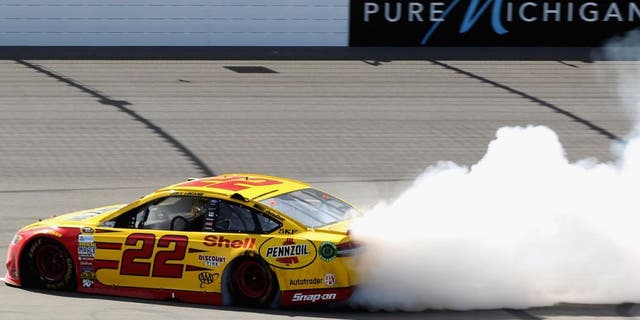 NEWYou can now listen to Fox News articles!
The NASCAR Sprint Cup Series travels to Sparta, Kentucky this week for the Quaker State 400. This will be the first race at the track on the new racing surface. The speeds should be lightning fast Saturday night. Be sure to test your knowledge of NASCAR by competing in the Fox Sports Fantasy Auto Racing.
The NASCAR Sprint Cup Series has only competed at Kentucky for five seasons. Kyle Busch, Jimmie Johnson and Matt Kenseth finished each of the races in the top 10, but fantasy NASCAR players can expect some new drivers to be up front Saturday night.
Kentucky will be a new track this week. The surface was repaved and Turns 1 and 2 were reshaped. The banking was increased from 14 to 17 degrees. The corners are now much narrower and it will require teams to have cars that can keep their speed in the backstretch but easily turn through this difficult end of the race track.
If racing on a new surface at Kentucky was not enough of a challenge for crew chiefs, the new rules package will add another hurdle for teams this week. NASCAR decided to bring back the lower down force package that was used in the Sprint All-Star Race and the FireKeepers Casino 400 at Michigan. Instead of focusing on which drivers have a history of running well at Kentucky, fantasy teams should choose drivers who ran well at Michigan. The race Saturday night will require a similar setup and the teams have not had much time to perfect their cars from the last race on an intermediate track.
2016 FireKeepers Casino 400 at Michigan Results
Joey Logano
Chase Elliott
Kyle Larson
Brad Keselowski
Kevin Harvick
Carl Edwards
Tony Stewart
Austin Dillon
Jamie McMurray
Kurt Busch
NASCAR is one of the sports where momentum matters more than anything else. Drivers who have put together multiple top-10 finishes will have a good chance of finishing up front even if their stats are not great at the track they are competing on. There are 10 drivers who have averaged a top-10 running position at the last five intermediate tracks. The winner of the race this week will most likely come from this list of drivers.
Average Running Position on Last Five Intermediate Tracks
Driver
Kansas
Dover
Charlotte
Pocono
Michigan
Average
Joey Logano
11.37
9.68
7
10.04
1.91
8
Kurt Busch
4.4
7.33
7.36
4.54
17.87
8.34
Brad Keselowski
9.97
8.98
5.41
13.44
5.2
8.6
Kevin Harvick
6.08
6.05
5.87
10.25
14.87
8.62
Matt Kenseth
3.84
5.12
11.42
4.62
18.48
8.69
Martin Truex Jr.
4.81
5.31
1.04
22.57
12.24
9.12
Chase Elliott
16.41
11.07
12.8
3.84
4.91
9.8
Kyle Larson
8.56
10.44
8.82
17.25
4.38
9.89
Jimmie Johnson
11.59
13.03
2.75
11.18
12.06
10.12
Carl Edwards
17.96
6.01
10.47
8.11
10.88
10.68
Track position is important at Kentucky, but fantasy teams cannot select all of the drivers who start the race upfront and expect to score well Saturday night. The scoring system for Fox Sports Fantasy Auto Racing game rewards drivers who improve their position in the race more than the drivers who lead the most laps. Fantasy teams must capitalize on the bonus points for position differential in order to finish at the top of their league standings.
Pick to Win
Joey Logano ($11,000) is almost a lock to finish in the top five this week. The rules package used in the race this week have been run in two races this season (Sprint All-Star Race and Michigan). Logano won both of the races and he did it in dominating fashion at Michigan. The No. 22 car won the pole, led 138 laps and had a series-high 149.2 driver rating in the race. Logano finished second at Kentucky last year, but I expect him to be in Victory Lane Saturday night.
Contenders
Kevin Harvick ($13,400) is another driver who has run well using the new rules package and he has a history of finishing in the top 10 at Kentucky. Harvick had the car to beat in the first half of the Sprint All-Star Race. He led 21 laps before falling back in the pack. Harvick qualified poorly (started 29th) but drove through the field for a top-five finish at Michigan. He has three consecutive top-10 finishes at Kentucky and the No. 4 car should be in the top five at the end of the race this week.
Brad Keselowski ($12,300) should be chasing his teammate, Joey Logano to the checkered-flag this week. He has performed very well this season in the lower down force cars and Keselowski has a history of running well at Kentucky. The Blue Deuce finished second in the Sprint All-Star Race and fourth at Michigan. Keselowski won two of the five races at Kentucky and he has only finished outside the top seven in only one race. The No. 2 team will have momentum after their win at Daytona last week.
Kyle Busch ($11,800) is always the first driver that comes to mind when the NASCAR Sprint Cup Series competes at Kentucky. No driver has conquered the track the way he has. Busch has won two of the five races and he only finished outside of the top five one time (The No. 18 car finished 10th in 2012) in his career at the track. Busch has not run well in the new rules package, but he is one of the drivers who participated in the tire test last month at the track. The No. 18 car will be one of the favorites Saturday night.
Matt Kenseth ($10,300) has run very well in his career at Kentucky. He has finished all five of his races in the top seven. Kenseth drove his No. 20 car to Victory Lane at the track in 2013. Joe Gibbs Racing has not run well in the new rules package, but Kenseth should still be good enough to finish in the top five Saturday night.
Chase Elliott ($9,000) is the surprise name on this list. It is time for NASCAR fans to start considering Elliott one of the elite drivers in the sport. If it is true that the track this week will race like the track at Michigan, then Elliott might visit Victory Lane for the first time in his young career. Elliott had the car to beat at Michigan. He also finished sixth in the Sprint All-Star Race. He has never competed in a Sprint Cup Series race at Kentucky, but Elliott has two finishes in the top four in the Xfinity Series at the track.
Value Picks
Trevor Bayne ($8,700) is not the first name that comes to mind when it comes to selecting your fantasy team, but he should be considered this week. The No. 16 car ran well this season using the new rules package. Bayne won the first segment of the Sprint Showdown Race, finished seventh in the All-Star race and finished 15th at Michigan. He has only competed in one Sprint Cup Series race at Kentucky (finished 13th in 2015), but he has seven Xfinity Races on his resume at the track.
Ryan Blaney ($7,000) will be making his first start at Kentucky in the Sprint Cup Series. Blaney has competed in five races in the Xfinity series at the track and he won two of them. The No. 21 car should benefit from having an alliance with the Team Penske drivers (Joey Logano and Brad Keselowski) and the No. 21 team participated in the tire test at Kentucky last month. Fantasy teams should expect Blaney to run well this week.
Tony Stewart ($5,200) will be trying to score his first win at Kentucky before his career comes to an end. I doubt he will get to Victory Lane, but a top-10 finish should be within reach this week. Stewart ran well at Michigan (The No. 14 car finished seventh and had the fourth-best driver rating) and he needs a good finish this week to climb in the point standings. Stewart is the best value pick in the game this week.
Here are my picks for the Quaker State 400 for Fox Sports Fantasy Auto Racing:
Driver 1: Brad Keselowski $12,300
Driver 2: Kyle Busch $11,800
Driver 3: Joey Logano $11,000
Driver 4: Chase Elliott $9,000
Driver 5: Tony Stewart $5,200
FOX Fantasy Auto Resources
And don't forget - prizes are on the line each race of the fantasy season! First, second and third place each win a prize. Plus, each race builds your point total for larger segment and season prizes.
*Stats from Driveraverages.com and career stats from Racing-Reference.Info...
If you need any further advice with your team or want to see my updated picks after Happy Hour practice, look for me on Twitter (@MrFantasyNASCAR) or LIKE my Fantasy NASCAR Tips Page on Facebook.