Fans Cheer for Tim Tebow as Mark Sanchez Gets Booed in Blowout Loss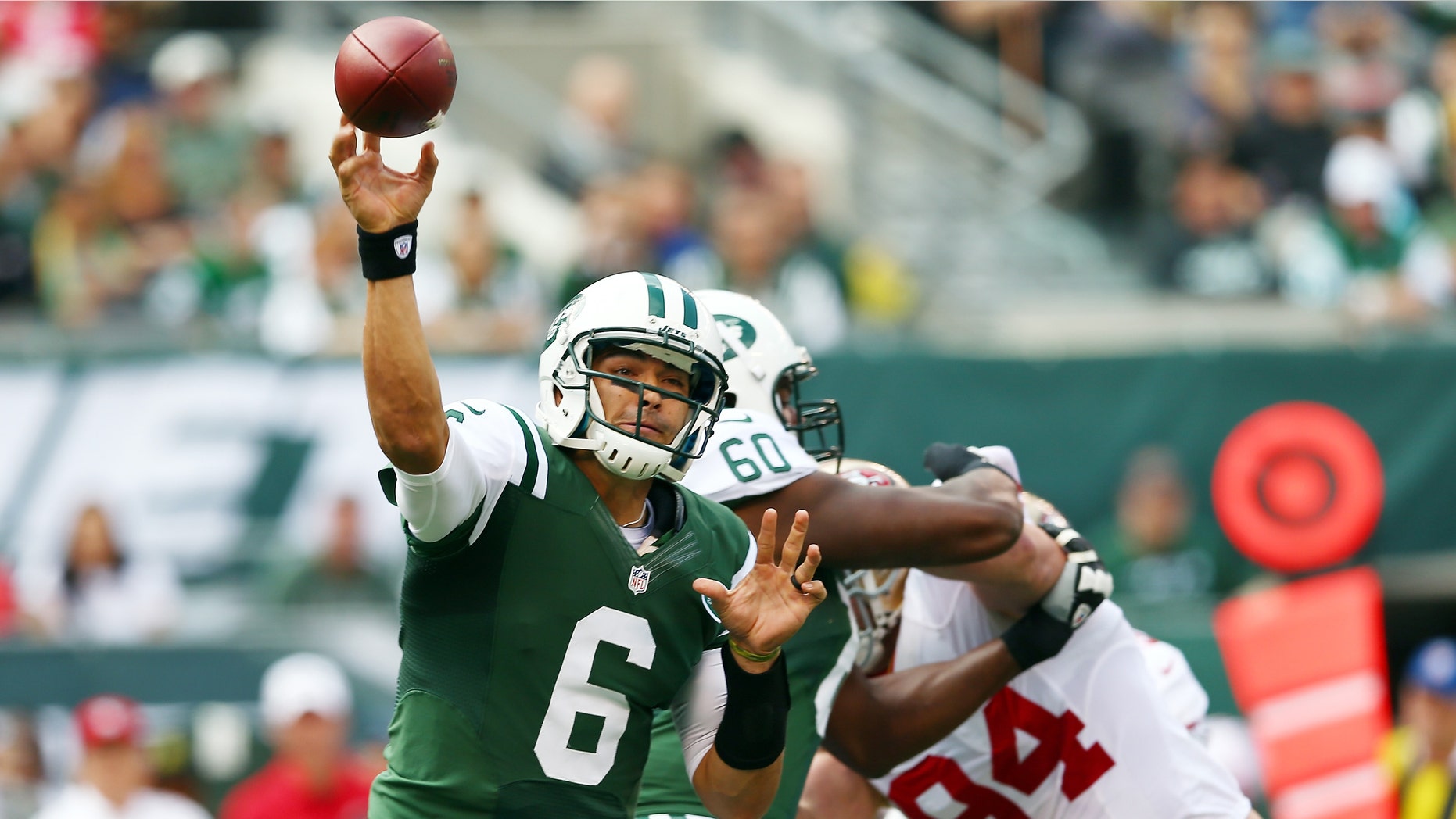 EAST RUTHERFORD, N.J. – Coach Rex Ryan was not disappointed or frustrated with Mark Sanchez and the New York Jets- he was just plain angry.
"I apologize for my language," said Ryan, following the 49ers' 34-0 victory Sunday, "I was going to say we got our butt kicked, but really ... there's no two ways, in or outs about it."
In San Francisco's blowout victory over the Jets on their home turf, Ryan was envious of the opposing team.
Using a solid running game, a smothering defense, and a little bit of the wildcat-style offense,the 49ers' played exactly the type of combination New York expected to use this season.
"It's obviously unacceptable," Ryan snarled. "It starts with the coaches. The players are not going to be in on Monday or Tuesday. They've got to dig deep, look down at themselves."
The Jets (2-2) couldn't get anything going on offense and lost top wide receiver Santonio Holmes to what appeared to be a serious foot injury. Holmes left the stadium on a golf cart, holding crutches and his left foot in a boot. He was expected to have an MRI exam Monday to determine the extent of the injury.
If Holmes misses significant time, the Jets would be without their two biggest playmakers after All-Pro cornerback Darrelle Revis was likely lost for the season with a torn ligament in his left knee last week at Miami.
"We've got to play with who we've got," said quarterback Mark Sanchez, who was also without injured tight end Dustin Keller. "None of those guys are going to get better overnight."
But the Jets certainly hope they can as a team — especially with the impressive Houston Texans coming to town next Monday night.
"We've got to [get] back to the drawing board," cornerback Antonio Cromartie said. "When you can't score on offense and can't cause turnovers on defense or stop the run, you're going to have a long day."
It was the first time New York was shut out since losing 9-0 to Green Bay on Oct. 31, 2010, and the Jets' biggest shutout home loss since falling 37-0 to Buffalo in 1989.
We've got to [get] back to the drawing board. When you can't score on offense and can't cause turnovers on defense or stop the run, you're going to have a long day.
Sanchez finished 13 of 29 for 103 yards and an interception, and also lost a fumble against the 49ers (3-1). He just couldn't get the offense going, something that's becoming a common thread for the Jets since a 48-28 season-opening outburst against Buffalo.
The fans at MetLife Stadium, which included several thousand red-clad 49ers supporters, booed the Jets' offense — and then unleashed a few chants of "Tee-boww! Tee-boww!"
"I don't think that's the answer," Ryan said. "I think Mark's the answer at quarterback."
But then he added: "Again, time will tell."
Sanchez had another poor game, going 13 of 29 for 103 yards and an interception. New York also finished with just 45 yards rushing. Tebow, meanwhile, had a limited role again, rushing twice for no yards, but completed his first pass with the Jets: a 9-yard toss to Dedrick Epps, who injured his right knee on the play.
It's all got many wondering if it might be time for the Jets to switch things up and maybe find a spark by giving Tebow more time — or even starting him.
"Me and Mark have a great relationship and we're not worried about that," Tebow said. "We're not worried about what others are saying."
On the first play of the fourth quarter, Holmes caught a pass from Sanchez for 4 yards, but he went down quickly and the ball flew out of his hands, and Rogers picked it up and returned it for a score.
Ryan said Friday that the Jets would wait to put Revis on injured reserve until he has surgery in a few weeks, keeping him available in case New York goes to the Super Bowl.
If the Jets play like this the rest of the way, just getting to the playoffs will be a tall task.
"If anybody thought that we were there, or close to being there, today was a real wakeup call," linebacker Aaron Maybin said. "Today was an indication that all of us have mistakes that have to be rectified if we're going to be able to turn this ship around."
Frank Gore, Kendall Hunter and backup quarterback Colin Kaepernick — on a wildcat-style option — all ran for scores as the 49ers bounced back from a disappointing loss last week at Minnesota. Rather than head back to the West Coast after that defeat, coach Jim Harbaugh chose to have his team stay in eastern Ohio and practice at Youngstown State all week.
"After the last game, some people were questioning us and we knew what we were capable of," said linebacker Aldon Smith, who had two sacks. "We played all together as a unit and proved what we are as a defense."
This was San Francisco's first shutout since beating the St. Louis Rams 26-0 last December.
"This team was pretty upset last week with ourselves," quarterback Alex Smith said. "Obviously, the guys came out ready to play and any time the defense plays like that makes it easy on us as an offense."
 Based on reporting by the Associated Press.
Follow us on twitter.com/foxnewslatino
Like us at facebook.com/foxnewslatino