Fan violence continues to cast pall over Euro 2016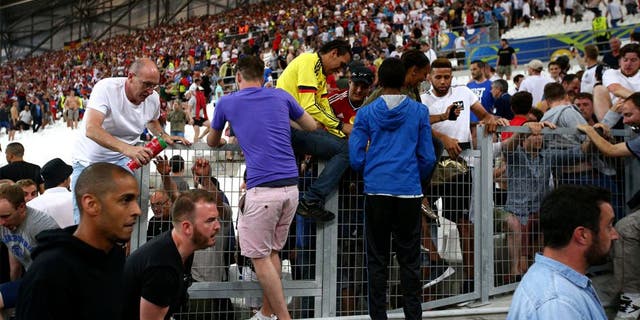 NEWYou can now listen to Fox News articles!
A late equalizer should have been the story out of Russia's dramatic match against England on Saturday, but instead fan violence marred an exciting draw as Euro 2016 action continues.
As the final whistle blew in the 1-1 draw, Russian supporters attacked English fans at the Stade Velodrome in Marseilles, France. Photos and video from the stadium show stewards attempting to restore order as some besieged fans jumped over perimeter fences in an attempt to flee.
The incident in the Velodrome capped an ugly day for the sport in terms of fan relations, as violence and vandalism continues to detract from what is supposed to be a celebration of sport. Earlier in the day, fans clashed with opponents and police alike, turning sections of the city of Marseilles into quasi-war zones.
UEFA is set to open disciplinary proceedings over the violence in Marseille and Russia could also sanctions for fan behavior after the England match. A spokesman for the English Football Association called on French authorities "to identify those involved in the troubles and deal with them appropriately and quickly."
Russian Sports Minister Vitaly Mutko dismissed any concerns about the clashes reportedly being instigated by Russian fans, telling reporters, "What's the 2018 World Cup got to do with it?"
Multiple injuries occurred in the frays prior to the match, with one 51-year-old English fan reportedly needing resuscitation. "His heart stopped but it was restarted by a police officer who provided heart massage at the scene," Marseille police Matthieu Duroselle said via the Telegraph.
Rebekah Vardy, wife of England and Leicester City star Jamie Vardy, was also caught up in the scenes outside the Velodrome, claiming on Twitter that she'd been "teargassed for no reason."
It marked the third day of conflict in Marseille, as seemingly overwhelmed police and responders were unable to stifle the uprising. Reports of unrest from other cities across France also emerged.
After the terrorist attacks in Paris earlier this year, concerns of fan safety were very high. While a similar attack has thankfully not taken place, the French authorities still appear underprepared to handle the skirmishes perpetrated by fans.
Hopefully cooler heads will prevail as the tournament rolls on, and we can all just enjoy the tournament the way it's supposed to be enjoyed.
Information from the Associated Press was used in this report.