Familiar faces provide firepower for NWSL semifinal showdowns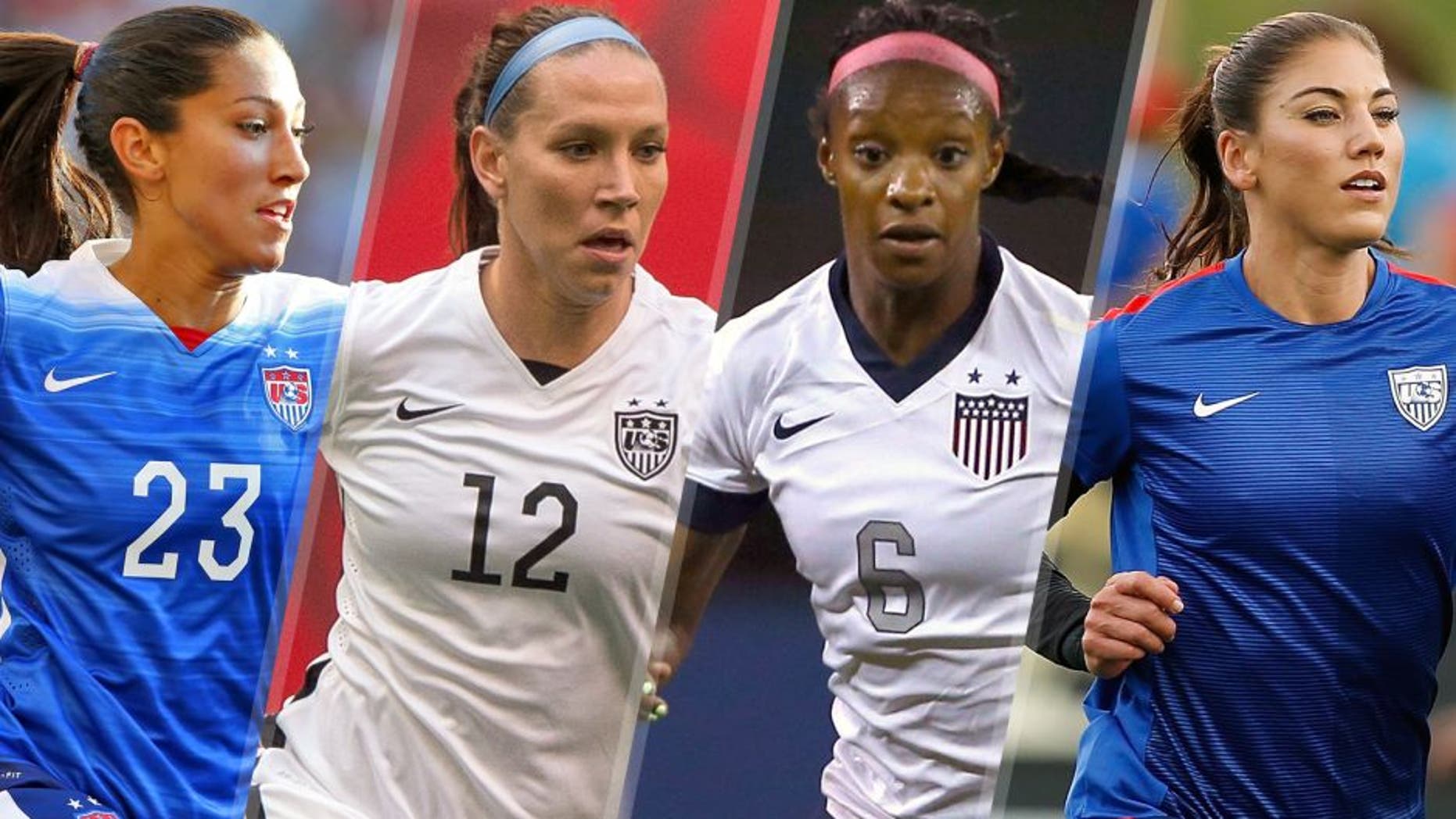 Defending National Women's Soccer League champs Kansas City will roll into Chicago on Sunday for the NWSL playoff showdown between the No. 2-ranked Red Stars (8-3-9) and the No.-3-ranked FC Kansas City (9-6-5) at Toyota Park (live, FS1, FOX Sports Go, 1:30 p.m. ET).
This semifinal may be getting second billing to the match between No. 1 Seattle Reign and No. 4-ranked Washington Spirit (live, FS1, FOX Sports Go, 9:30 p.m. ET) but the Red Stars and FCKC boast a slew of notable players who were part of the U.S. women's national team that won the 2015 Women's World Cup.
The Red Stars are led by forward Christen Press, centerback Julie Johnston and defensive back Lori Chalupny while KC is studded with the likes of Amy Rodriguez, Becky Sauerbrunn, Heather O'Reilly and Lauren Holiday.
The home team may not have an advantage in this match, however. The Red Stars suffered a bad swoon to close out the regular season, losing seven of their last eight games. More concerning to coach Rory Dames is that the losing streak also means the Red Stars have not won at home in six matches.
Chicago will try and take some consolation for having won the season series against FCKC, winning the first game in Kansas City and earning a draw in August.
After returning from the World Cup, Press collected 10 goals for the Red Stars in just 11 games, and A-Rod netted six for KCFC, but the success of both these squads came down to their ability to stay competitive while the U.S. women's national team players were competing in Canada. This is a marked difference from what happened in Portland, where the heavily-favored Thorns suffered when the bulk of its roster was lost to Women's World Cup obligations on the part of players like Christine Sinclair, Tobin Heath and Alex Morgan.
"We were in and out because of the World Cup but both Chicago and Kansas City have strong players and the level did not drop off. I was very proud to watch them play when I was in Canada,'' Sauerbrunn said.
FCKC coach Vlatko Andonovski said the main reason for his team's continued success was retention of its top players.
"With Becky and Chaney back, we kept a very good core and players enjoyed the philosophy and the style we play, and it's easy to have buy-in here when we have some of the best players in the world in Becky and Lauren,'' Andonovski said.
For the Red Stars, rookies Sofia Huerta, Danielle Colaprico and and Arin Gilliland proved that Chicago head coach Rory Dames continues to make excellent picks from the college draft. Huerta is looking to regain form after a left knee sprain kept her out of a match against Houston. But Huerta was pivotal for Chicago when Press and the rest were competing at the 2015 FIFA Women's World Cup, scoring six goals and adding three assists.
The Red Stars boast the No. 3-ranked defense in the league, thanks to stellar play from a unit that includes Johnston, Abby Erceg, Arin Gilliland and Taryn Hemmings. Goalkeepers Karina LeBlanc and Michele Dalton split time down the stretch.
Kansas City, where Sauerbrunn quarterbacks a backline filled out by Leigh Ann Robinson, Becca Moros, Amy LePeilbet and goalkeeper Nicole Barnhart, has also been stingy. Their opponents only scored more than 2 goals against KC seven times this season, and Barnhart has recorded 8 shutouts this year, one shy of the NWSL record she set in 2013.
Moreover, up top, KC has the ability to dominate. Holiday is playing in some of her final games as a pro, having announced her impending retirement at age 27. O'Reilly, who did not get playing time at the World Cup, has been on a mission to make sure she gets a good look for the 2016 Olympic qualifying effort that takes place at the CONCACAF qualifying tournament in February. So far O'Reilly has 2 goals and 3 assists, and is hungry for a few more.
Kansas City is also no stranger to playoff pressure. They lost to the Thorns in 2013, but beat Portland in last year's title match to win the 2014 NWSL championship. That adds up to a tough task for the hometown Red Stars.
Washington Spirit, Seattle Reign renew hostilities
After a whirlwind summer that saw the 2015 Women's World Cup victory by the U.S. boost attendance for the NWSL and guarantee the three-year-old league's future, this semifinal match should prove an entertaining battle between two well-coached teams studded with talent.
There's also likely to be some leftover bitterness from the match these two teams just played. In Maryland last week, the Spirit public address announcer introduced Reign goalkeeper Hope Solo as "No. 2" despite Solo being the Golden Glove winner at the World Cup. The Reign were none-too-pleased with that slight, and they let it known.
But the Reign (13-3-4) are on a bigger mission than simply making the Spirit pay for what might have been a botched intro of Solo.
The top-ranked NWSL team has for the second consecutive season won the NWSL Shield, given to the team with the best regular-season record. However, coach Laura Harvey's talented side lost to FCKC in the finals last year, so, and aim now to avenge that loss.
The Reign has reason to feel confident. They have not lost a game at home in two seasons (they're 8-0-2) while the Spirit are a dismal 2-5-3 on the road. The Reign are also riding a seven-game win streak, including a 2-1 win over the Spirit last week in Maryland. And if past is prologue, the Spirit have reason to be concerned. After taking a lead in last year's semifinal match against Seattle, the Reign came back in the second half for the win.
The real question in the match will be whether the Reign can again shut down Crystal Dunn. The second-year pro won the NWSL's Golden Boot award with 15 goals, and is likely to also be named the league's MVP, given the breakout season Dunn has had for the Spirit. Dunn, who just missed the cut for the Women's World Cup roster, has been moved from defensive back to forward, exceeding expectations of the Spirit coaching staff.
"We have a very simple mindset. Prevention is better than cure. Crystal, if given ability to hurt a team, she will do that. It's more about making sure that if she gets the ball in certain positions, she's not in dangerous spots. We want to limit those opportunities,'' Harvey said.