Fabregas admits he held talks over Real Madrid move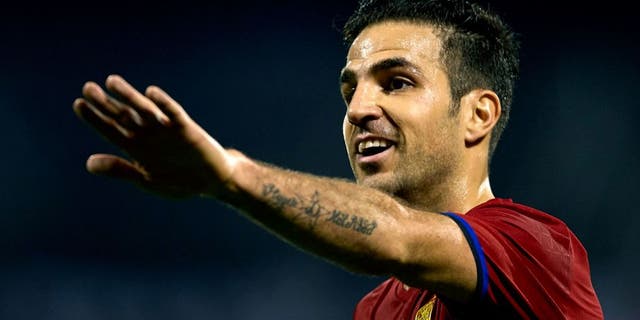 Chelsea midfielder Cesc Fabregas has revealed that he held talks over a Real Madrid move on several occasions in the past.
Fabregas was frequently linked with the Bernabeu giants during the course of his eight-year spell at former club Arsenal before he re-joined Barcelona in the summer of 2011.
The Spain international has now revealed that talk of a move to Real Madrid went beyond mere speculation.
When asked if he was ever close to becoming a Real Madrid player, he toldMarca: "Well, there were contacts over several years and with different presidents. An agreement was never concluded. There were things, but there was no final agreement. It lacked the step forward."
Fabregas was back on form for Spain during the international break, providing a chipped assist for Mario Gaspar's stunning volley against England in Alicante.
Things have not been going as well at club level, with Chelsea just three points off the relegation zone after 12 games played. The midfielder admits his side must improve quickly to salvage their league campaign, but believes unity and stability under manager Jose Mourinho will be key to any turnaround.
"It's tough," Fabregas continued. "Last season was excellent, despite the pain of the Champions League. We won the Premier League title and the Capital One Cup, that I had never won before. It was a spectacular year.
"This season is a pain. Things are not going for us and the results don't do justice to how we are playing. We are doing things better, but there's no luck. We have to start winning now.
"With Mourinho [it's] fine, fine. Obviously when you don't win people say things, and when you win, everything is phenomenal. When you don't win, everything is tougher, but we have to be united and strong with the fans and the boss.
"That's the only thing that can take us forward. Nobody is going to help us. In the Champions League we can hurt the big teams, but in the Premier League we have to wake up now. Right now."
After three years at Barcelona, often going head-to-head with Mourinho's Real Madrid, Fabregas returned to the Premier League to play under the Portuguese manager.
"Mourinho was our rival [when Fabregas was at Barca], the same as Real Madrid, the same as Sergio Ramos, as Pepe, as Cristiano...We wanted to win against Real Madrid, but not for personal reasons," Fabregas said. "You wanted Barcelona to win, not to defeat Mourinho.
"[The move to Chelsea was] Football, nothing else," continued Fabregas. "Football moves very quickly, much quicker than people think. It goes from day to day. You talk to a manager or a player and the next day there's something different. You turn the page and you forget everything."