Even David Villa couldn't believe he scored this stunning world-class goal for NYCFC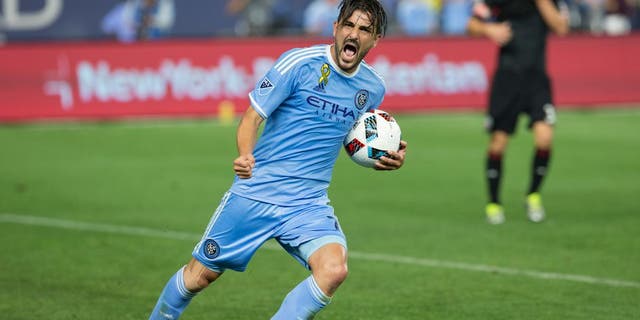 NEWYou can now listen to Fox News articles!
Andre Blake is perhaps the best goalkeeper in MLS right now, and hes proved it time and time again.
But David Villa, who had already been denied Friday night by Blake, decided to try a new way to beat the goalkeeper. He launched a rocket from halfway up the field and scored a goal that even Villa himself seemed shocked by.
You have to see it to believe it:
Two words: World. Class. New York City FC already looked set to beat the Philadelphia Union, but that 90th-minutegoal was the cherry on top for a 2-0 win Friday night.
Afterward, Villa was asked about the goal and he explained: "I was a little tired from running so I tried to score a goal. Only Villa could be too tired to run up the field and decide to score from the halfway line.
Villa was named the MLS MVP last season and now with four goals and three assists in six games, he is picking up right where he left off last year. Scoring stunners like this one certainly won'thurt his case either.
MORE FROM FOX SOCCER
Icon Sportswire via Getty Images | Icon Sportswire