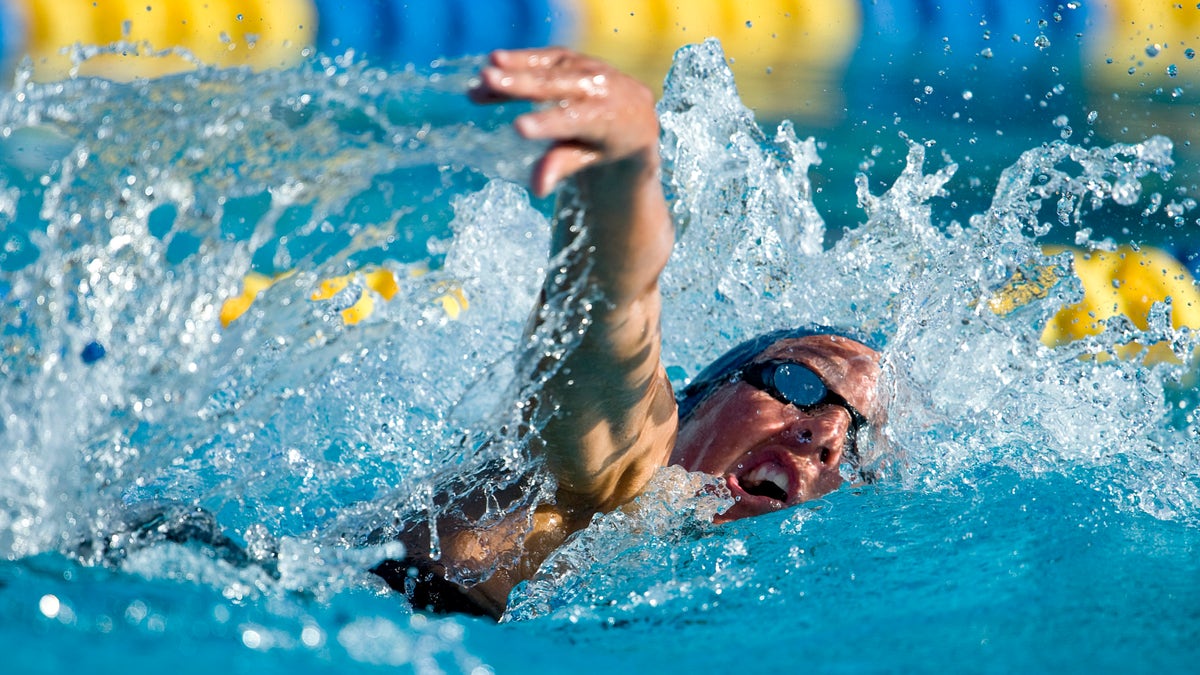 IRVINE, Calif. – Janet Evans is close to finding out whether her comeback will end at the London Games.
The 40-year-old winner of four Olympic gold medals already accomplished her main goal of qualifying for the U.S. trials that begin next week in Omaha, Neb. Now she wants to earn a spot in the final of the 800-meter freestyle, an event she once dominated.
It won't be easy.
Evans must advance from the preliminary heats to make the eight-woman final. Then she has to finish first or second to punch her ticket to a fourth Olympics.
"It's fair to call her a long shot," her coach, Mark Schubert, said.
That's because Evans simply isn't as fast as she was in her heyday in the late 1980s and early `90s. That's when she built her legacy as the queen of distance swimming, with world records in the 400, 800 and 1,500 freestyles and back-to-back Olympic and world titles in the 800 free, becoming the first woman to do so.
"The times I'm doing, I'm really proud of myself for 40 and to be with my two kids and have this be my job," she said. "It's pretty grueling being a distance swimmer."
Evans finished sixth in her final tuneup meet last month before trials. Her time of 8 minutes, 49.36 seconds in the 800 free was 15.71 seconds behind the winner of the 16-lap race. She was sixth in the event at an April meet with a time of 8:46.89.
"What she's done really well the last 18 months is dry-land training and strength training, and that is going to help her speed a lot," Schubert said. "She's tired from training right now, but I think in the end she's going to swim real well."
Evans has tailored her comeback to suit a lifestyle that includes husband Billy Wilson and their two children. She rises at 4:30 a.m. to train and returns home by 8 a.m. to supervise older daughter Sydney and son Jake. She puts in another training session from 3-6 p.m. before coming home to make dinner. On some days, Evans is traveling to fulfill commitments with sponsors and giving motivational speeches.
"Who does that?" said Schubert. "She's a maniac. That's just the best way I can describe it."
Evans' schedule is a far cry from her days as a college swimmer who went to workouts, skipped classes and watched television.
"I could do this forever if I wasn't so physically tired," she said during a recent meet in Irvine, close to her Orange County home.
"I have the most energetic 5- and 2-year-olds on the planet but I want to be there for them so I never have any downtime. That's the hardest part for me. A lot of my girlfriends work and I think they feel that way as well, but for me, it's physical, like getting my kids in and out of car seats.
"There's challenges because I'm tired. Billy is really funny because he's like, `I never knew how hard it was."'
But Evans wouldn't have it any other way.
She pulls out her cellphone to show a photo of Sydney standing in the bathtub posing in Evans' too-big suit. Then she plays a video of Sydney swimming backstroke right into the wall, not yet old enough to realize the flags over the pool warn that the wall is coming quickly.
"Isn't that the cutest thing you've ever seen?" Evans gushes. "She hits her head. She was totally cool with it."
Always on the hunt for future talent, Schubert asked Sydney if she wanted to swim. Her answer was no.
"He's like, `But you're tall, you're going to be like a tall Janet Evans.' Could you imagine?" said Evans, who is 5-foot-6. "I'm like, `Mark, she doesn't want to swim."'
Evans returned to competitive swimming after a 15-year retirement because it was something she could do just for herself.
"As a mom, you put a lot of things on the backburner. I worked my whole life and I stopped when I had children. I miss working and for me work is swimming," she said. "For me just to stay at home, it's a personal thing. Some women can do it and some women can't. Because I've worked my whole life I need more."
Her husband wonders what Evans will channel her energies into once her comeback ends.
"He's a little worried," she said, smiling. "He's like, `Are you going to head the PTA?' We'll see what's next."
Evans is putting all her hopes into the 800, knowing that she lacks the speed to challenge for a berth in the 400. Still, the pressure and expectations that derail many a contender in the highly charged atmosphere at trials figure to have little effect on her.
"She has a lot of experience and a lot of competitiveness, so I never count her out, especially in the big moment," said Schubert, who coached Evans in her glory days. "The whole trials thing kind of changes people sometimes, but she knows how to handle it."
Evans began her comeback 1 1/2 years ago. Unlike some retired athletes who must first lose middle-age pounds, Evans stayed fit. Her slender frame, long dark hair and big smile had hardly changed since the years when she churned through the water with her trademark windmill stroke.
"I don't see that there's any reason that people can't compete well into their 30s and their 40s if they stay fit," Schubert said. "Dara (Torres) is a perfect example of somebody that has never let herself get out of shape. Janet is the same way. I don't see her changing after this is over with."
If Evans makes the 800 final at trials, she could find herself relegated to an outside lane instead of in the middle of the pool, where the fastest-seeded swimmer is assigned.
Regardless of whether she makes the U.S. team, Evans already considers her comeback a success.
"It's been a great journey, I have so many people that support me and depend on me and cheer for me. I've learned a lot and who says you can't learn at 40?" she said. "I appreciate my family and time with my kids. It's been rewarding on so many levels."
Evans' presence around Schubert and his new team based at Golden West College in Huntington Beach has energized the man whose tenure as national team coach and general manager of USA Swimming ended negatively in 2010.
"I get up every morning excited, just seeing how dedicated she is," he said. "Nothing's changed as far as her personality and competitiveness, liking to train and liking to work hard. It's pretty fun watching her race against the younger kids, they really look up to her. I couldn't be prouder of her."
She respects the youngsters, too, often telling her husband how she wants their two children to grow up to be as hard-working and responsible as her teammates.
For Evans, there are no questions about what her life will entail once trials end.
"I go home and I have a little girl that is going to kindergarten next year," she said. "I get to hold my kids tonight."