ESPN releases statement on Arkansas sideline video recording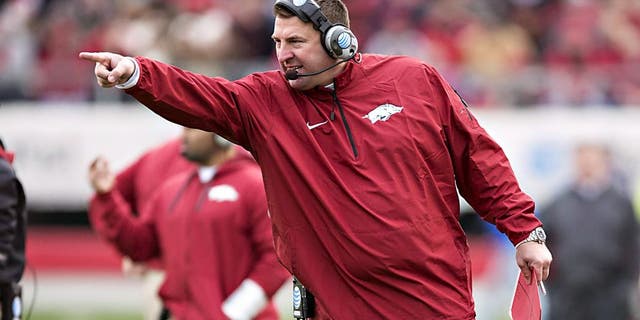 NEWYou can now listen to Fox News articles!
Someone has got some explaining to do... Wesley Hitt Getty Images
Did or didn't Arkansas head coach Bret Bielema flop when touched by Alabama offensive lineman Cam Robinson is irrelevant considering the SEC has issued a statement saying all parties will move on from the incident.
The issue now appears to be why a contract worker of ESPN was shooting video on the Arkansas sideline and why would they share that information with anyone? Also important to Arkansas and their fans, did he shoot anything else that could be used against the Razorbacks?
ESPN released the following statement in regards to the incident Thursday:
After a thorough investigation, we determined the conduct of the individual contracted to operate a parab during the Arkansas-Alabama game was unacceptable and in violation of ESPN policy and our rights holder agreements. He has been contacted by our legal department to surrender all footage he improperly obtained and remove any and all posts containing it. We have reviewed and revised existing protocol to protect against this happening in the future.
There was some question as to hand signals a different sideline worker used during the game, however ESPN states those signals are typical of any employee working the sideline:
Regarding the issue of purported "hand signals" from a second individual ... He was performing normal course of his task, signaling the A1 that his IFB was working.
Hopefully this closes the final chapter in this saga as Arkansas enters its bye weekend before facing Auburn in Fayetteville Oct. 24.
MORE NEWS: Want stories delivered to you? Sign up for our College Football newsletters.