Ellington to return punts for 49ers as Hayne remains a spectator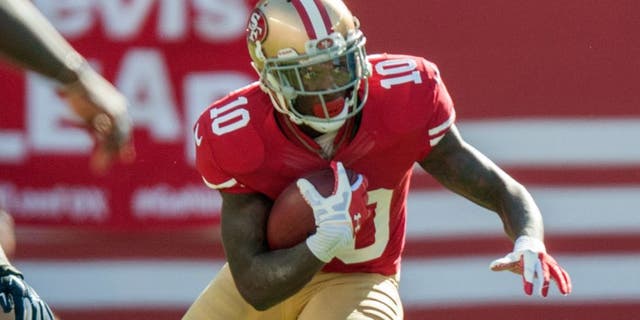 Bruce Ellington returned 23 punts as a rookie last season. Ed Szczepanski USA TODAY Sports
Even though Jarryd Hayne was re-signed to the practice squad, Bruce Ellington will get first crack at returning punts for the San Francisco 49ers in Sunday's game versus the Atlanta Falcons.
Ellington will take the place of Reggie Bush, who suffered a season-ending knee injury at the end of a punt return in St. Louis when he lost his footing on concrete surrounding the field and crashed into the wall.
Bush had taken the place of Hayne, the Australian rugby star who opened the season as the team's primary punt returner. After committing a pair of fumbles, Hayne was benched and eventually released last week before the 49ers brought him back Monday.
Ellington, who will double as the kickoff return man, has experience as a punt returner. He averaged 9.5 yards on four returns against St. Louis after Bush was injured and returned 23 punts as a rookie last season.
"He'll do a good job," special teams coordinator Thomas McGaughey Jr. said of Ellington. "Bruce is, it's starting to come together for him a little bit. The guys are excited about blocking for him. So Bruce is definitely ascending."