Ellington sets himself apart in unconventional journey to Marlins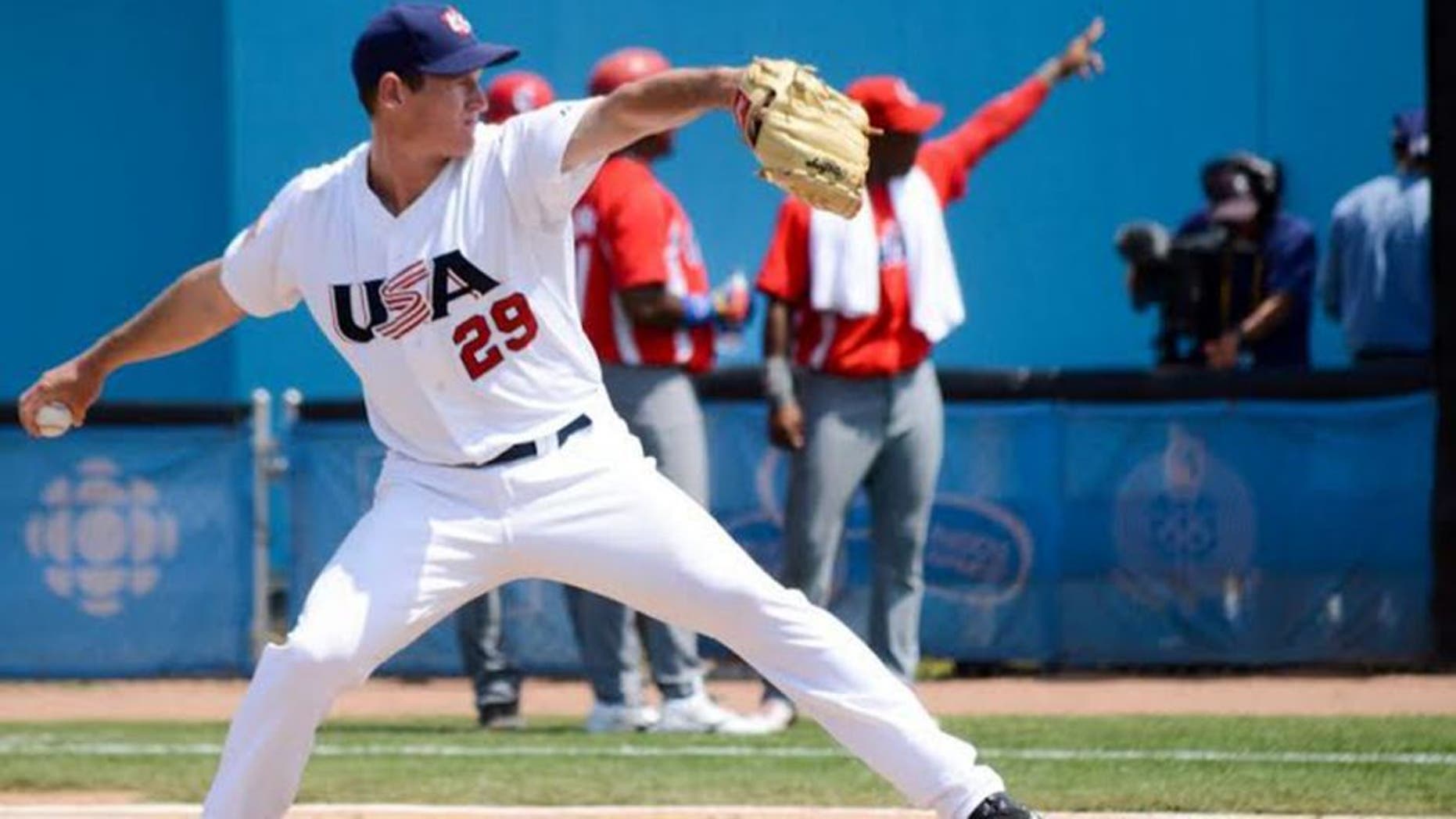 Miami Marlins newcomer Brian Ellington tried out for Team USA several times as a high schooler in Gainesville, Florida. Though he made a few of the teams, he never got to represent his country in competition.
That changed a month ago when Ellington, along with 23 top prospects and former major leaguers, flew to Toronto on the Fourth of July for the Pan Am Games, the third-largest international multi-sport games. Seven countries, including the United States, were set to participate in baseball.
Marlins vice president of player development Marty Scott informed Ellington he would be going to play in Canada, much to his initial bafflement. He was in the middle of the Southern League season with Double-A Jacksonville.
"Once I got an idea of what was going on I was grateful for that opportunity," Ellington said. "He said it would be good. 'We want you to go and it'll be fun. Fun for your career.' And it was. We went up there did a few days in Cary, North Carolina, played against the Cubans, the Canadians, then went up to Canada. Got to spend time around all the different countries not just with baseball but all the other sports. It was pretty cool. Baseball is a little bit different, competition was a little bit different, but overall it was a great experience. I'm playing pro ball and it was the last thing I would ever think about.
"I think myself and the team -- we were comfortable. They wouldn't have sent me out there if they weren't comfortable that I was in a good routine and could go away for three weeks and make sure I got my work taken care of and got everything done that I needed to. It was weird being away. I definitely missed out on some work and innings. I didn't throw as much as I would've back in Double-A, but -- like I said -- I know myself and I would assume the team was comfortable with where I was at enough to say, 'Hey, he can leave for a few weeks and be back and pick it back up. We trust him to continue with the progression he has been making.'"
Once the team arrived in Canada, Ellington was asked to pick a number from a pile of jerseys. He had never gravitated towards one in particular during his career, so he received No. 29. He kept it and plans on framing it on a wall in his home.
Opening Ceremonies took place at the Rogers Centre, home to the Toronto Blue Jays. The games, however, were held at a new facility outside the city limits. Since there weren't locker rooms, it reminded Ellington of travel ball days. He and his teammates would change at the village and board the bus for the ballpark in full gear.
Team USA would receive the silver medal after losing in the final to host Canada, 7-6. USA had beaten Canada 4-1 earlier in the tournament.
Ellington made four appearances, posting a 3.38 ERA with five strikeouts and two walks over 2 2/3 innings. He surrendered a solo homer and struck out a batter in his debut against Puerto Rico. Ellington tossed consecutive 1/3 shutout innings versus Nicaragua and Canada, permitting two combined hits and fanning two batters. In his last game against Cuba, he threw a scoreless inning with a walk, strikeout and wild pitch.
The 25-year-old right-hander quickly realized he couldn't rely on his mid-upper 90s fastball against certain clubs that anticipated the pitch. He had to implement his "power curveball," as manager Dan Jennings calls it, more.
"A little bit different competition that we were playing against," Ellington said. "Obviously great competition, but some of the other Hispanic teams where it seemed like they didn't mind striking out with curveballs. But as soon as you threw a fastball they were ready to hit it. It was different from the way I pitch. I usually throw a lot of fastballs and then throw some other stuff. 'Well, now, I need to throw some other stuff and then maybe throw a fastball.'
"You got to pitch to your strengths anywhere you play. My strengths are getting ahead with the fastball and being able to throw pitches as well early in the count. Mix them up. You have to mix up pitches anywhere you're at. That was a good experience. I had to go out of my comfort level a little bit from what I was doing in Double-A. I was able to throw a lot of first, second-pitch curveballs. Good experience as far as that goes."
Three weeks later, Ellington returned to Double-A Jacksonville for a home series with Birmingham. The Suns then went on the road to Mobile, Alabama, before the trade deadline. As deals occurred and players moved, Ellington got promoted to Triple-A New Orleans. He joined the Zephyrs at home before a series in Oklahoma City but made just one appearance before Miami called him up to the big leagues on Monday to help the bullpen.
Over three outings, Ellington has tossed 4 1/3 scoreless innings, permitting two hits with three strikeouts, one walk and one hit batter. On Monday, Ellington became the fourth West Florida product to reach the majors by tossing a scoreless inning against the New York Mets. Instructional camps, three spring training camps and last year's Arizona Fall League helped get him to this point.
In high school, Ellington committed to Florida State but underwent Tommy John surgery. So instead, he attended community college for two years where he nearly gave up on baseball before applying to West Florida after checking out the school online. The Marlins would select him in the 16th round of the 2012 Draft.
"We changed my mechanics going into 2014," Ellington said. "I pitched there in High A and mechanical changes were good. I was still missing some stuff. My velo had increased and I started throwing better but still wasn't where I could be. We changed my mechanics again going into instructional league before the fall league of 2014. That's where I really started taking off for me, being able to get a repeatable delivery and something I could work on every day that was consistent.
"From there I tried to take nothing for granted. This past year for me I've been really blessed for the whole opportunity. The Marlins sticking with me and allowing me to get better. Every day try to make the most of it and enjoy your time while I'm up here and can. Try to get better every day."
You can follow Christina De Nicola on Twitter @CDeNicola13 or email her at cdenicola13@gmail.com.