Early homers prove costly as Marlins blanked by Mets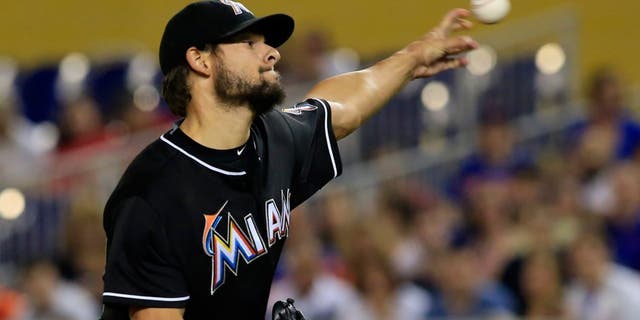 MIAMI (AP) -- Bartolo Colon pitched a nine-hitter and made a nifty behind-the-back toss on a grounder, and the New York Mets hit three homers in a 7-0 victory over the Miami Marlins on Saturday night.
Colon (13-11) struck out two and walked none while throwing 100 pitches and extending his scoreless innings streak to 25. The 42-year-old right-hander became the oldest Mets pitcher to throw a shutout. He topped Miguel Batista, who threw one at age 40 in 2011.
Travis d'Arnaud and Wilmer Flores hit back-to-back homers in a four-run first inning and Juan Lagares went deep in a three-run second to help the Mets win at Miami for the 10th time in the last 15 games.
In the bottom of the sixth, Colon fielded Justin Bour's slow-rolling grounder near the first-base line and flipped the ball behind his back to first base as he crossed the line to end the inning.
Brad Hand (4-5) gave up all seven runs and six hits in 1 2/3 innings to fall to 0-5 in his career against the Mets.
Colon was never in serious trouble. Miami had runners on first and third with two outs in the fourth inning, but Colon got Ichiro Suzuki to ground out to third to end the threat.
J.T. Realmoto's double in the seventh inning was the Marlins' only extra-base hit as Colon improved to 7-3 against the Marlins as a Met.
The Mets got to Hand quickly. David Wright singled with one out in the first and Yoenis Cespedes walked. One out later, d'Arnaud hit a three-run homer to center that cleared the deepest part of Marlins Park. Flores followed with his 15th, a blast to left center.
Lagares' two-run homer in the second made it 6-0, and d'Arnaud's RBI single off reliever Andre Rienzo later in the inning capped the scoring.
UP NEXT
Marlins: RHP Jarred Cosart (1-4, 5.36 ERA) makes his eighth start of the season, and first start since July 4. The 25-year-old had been on the disabled list with an inner ear disorder.
Mets: LHP Steven Matz (2-0, 1.32) is expected to make his first start since July 5 after spending time on the DL with a partial muscle tear on his left side.
TRAINER'S ROOM
Marlins: SS Adeiny Hechavarria was again out of the lineup while dealing with a tight left hamstring. Miguel Rojas got the start in his place.
Mets: 1B Lucas Duda, sidelined with a herniated disc since Aug. 22, was scheduled to play the first of two rehab games on Saturday with Double-A Binghamton. Duda will also suit up with the Eastern League team on Sunday. If all goes well, Duda could be back with the Mets at Washington on Tuesday.