Eagles Take Over First Place in NFC East With 27-17 Win Over Giants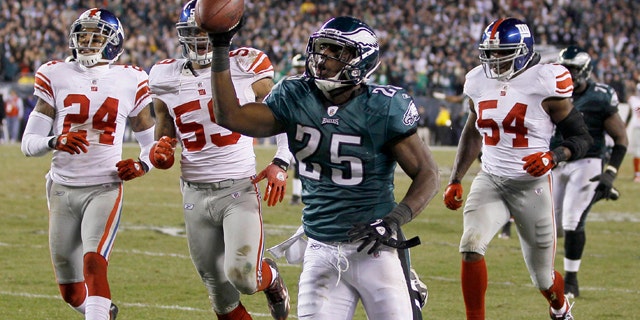 PHILADELPHIA -- Michael Vick 2, Manning brothers 0.
LeSean McCoy ran 50 yards for a go-ahead score on a fourth-and-1 late in the fourth quarter, and the Philadelphia Eagles rallied to beat the New York Giants 27-17 after blowing a 13-point lead Sunday night.
Vick looked a little more ordinary after a spectacular performance in a 59-28 win over Washington on Monday night, but he led the Eagles (7-3) to a comeback win nonetheless, and into sole possession of first place in the NFC East.
"We knew this game wasn't going to be like the last game," Vick said. "We knew we would have to deal with adversity. It's all about fighting and hanging in there when you have to."
Vick, who accounted for six touchdowns against the Redskins, threw for 258 yards and ran for a score vs. the Giants. He outplayed Peyton Manning in a win over Indianapolis two weeks ago, and outdid Eli Manning in this one.
The Giants quarterback threw a pair of touchdown passes to bring New York (6-4) back from a 16-3 deficit. But Manning lost a fumble after running for a first down on fourth-and-6 with 2:51 left, and the Eagles recovered. Manning scrambled 16 yards and dove headfirst, but the ball came loose when he hit the ground untouched. Darryl Tapp recovered.
The Giants, who had a fumble overturned earlier in the quarter, lost the ensuing challenge.
"You're trying to get as much as yardage as you can get," Manning said. "You come to the point where you can't slow down, and you want to get down as fast as you can. I knew no one hit me. I hoped there was an arm or a leg that touched me."
It was a tough loss for the Giants, who were upset by lowly Dallas at home last week. New York now trails six teams with seven wins or better in a wide-open conference.
The Eagles went up 22-16 when McCoy took a pitch from Vick, who bobbled the snap, and burst through a hole on the left side, sprinting into the end zone. Vick connected with Jason Avant on the two-point conversion with 4:25 left.
"We usually go with a sneak," McCoy said. "We showed that formation and they bought it."
Three plays before Manning's fumble, Asante Samuel recorded his second interception but fumbled on the return and the Giants recovered. Samuel had two picks against Peyton Manning, as well.
Vick continued his remarkable comeback story, improving to 5-0 in games he's started and finished this season. Vick missed two full seasons while serving 18 months in federal prison for his role in a dogfighting operation, and played sparingly last season.
Vick missed a month with a rib injury and returned to beat the Colts. He followed that up with perhaps the best all-around performance ever by a quarterback at Washington. Vick became the first player to record 300 yards passing (333), 50 yards rushing (80), four touchdowns passing and two rushing in the same game.
"This was a very important game to battle through when a team is coming after you," Eagles coach Andy Reid said. "You have to fight and he did. That's really what we haven't seen, and he battled his tail off."
The Eagles, perhaps a bit rusty after the short week, had a slow start -- by their standards. They scored touchdowns on each of their first five possessions against the Redskins last week, and have touchdowns on five opening drives this season. But they had a three-and-out on their first series vs. the Giants.
That said, the Eagles woke up and went ahead 7-0 on Vick's 4-yard run. Vick threw a 13-yard pass to DeSean Jackson on third-and-9 to keep the drive alive.
His scoring run was vintage Vick. He took the snap, rolled right, made defensive lineman Justin Tuck and linebacker Michael Boley miss, and then outran safety Kenny Phillips to the end zone for his fifth rushing score this season.
McCoy finished with 111 yards rushing, and David Akers kicked four field goals as the Eagles won their third in a row.
But the victory wasn't without concern. Eagles defensive back Ellis Hobbs left the field on a stretcher with a neck injury after taking a hit to the helmet on the second-half kickoff. He had full movement of all extremities.
It was another scary scene at Lincoln Financial Field as Hobbs was down for 11 minutes. Players from both teams gathered around and the crowd fell silent. There were similar situations in the previous two games in Philadelphia.
Trailing 16-3 midway through the third, the Giants scored on consecutive possessions to take the lead. Manning's 2-yard touchdown pass to Travis Beckum cut it to 16-10 late in the third. On the previous play, a third-and-14, Manning lofted a deep pass to Mario
Manningham that fell incomplete, but Quintin Mikell was called for pass interference.
Vick then fumbled after being sacked by Tuck. Barry Cofield recovered at the Eagles 27. It was Vick's first turnover this season.
Manning connected with Brandon Jacobs for 22 yards, and then tossed a 5-yard touchdown pass to Derek Hagan to suddenly give New York a 17-16 lead.
The Giants had a call go in their favor midway through the fourth after Ahmad Bradshaw lost a fumble at his 38. But New York challenged and the play was overturned because Bradshaw put his hand on the ground before the ball came loose.
The Eagles hardly looked like the same team that dominated the Redskins and set multiple team records six days earlier. Two receivers dropped touchdown passes that forced Philadelphia to settle for field goals, and one attempt was blocked.
But Vick led them back when it mattered most. And because of that, Philadelphia has now won the last five meetings against the Giants, including a playoff victory at the Meadowlands in January 2009.
"Defense played well enough for us to win," Giants coach Tom Coughlin said. "Our careless disregard for the ball, again, cost us a game."
Notes: Manning made his 97th consecutive regular-season start, third-longest behind Brett Favre and his brother, Peyton. ... Vick received a rousing ovation in his first home game introduced with the starters. ... Reid moved into a tie with Jim Mora, Sr., for 26th on the all-time list with 125 coaching wins.