Dwyane Wade says he was 'angry' but still loves Heat, Pat Riley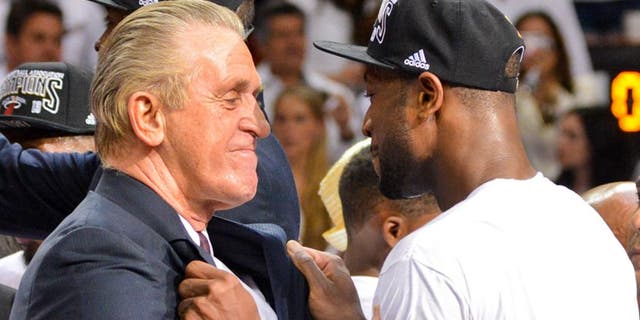 NEWYou can now listen to Fox News articles!
After 13 years with the Miami Heat, Dwyane Wade is moving on from the only NBA organization he's ever known. And while his relationship with the Heat may not have ended the way he wanted, Wade says he has nothing but love for the team and its team president Pat Riley.
Wade spoke with reporters Saturday morning for the first time since he announced his decision to sign with the Chicago Bulls. He was asked about his relationship with Riley and the tension between the two during the free-agent negotiaion period.
"There's going to be a lot of stuff that's said about me and Pat. First and foremost, I love Pat Riley. He's been someone who has been a figurehead in my life since I got drafted here at 21," Wade said in a press conference at his basketball camp in Miami. "But at the same time, he has a job to do. He has a different hat to wear. That hat sometimes is not to be my best friend. That hat is to be the president of the organization, and to be a businessman. And it sucks. Because you love somebody so well, you guys love each other, but the business side comes out."
Wade, who was the face of the Heat franchise and led the team to three NBA championships, acknowledged that he was angry with the organization for how it handled the free agency process with him, but said he understands that it was just business.
"I know I heard a lot of stuff back and forth. I'm never bashing Pat Riley. I'm never bashing the Miami Heat organization. I'm never saying nothing negative about them, out of my mouth, about them. Does the way that the process goes down, are you angry? Yes. Do you feel a certain way about stuff? Yes. I feel that way about my parents. But I love them to death. And my kids feel the same way about me when I got to punish them and I don't do what they want me to do. But they love me to death. And that's the way I feel about this organization. Like I said, the business side just comes into play sometimes, and it's an ugly, ugly side. But at the end of the day, there's nothing but love from me."
Wade did not have any direct contact with Riley during the free agency negotiations, according to ESPN's Michael Wallace, but the two sides reportedly had an open line of communication during that period.
Wade, a 12-time NBA All-Star, turned down Miami's reported two-year, $40 million offer to sign with the Bulls earlier this week. According to The Associated Press, Wade agreed to a two-year, $47 million deal with Chicago.
The Heat organization was gracious in Wade's departure, taking out a full-page newspaper advertisement thanking him for his service. Wade said he got choked up when he saw the ad, and admitted that the decision has been very tough on him.

"This is not an easy time for me and family," he said. "I was scared as (expletive) ... to make a move like this."
But now, Wade is looking ahead to the next chapter in his life.

"To go home and play with Chicago is something I've always dreamed of since I've been a little bitty kid," Wade said. "It's cool to be able to make those kind of choices. You see [Kevin Durant] make a choice for me. We've seen LeBron (James) make choices for himself. You get killed for it but at the end of the day, if you love the guy, the individual, then you're happy that they're able to make that choice and that they seem happy with the choice that they are making."