DW: 2013 Car Testing Keeps Teams Busy This Offseason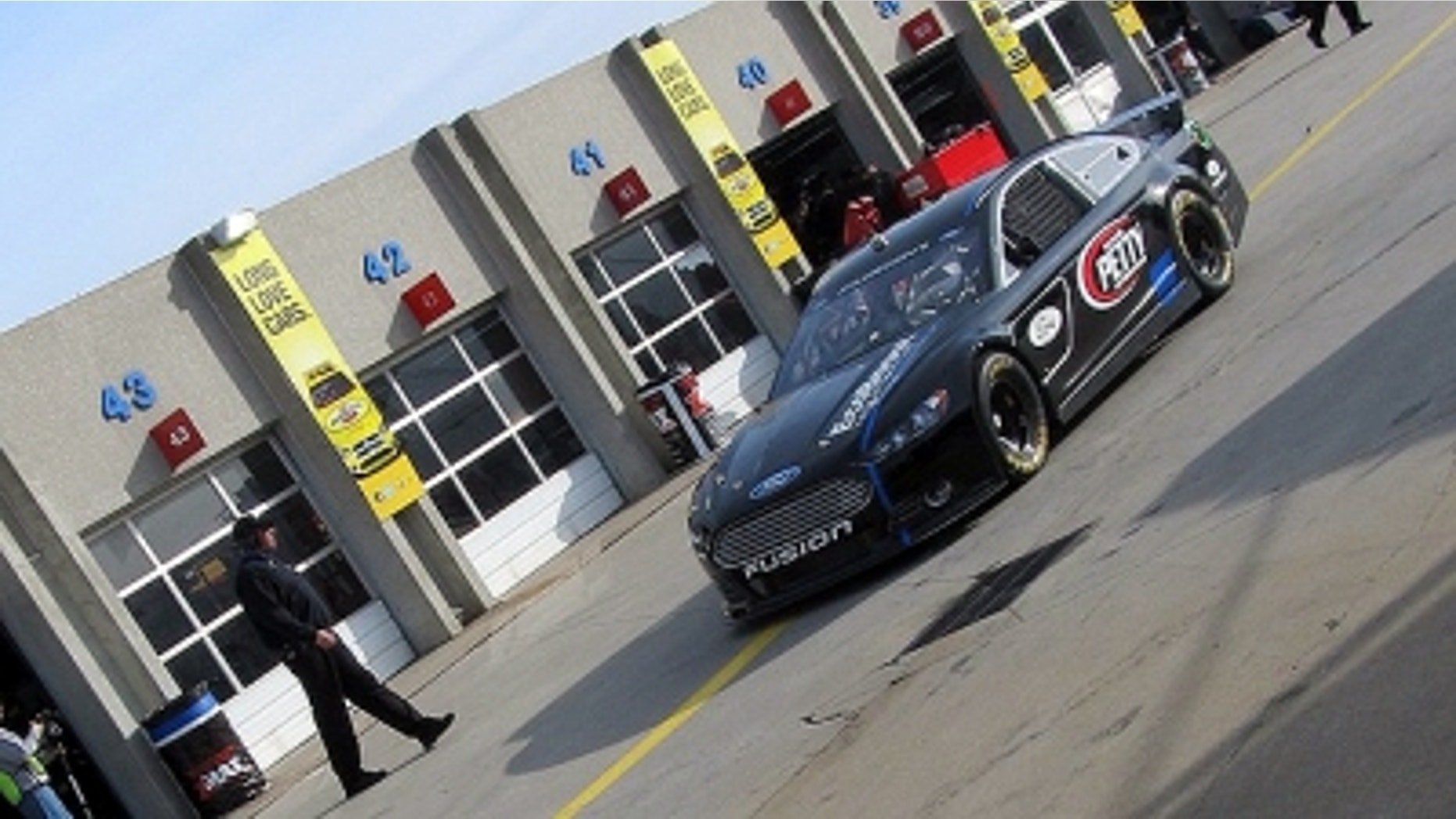 Now I realize we have something like three weeks left in the year, but trust me, for these NASCAR Sprint Cup teams, 2013 actually starts today. Testing begins Tuesday and goes through Wednesday at Charlotte Motor Speedway with teams testing the new 2013 car. All the teams have been working very diligently on this new generation of car for months trying to put a package together that not only will they like, but that NASCAR will like.
There still is some uncertainty about the rules package for this car as the 2013 season draws ever closer. The teams have presented things to NASCAR. NASCAR has done the same to the teams. The manufacturers have also brought their ideas to the table. So my point is things are still very fluid and nothing has been really nailed down.
Now with that said, there are areas that we definitely know about changes being made. The suspension area is one major change. You won't see these cars crabbing around the racetrack like we've seen the last few years. I thought going half-cocked sideways as these cars were going down the straightaways looked absolutely ridiculous. Some of that monkey-motion up in the rear of these cars has been eliminated. Some of that crazy track-bar stuff we've seen in the past where it's almost dragging the ground has been eliminated.
So there are a lot of things going on here with this new 2013 car. Don't forget the new bodies as well. That becomes a new aerodynamic issue and of course these teams all live on that. These teams all but live in the wind tunnel these days because as we know, an aerodynamic advantage is much bigger of a plus than a mechanical advantage. So aerodynamics will play a big role in how these cars perform.
NASCAR is working with all the teams and manufacturers to make sure across the board these cars are fairly equal. Obviously the overall goal is to make sure these cars race well at all tracks, not just at Charlotte where testing has begun.
The next hurdle these cars will have to clear will be the superspeedways. They'll all hit Daytona Jan. 10-12. We'll be down there covering testing at Daytona and you can watch it on SPEED. Everyone wants to see how these cars handle and draft together. That will be a big step forward for this new car.
It would a safe bet to say these teams are doing research and development right now under the watchful eye of NASCAR. I expect after the January Daytona test is completed, we'll have a firm set of rules for these cars given to the teams from NASCAR.
Don't let anyone kid you when they say this is NASCAR's offseason. Now sure, they aren't crisscrossing the country racing each weekend, but trust me, there are a lot of things going on behind the scenes. There are crew changes, driver changes and sponsor changes. There are new paint schemes, new uniforms, press kits, travel plans and on and on taking place right now. That's how our sport has evolved over the years. With all the incredible amount of work these guys and gals have to do, they'll be lucky to get Christmas and New Year's off.
I've been one busy guy too. Last week alone I had five stops in eight days. I was up in Johnson City, Tenn., on Dec. 2 with our friends from NewSong doing a fundraiser. NewSong is a Christian group that I have become quite fond of over the years. They have done our Motor Racing Outreach banquet at Charlotte Motor Speedway during the October race week for a while now. They are a great bunch of guys.
Monday night, Dec. 3, Toyota asked Michael Waltrip and me to participate in their announcement at Richmond International Raceway that Toyota will now be the sponsor of both the Nationwide event and the NASCAR Sprint Cup event there. Toyota is putting their money where their mouth is. They help our sport. They help these teams. They sponsor cars and now they are helping the track owners and sponsoring events.
Then Wednesday and Thursday, it was over to Charlotte, NC, for our 2013 NASCAR on FOX planning meeting. It was great to get everyone back together for a couple days. We reviewed the 2012 coverage and then focused on what we can do to enhance our 2013 broadcasts.
I have said this for 12 years and I will keep saying it, I am blessed to be able to work with the best broadcast team in all of NASCAR. We all share the same passion and love of the sport. Our goal, which is still the same from clear back in February of 2001, is to entertain and educate the viewer. It's easy to tell somewhat what happened. Heck, you can see what happened. We strive to go that extra step and explain why it happened.
This year, obviously, there will be a lot of explaining as these teams try and get their arms around this new car. We're just like a race team. We are constantly working on new ideas and new ways to bring you all the action. Those were some of the areas we covered in our two-day Charlotte meetings. For me, February in Daytona can't get here fast enough for us to be able to show you all we've been working on for you.
I left Charlotte Thursday evening and got back home. Friday brought our dealership Christmas party. I always enjoy that for all the employees. There were 200-plus employees and their families there. We are adding a Buick and GMC line so this time next year, we'll employ roughly 400 folks. I never would have thought back in the mid-1980s when we opened the first dealership that we'd ever get to the point where we would have 400 employees, but it certainly is becoming a reality.
Saturday morning I went to our annual Gentleman's Breakfast hosted by my friend Gordon Inman. It's become a Who's Who of folks from the Nashville area. The Governor, our senators and our mayor were there. Then when I got done with that, I grabbed the family and we flew to Houston for a Saturday evening wedding of a family friend. Now that was a lot of fun. Stevie and I danced up into the middle of the night. Believe me, for Stevie and I, that was pretty impressive.
I get to catch my breath here at home for a couple of days and then it's off to Raleigh, NC, for an appearance at a Pepsico bottler. As you probably heard, a few weeks ago we surprised Morgan Shepherd at the Charlotte Motor Speedway Christmas Press Conference.
A bunch of drivers went together, along with track owner Bruton Smith and gave him the NASCAR on FOX "Big Rig of Help" from our Waltrip Brothers Charity Championship. It's an 18-wheeler with 20,000 pounds of food and personal items for needy families. For 26 years, Morgan has been going up into the Virginia Mountains making Christmas brighter for folks. That rig is headed to Galax, VA on Dec. 17 and 400 families are going to have a much brighter holiday, all thanks to Morgan.
After that, my slate is clean for the rest of the year. This week Sarah, our youngest daughter, gets home from college. I am so thankful she doesn't have to go back to school for three weeks. The tree and all the decorations are up and now it's time to enjoy the holidays. Most importantly it's time to celebrate and honor the birth of our Lord and Savior Jesus Christ.
Oh by the way
I was asked this year to join the panel that votes on the SPEED Performer of the Year Award. The winner will receive the Mario Andretti Trophy. Of course you all know the car that Mario won the 1967 Daytona 500 in I have in my museum over in Harrisburg, N.C. Well let's put it this way, I have the chassis. You see, Holman and Moody bought the car and converted it into a Mercury Cyclone. I bought it from them and that's what I raced my very first NASCAR Cup race in.
Anyway, I got on the conference call last week with the other voting members. There was Dan Gurney, one of my all-time heros. Don "The Snake" Prudhomme, who I have known since our Pepsi days was on there also as a new member. So it was just a really cool conference call to be a part of.
Oh by the way II
I am really happy for my good buddy David Stremme. Swan Racing has bought Stremme's operation and they hired Tony Eury Jr. to be David's crew chief. That's big folks. I think that's going to be a really good combination. I think Tony will bring out the best in David.