Ducks advance to Western Conference finals, will face Predators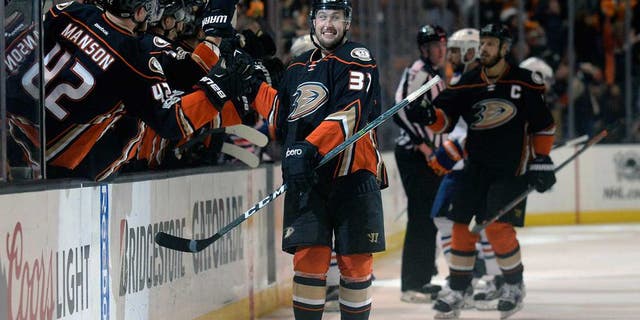 ANAHEIM, Calif. (AP) -- The Anaheim Ducks finally cleared a major psychological hurdle with their gritty Game 7 victory over Edmonton on Wednesday night. After four consecutive years of failure in winner-take-all showdowns, they stood up to an upstart opponent and finished a series strong.
"I wouldn't say it's a relief, but the fact we don't have to talk about it anymore, that's a good thing," captain Ryan Getzlaf said.
Getzlaf also said this particular party is already over, however.
Anaheim has just two days to prepare to face another daunting obstacle from its playoff past: a 6-foot-5 Finnish goalie with a knack for stopping the Ducks in their playoff tracks.
Nashville's Pekka Rinne ran Anaheim out of the first round last season for the second time in his career, and he returns with the surging Predators for Game 1 of the Western Conference finals on Friday.
The Ducks have been the hapless foils for some of the best moments in Nashville franchise history -- and for Rinne, who always seems to find his inimitable top form against Anaheim.
Rinne and the Predators ousted the Ducks in six games in 2011 for their first ever playoff series victory. Five years later, Nashville stole the first two games of the clubs' first-round series at Honda Center before winning the final two, including a nail-biting 2-1 victory in a Game 7 dominated by Rinne.
"They're a great team, and they've done a really good job in the playoffs this season and against us in the past," said Anaheim forward Andrew Cogliano, who scored the tying goal in Game 7. "It's going to be another big challenge going forward."
Both of the West finalists are perhaps overdue to be rewarded for years of patient progress with a Stanley Cup Final trip. Anaheim hasn't made the final round in a decade despite icing one of the NHL's most consistently strong teams, while the Predators are in their first conference finals in the club's 10th trip to the postseason since 2004.
Nobody gets anything in the Stanley Cup playoffs without a grind, and these two teams are on it. They've combined for the best two records in this postseason, losing only five combined games.
The Ducks should feel a swell of confidence after outlasting the Oilers. Anaheim had lost five straight Game 7 appearances overall since 2006, but the Ducks played a stellar defensive game against Connor McDavid and Leon Draisaitl before winning it on power forward Nick Ritchie's third-period goal.
And the way the Ducks rallied was even more impressive. They fell behind the Oilers just 3:31 into this seventh game, but the rest of the night largely belonged to Anaheim, which finally showed some veteran mettle in the playoffs' biggest crucible.
"We were down 1-0 for a little bit, and we didn't panic," Ritchie said. "We actually started to play better once they scored, and we got another one and then we kind of brought it home with good defensive hockey."
Big-game resilience hasn't always been Anaheim's strength during the past half-decade. Despite having home-ice advantage to start 10 straight playoff series since 2009, the five-time defending Pacific Division champions had blown a 3-2 series lead four straight times before holding off Edmonton.
The Ducks aren't willing to say they've found new playoff toughness, but their renewed vigor in this particular postseason is exemplified by Getzlaf, whose first two rounds were among the best of the 2007 Stanley Cup champion's long playoff career.
Getzlaf, who turned 32 years old on Wednesday, has eight goals and seven assists in 11 playoff games, already setting a new career high for goals in a single postseason. The consummate playmaker has been looking for his shot with urgency, and he has cemented his role as a steadying presence in Anaheim's dressing room.
Even his longtime linemate, Corey Perry, has picked up on the vibe.
The 2011 NHL MVP managed only 19 goals during the lowest-scoring full regular season of his career, but he has surged while reunited with Getzlaf in the playoffs. Perry has six points in the last four games, capped by an assist on Ritchie's series-winning goal.
Rinne is the biggest obstacle yet -- literally and figuratively -- to this Stanley Cup push in Anaheim, but the Ducks are ready for any challenge.
"The way we've played the last half of the season where we've learned to deal with adversity, we needed that again tonight," Getzlaf said after Game 7. "That's what we need going forward into the next round."
-- --
Follow AP Hockey Writer Greg Beacham on Twitter: www.twitter.com/gregbeacham