Driver introductions music to your ears at Bristol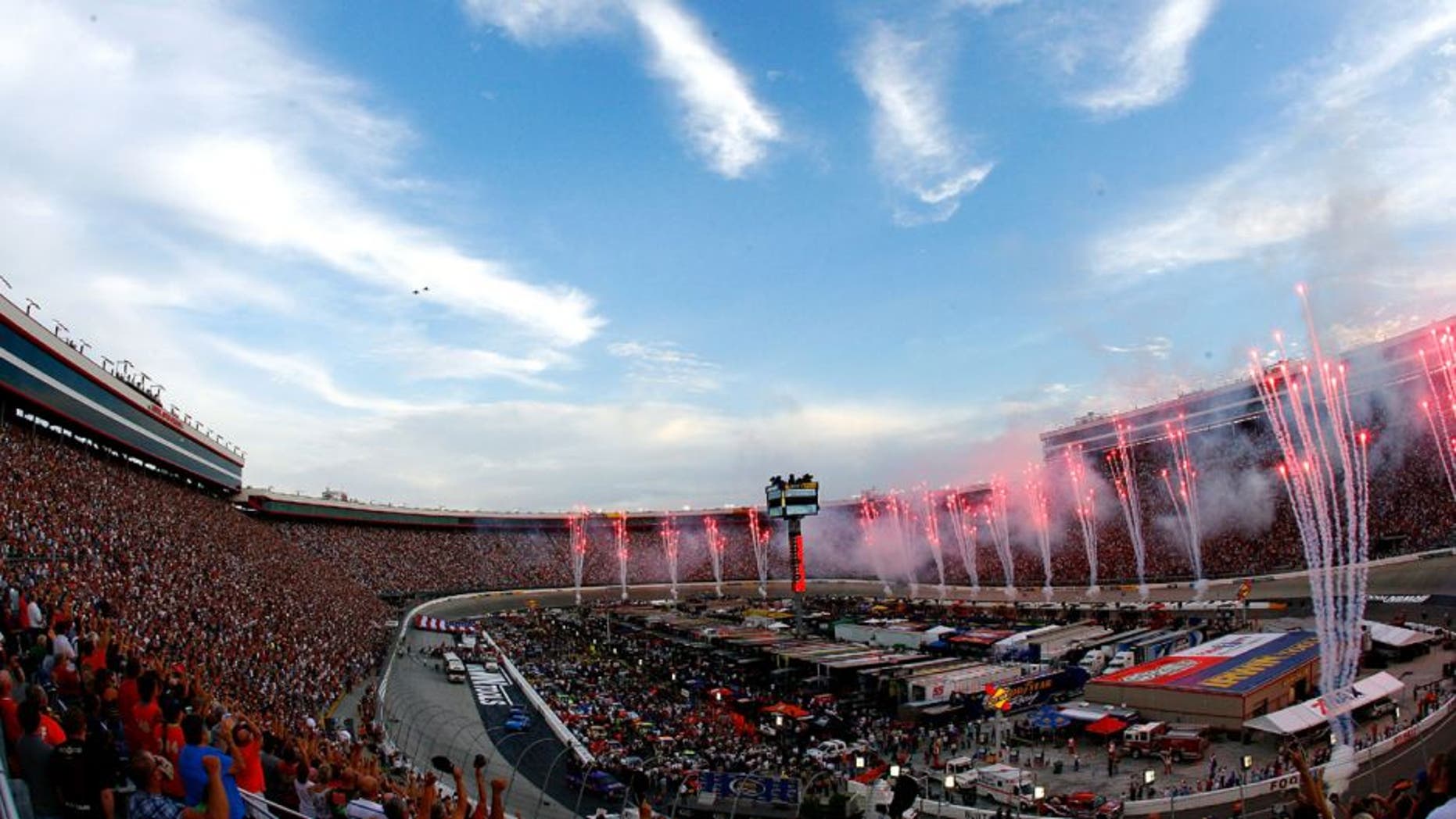 One of the highlights of every visit to Bristol Motor Speedway is driver intros, where each of the 40 starters in the race comes out to a different song, each played at high volume.

What will each driver choose for his or her intro at Saturday's Bass Pro Shops NRA 500 at Bristol Motor Speedway?

Right now, that's top secret.

But here are the song lists from each of the past two Cup races at Bristol:

April 2016
AJ Allmendinger: "The Bleeding" by Five Finger Death Punch

Aric Almirola: "Outsiders" by Eric Church

Michael Annett: "Stone Cold Steve Austin Theme"

Trevor Bayne: "Rocky Top" by Pride of the Southland Band

Greg Biffle: "All Summer Long" by Kid Rock

Ryan Blaney: "Not the American Average" by Asking Alexandria

Clint Bowyer: "I Think I'll Just Stay Here and Drink" by Merle Haggard

Chris Buescher: "Hakuna Matata" from The Lion King movie

Kurt Busch: "Walk This Way" by Aerosmith

Kyle Busch: "Candyman" by Aloe Blacc & Zedd

Landon Cassill: "Sesame Street Theme"

Matt DiBenedetto: "Sharp Dressed Man" by ZZ Top

Austin Dillon: "Dab on Em" by Big Will

Ty Dillon: "Let's Get it On" by Marvin Gaye

Dale Earnhardt Jr.: "Gonna Fly (Rocky Theme)" by Bill Conti

Jeffrey Earnhardt: "Hard Workin' Man" by Brooks & Dunn

Carl Edwards: "Have a Nice Day" by Bon Jovi

Chase Elliott: "Pledge Allegiance to the Hag" by Eric Church

Denny Hamlin: "Me, Myself & I" by G Eazy & Bebe Rexha

Kevin Harvick: "Thunderstruck" by AC/DC

Jimmie Johnson: "Fight For Your Right" by Beastie Boys

Kasey Kahne: "Fightin' Side of Me" by Merle Haggard

Matt Kenseth: "Back for More" by Five Finger Death Punch

Brad Keselowski: "I've Always Been Crazy" by Waylon Jennings

Kyle Larson: "Outlaw State of Mind" by Chris Stapleton

Joey Logano: "White and Nerdy" Weird Al Yankovic

Michael McDowell: "Simple Man" by Charlie Daniels Band

Jamie McMurray: "Take a Little Ride" by Jason Aldean

Casey Mears: "Nothin' But A Good Time" by Poison

Paul Menard: "Guitar Gangsters and Cadillac Blood" by Volbeat

Ryan Newman: "The Gambler" by Kenny Rogers

Danica Patrick: "Wrecking Ball" by Miley Cyrus

David Ragan: "Stroker Ace Theme" by Charlie Daniels Band

Brian Scott: "Back in Black" by AC/DC

Regan Smith: "State of My Head" by Shinedown

Ricky Stenhouse Jr.: "Simple Man" by Charlie Daniels Band

Reed Sorenson: "Hypnotize" by Notorious BIG

Martin Truex Jr.: "Huntin', Fishin' and Lovin' Every Day" by Luke Bryan

Cole Whitt: "Stressed Out" by Twenty One Pilots

Josh Wise: "Your Soul" by Hippy Sabotage

August 2015

Justin Allgaier: "Ready Set Roll'' by Chase Rice

AJ Allmendinger: "Tainted Love" by Marilyn Manson

Aric Almirola: "I Can't Drive 55" by Sammy Hagar

Michael Annett: "Bernie Lean" by Bernie Dance

Trevor Bayne: ''Back Where I Come From" by Kenny Chesney

Ryan Blaney: "Even Flow" by Pearl Jam

Mike Bliss: "Hells Bells" by AC/DC

Greg Biffle: "Wild Side" by Motley Crue

Alex Bowman: "Bring me the Horizon" by Throne
Clint Bowyer: "Honky Tonk Man" by Dwight Yoakam

Kurt Busch: "Party Up" by DMX

Kyle Busch: DJ Barry

Landon Cassill: "Smooth" by Santana

Matt DiBenedetto: "I Love Rock & Roll" by Joan Jett

Austin Dillon: "Move ..." by Ludacris

Dale Earnhardt Jr.: "Walk This Way" by Aerosmith

Carl Edwards: "Juke Box Hero" by Foreigner

David Gilliland: "Kick Start my Heart" by Motley Crue

Jeff Gordon: "E.I" by Nelly

Denny Hamlin: "Heart Upon My Sleeve" by Avicii

Kevin Harvick: "Real Life" by Jake Owen

Timmy Hill: "Watch Me Nae Nae" by Silento

Sam Hornish Jr.: "Touch of Grey" by Grateful Dead

Jimmie Johnson: "Renegades" by X-Ambassadors

Kasey Kahne: "Cherry Bomb" by John Mellencamp

Matt Kenseth: "Strife" by Trivium

Brad Keselowski: "Drop It Like It's Hot" by Snoop Dogg

Kyle Larson: "Saturday Night's Alright" by Elton John

Joey Logano: "I'm Shipping Up To Boston" by Dropkick Murphys

Michael McDowell: "Nothing I Can't Do'' by Tedashii

Jamie McMurray: "Eminence Front" by The Who

Casey Mears: "Fuel" by Metallica

Paul Menard: "Symphony of Destruction'' by Megadeath

Brett Moffitt: "Cowboy" by Kid Rock

Ryan Newman: "Good Ol' Boys" by Waylon Jennings

Danica Patrick: "Hot Blooded" by Foreigner

David Ragan: "Only In America" by Brooks and Dunn

Ricky Stenhouse Jr.: "The Stroke" by Billy Squier

Tony Stewart: "Smoke On The Water" by Deep Purple

Martin Truex Jr.: "La Grange'' by ZZ Top

Cole Whitt: "Armor for the Lord" by Blake Whiteley

Josh Wise: "Dixieland Delight" by Alabama

JJ Yeley: "Devil in Disguise" by Elvis Presley