Doolittle's return to form a promising development for A's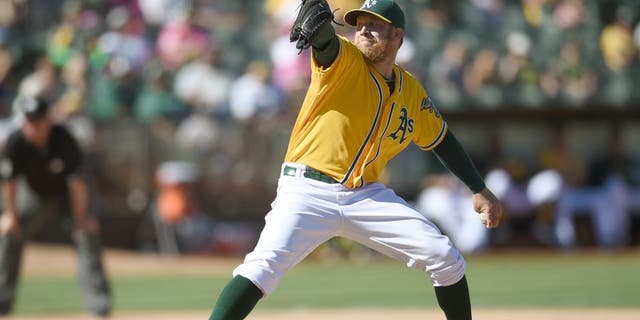 The Oakland Athletics are looking for positives as the season's final few weeks tick away. They're mired in last place and have had a monumentally frustrating season, but the recent work from relieve Sean Doolittle has been a bright spot.
A left shoulder strain derailed Doolittle's first comeback attempt in late May, and he only recently made it back to the mound. On Friday night against the Seattle Mariners, Doolittle flashed signs of his former self, throwing a fastball that hit 94 mph while also mixing in some nice off-speed pitches. He followed up that performance with a clean inning in Sunday's defeat, striking out one batter in the process.
Bob Melvin told Matt Kawahara of the Sacramento Bee that he's noticed Doolittle use his off-speed pitches as more of a complement to his fastball: "When you have some injuries, you're forced to do things a little bit differently. Whether it's on the corners, down in the zone, whether it's using his off-speed stuff a little bit more to accentuate the fastball, I think he's learning to do that."
Doolittle's impressive past few outings has him back in the mix as a potential closing option for the A's...a development that would really help confirm his comeback from a series of injuries that at one point made 2015 look like a total 'lost season'.
Read more here: http://www.sacbee.com/sports/mlb/oakland-as/article34205799.html#storylink=cpy