Donohoe's double-double leads No. 12 Oklahoma State past Oklahoma, 73-57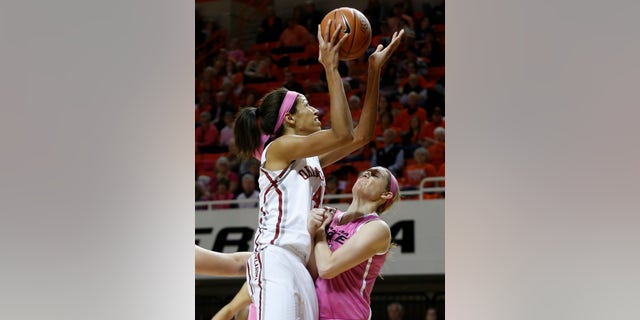 NEWYou can now listen to Fox News articles!
STILLWATER, Okla. – Liz Donohoe had 15 points and 11 rebounds to help No. 12 Oklahoma State defeat Oklahoma 73-57 Sunday afternoon.
Kendra Suttles scored 13 points and Tiffany Bias had 12 points, eight rebounds, six assists and four steals for the Cowgirls (20-4, 9-4 Big 12), who avenged an 81-74 loss in Norman on Feb. 1. Oklahoma State won the rebounding battle 48-31 and held the Sooners to 33 percent shooting. The Cowgirls, who had lost two of three, never trailed.
Nicole Kornet scored 14 points for Oklahoma, her second-best point total of the season. Aaryn Ellenberg, the Sooners' top scorer this season, left the game with 5:32 remaining after a hard screen from Suttles and did not return. Sharane Campbell, who scored a career-high 28 points in the previous meeting, finished with six for the Sooners (15-11, 6-7).
OSU retired Andrea Riley's jersey at halftime. She is OSU's all-time leading scorer.