Domi delivers brutal one-punch knockout to Ducks' Kesler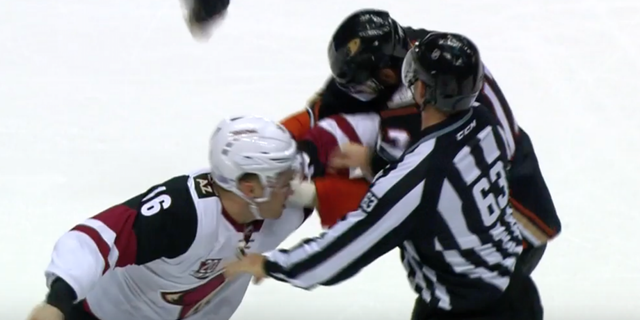 You know that saying "the apple doesn't fall far from the tree?" Well, Ryan Kesler probably shouldn't have messed with Tie Domi's son.
The 32-year-old Kesler got dropped by 21-year-old Arizona Coyotes star Max Domi on the strength of one punch Friday night. Much like his father before him, Max is relatively undersized (5-9, 198 lbs.) but doesn't shy away from challenging bigger opponents. Kesler, who stands at 6-2 and 202 lbs., found that out the hard way.
The big punch happened late in the first period of the Yotes' matchup against the Ducks in Anaheim and did enough damage to send Kesler to the locker room for evaluation. He returned to the game in the second period.
Though the younger Domi is more known for his impressive skill and playmaking ability, he has certainly inherited a bit of snarl from his old man as well.